Two care workers on what they love about a career supporting others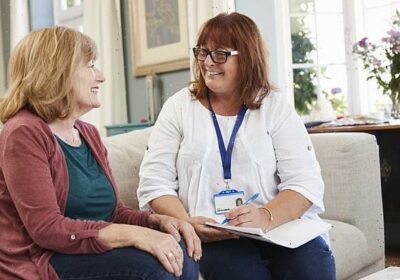 'I go home with a smile on my face': Two care workers reveal what they love about a career supporting others
Sponsored by HM Government
What if you could choose a job where you make a meaningful difference to people's lives every day?
One that is constantly varied, with a huge number of different roles available and with flexible hours to fit around your lifestyle.
No matter what your background or stage in life, you could find fulfilling work in adult social care. Rather than specific qualifications, all you need to start are the right personal qualities, including empathy, patience and good communication skills – with on-the- job training for everything else.
Adult social care can be varied, rewarding, and offers flexible hours to suit your life (picture posed by models) 
Encouraging more people to begin a career in adult social care is part of the Government's efforts to support the sector and the NHS. It's usually quick and easy to get started, whether it's your first job or you're wanting to switch to a more rewarding career.
'I try to be creative' 
Felicia works in the home where Cora, 91, is a resident 
Felicia came to the UK from Brazil, and after settling in Warrington, she decided she wanted to work in social care for older adults.
The 36-year-old mother of one started at a residential home just outside Warrington three years ago; since then, she's been promoted to senior care worker and has started studying for a leadership qualification. She works 25 hours a week, which fits around her family life.
'I've always enjoyed having contact with older people – they have loads to teach you,' says Felicia. 'We do crafts, quizzes and daily exercise. Everyone is invited to take part, even if they don't have full mobility. I try to be very creative to make the residents' day brighter.'
There's a lot more to the job though, with Felicia also spending time administering medication and reviewing care plans with her manager.
'In care, you must have passion and want to do your best every day, but it's so rewarding,' she says. 'When you achieve small goals and enable someone to become more independent or happier, you really feel valuable to them.'
One resident who has benefited from Felicia's support is 91-year-old Cora, who moved into the home six months ago.
'Felicia is very helpful in every respect. I can't quite see, and she takes time to explain things to me,' says Cora. 'We sew together and love a chat and a laugh – we share the same sense of humour, and that's very important.'
'Care takes many forms' 
Danielle helps Patrick, who has global development delay, live a full (and laughter filled!) life 
Danielle, 35, also worked in a care home when she began her career aged 18, before switching to caring for younger people to widen her experience.
For the past three years, she's been caring for Patrick, 28, who has global development delay, and lives in supported housing in Walsall run by a local health and social care provider.
'My role is to support Patrick with his life and daily routine, including shopping, budgeting, cooking, hobbies and connecting with friends and family,' Danielle says. 'Patrick lives with two men who also have their own care workers, so it can get really lively and sociable. He leads a very full life and loves a laugh and a joke.'
Danielle believes that there's a perception that social care is 'all about nursing' when there's 'so much more to it'.
'Support takes many forms, and I've had so many different experiences,' she says. 'It's a very flexible job, and would fit in with most people's lives and families. You're trained and supported and feel part of a team.'
For Patrick, Danielle's support means he can live in his own place and get the most out of every day.
'I really enjoy my life and feel very comfortable living here. I can do that because Danielle helps me,' he says. 'Everyone gets on well and we have a laugh. I like cooking with her.'
'It's so rewarding,' says Danielle. 'I go home with a smile on my face knowing I've given 100 per cent.'
Search for a job near you today at adultsocialcare.co.uk
■ This article is part of a paid-for partnership with HM Government
Source: Read Full Article