Ryder Cup 'cheating storm' as USA's Justin Thomas 'kicks his own ball'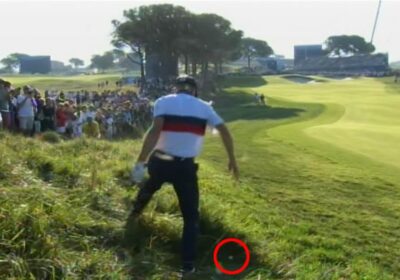 The moment US golfer Justin Thomas 'kicks his own ball' at the Ryder Cup as Team USA faces accusations of 'playing dirty' 
Justin Thomas was this time at the centre of controversy over sixth hole horror 
Team USA golf star Justin Thomas was accused by fans last night of 'kicking his own ball' after footage emerged of him apparently stepping on it online.
The 30-year-old former World Number One was captured on camera during the Ryder Cup.
Video showed the moment he was stuck in the rough on the sixth hole alongside partner Jordan Spieth.
Thomas tried to smash it out of the grasses with his club but mis-hits the ball sending it sideways before he appears to step on it, knocking it a bit further away. 
Rules state that players can be penalised if they strike the ball with their body, although this is waived if the ball is still moving and it was an accident.
It is not clear if Thomas alerted a referee to the bungle, but so far the tournament has already been particularly bad-tempered.
American caddie Joe LaCava sparked outrage at the Ryder Cup on Saturday after refusing to move out of Rory McIlroy's line of vision in a crucial putt.
That prompted a row which continued into the club's car park and ended in McIlroy being bundled into a car.
Golf fans fired up their Twitter apps to vent frustration over the footage of Thomas.
One asked 'Did JT not kick the ball there?' while another was more forthright and declared 'JT just kicked his ball!'.
Video showed the moment he was stuck in the rough on the sixth hole alongside partner Jordan Spieth
Thomas tried to smash it out of the grasses with his club but mis-hits the ball sending it off
Thomas then appears to step on it, knocking it a bit further away into the overgrown greenery
Justin Thomas, a 30-year-old former World Number One was captured on camera at the Cup
Another fan of the sport simply mused 'Loss of hole surely?! He called it as well.'
The second day of Ryder Cup action in Rome was marred with controversy.
The caddie who sparked Rory McIlroy bust-up at the Ryder Cup: How Brit golfer was left outraged by American caddie who 'refused to get out of the Northern Irishman's way as he tried to putt the ball'
McIlroy was annoyed that Patrick Cantlay's caddie LaCava initially did not move from his eyeline, instead waving his cap over his head in celebration of Cantlay's birdie on the last. 
The Northern Irishman had reportedly asked LaCava 'politely' to move out the way, yet the caddie continued to ignore the request for some time.
It came ahead of the final day of the Cup on Sunday, with Luke Donald's European side now having plenty of extra motivation after the angry scenes on the 18th green, which continued outside the clubhouse at Marco Simone.
Europe need just four points from the final day's 12 singles matches to complete their revenge mission in Rome and regain the Ryder Cup. 
Ahead of the row, US player Cantlay converted a 43ft putt, with McIlroy still waiting to take his own shot.
The European golfer had had a superb outing at the Cup this year, and was on the verge of winning his fourth successive point in an impressive display which helped set up the team to dominate play on Saturday.
After Cantlay converted his putt, the US team held exuberant celebrations, including waving their hats.
https://youtube.com/watch?v=zSm3op4k96I%3Frel%3D0%26start%3D54

Rory McIlroy launched into a livid rant at someone while leaving Marco Simone Saturday 
Caddie Joe LaCava, who used to work alongside Tiger Woods, began his career in 1987 and saw Fred Couples take 12 PGA Tour victories. He is now one of the most well-known caddies in the world.
READ MORE: Rory McIlroy has to be held back and bundled into his car by Shane Lowry in furious scenes at the Ryder Cup… as he appears to scream 'that is a f***ing disgrace' at caddie Joe LaCava after sportsmanship row on the 18th green 
The waving of hats towards Cantlay has been a theme at this year's Ryder Cup, initially said to be due to him refusing to wear a cap in protest at not being paid for the tournament. He has since denied this is the case. 
McIlroy and team-mate Matt Fitzpatrick still had birdie putts of their own to halve the hole and the match, but neither was able to convert.
Both Lowry and Justin Rose, who had gathered to watch, also spoke to LaCava and – when subsequently McIlroy and Fitzpatrick missed their shots – made their way onto the green to reinforce the point as the row continued up the tunnel to the clubhouse. 
Team captain Donald said: 'I talked to Rory. He politely asked Joe to move aside. He was in his line of vision. 
'He stood there and didn't move for a while and continued to wave the hat, so I think Rory was upset about that.
'The Ryder Cup is always passionate. We've seen that many times over the past. I will address all 12 of my guys. I'll give them the right messaging and they will be ready to play.'
He added: 'We're all competitors. We all want to win but we want to do it in the right way. 
McIlroy was swiftly bundled into a car by teammate Shane Lowry ahead of the final day of play on Sunday
The row began on the 18th green but continued up the tunnel and in the club's car park
The Americans waved their caps – a nod to European fans' taunting over the hat controversy
McIlroy's car park outburst comes after a tense exchange with LaCava on the final hole 
'From what Rory told me, he did ask Joe to move. He took a long time to move. It was a little off-putting because he still had to putt. So Rory got upset and I understand that.'
The row continued into the carpark, where McIlroy was seen jabbing fingers and making his feelings clear towards the Americans over what many have called unsportsman-like behaviour from LaCava. 
In astonishing scenes a raging McIlroy could be heard shouting 'This can't happen, this can't happen – it's a f*****g disgrace,' with a security guard forced to step in. 
As feelings appeared to become increasingly heightened, McIlroy's teammate Shane Lowry pulled the player back and bundled him into a car. 
It had been reported that Cantlay was refusing to wear a cap in protest of players not being paid to play the Ryder Cup, which garnered mocking from the European fans who waved their caps at him, sang and chanted at him in jest.
Cantlay denied the report and claimed he did not wear a hat, including for the team photo, because it 'just doesn't fit'. 
But the Americans, including the wives and caddies, flipped the Europeans' taunting back on them with their celebration of Cantlay's birdie, including LaCava's joy, which sparked the heated scenes on 18.
Following the 18th-green altercation, McIlroy appeared to address the confrontation, claiming it would only spur on Europe in the Sunday singles.
Source: Read Full Article