PC Andrew Harper's widow pays tribute to 'angel' on his 32nd birthday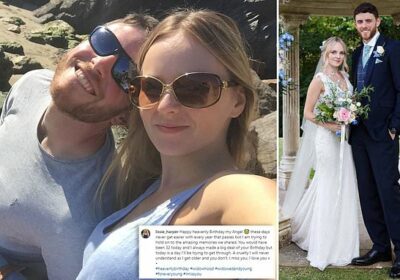 'A cruelty I will never understand as I get older and you don't': Widow of slain PC Andrew Harper pays tribute to her 'angel' on his 32nd birthday more than three years after he was killed
Lissie Harper has said her husband's death is a 'cruelty she can't understand'
PC Andrew Harper was killed in action in 2019 before their honeymoon 
The widow of slain police officer Andrew Harper – who died in action whilst confronting three teenage burglars in August 2019 – has called his death a 'cruelty she'll never understand' on the day of what would have been his 32nd birthday.
PC Harper died after suffering serious injuries after he was caught in a strap attached to the back of a car and dragged down a country road Berkshire by the fleeing crooks who were trying to steal a quad bike. 
His death occurred just hours before he was due to clock off and begin his honeymoon with his new wife Lissie Harper – who has since successfully campaigned for tougher sentences to be brought in for those who attack emergency workers. 
Sharing a photo of herself and her husband on Instagram, Lissie Harper, 32, said: 'Happy heavenly Birthday my Angel.
Lissie Harper has paid tribute to her late husband on what would have been his 32nd birthday
She called his death 'a cruelty she would never understand as she got older and he didn't'
PC Andrew Harper was killed in the line of duty just  four weeks after their wedding
'These days never get easier with every year that passes but I am trying to hold on to the amazing memories we shared. 
'You would have been 32 today and I always made a big deal of your Birthday but today is a day I'll be trying to get through. 
'A cruelty I will never understand as I get older and you don't. I miss you, I love you x'
Mrs Harper's quest to change the law surrounding sentencing of those who cause the death of emergency workers came 'in the midst of grief and incomprehensible loss' and outrage over the sentences of the three teenagers that PC Harper had lost his life engaging. 
Each of the three teenagers convicted of the manslaughter of PC Harper avoided life sentences. 
The group's leader Henry Long, who was 19 at the time of sentencing was given a 16 year sentence. 
Meanwhile, the two 18-year-olds Jessie Cole and Albert Bowers who had been passengers in the car were handed 13 years in custody.
Long had admitted manslaughter, while passengers Cole and Bowers were convicted of manslaughter after a trial at the Old Bailey.
All three were cleared of murder by the jury.
However, under the new Harper's Law which was brought in last year, mandatory life sentences are given to anyone who commits the manslaughter of an emergency worker on duty, including police, prison officers, firefighters and paramedics. 
The law is not retrospective so PC Harper's killers cannot have their sentences extended. 
Handout issued by Thames Valley Police of Henry Long (left), 19, and 18-year-olds Jessie Cole (centre) and Albert Bowers (right), who were jailed over the death of the police traffic officer
PC Harper's widow Lissie says she wants to 'listen to her heart' to embrace life again
Since her husband's death, Mrs Harper has spoken passionately and bravely on how she deals with loss and living as a widow. 
Speaking on ITV's The Killing of PC Harper: A Widow's Fight for Justice last year, she said: 'We had gone from the happiest day of our lives to the worst in such a short space of time.
'I don't think I will ever fully come to terms with Andrew's death, such an unexpected and shocking change to my life and the future we planned.
'But I plan to be grateful for every moment and live how Andrew would want me to – to be happy and listen to my heart.'
Source: Read Full Article