Chris Hipkins charms London with sausage-roll diplomacy, scores key BBC interview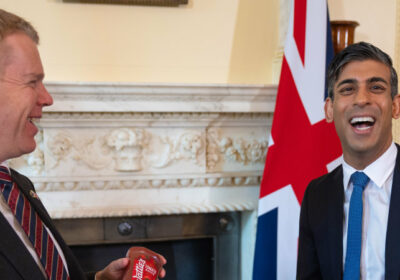 Save articles for later
Add articles to your saved list and come back to them any time.
London: Chris Hipkins has told a British audience there is no groundswell of support for cutting ties with the monarchy in New Zealand, after launching a surprise charm offensive in London based on his love of sausage rolls.
The New Zealand Prime Minister, who replaced Jacinda Ardern in January, was presented with a tray of sausage rolls when he visited both Downing Street and Buckingham Palace last week before attending the coronation of King Charles and Queen Camilla at Westminster Abbey on Saturday.
UK Prime Minister Rishi Sunak presents New Zealand's Prime Minister Chris Hipkins with a plate of sausage rolls during their bilateral meeting at Number 10 Downing Street.Credit: No 10 Downing St
Hipkins spoke about the encounter during an interview with the BBC's prestigious flagship Sunday morning television program hosted by Laura Kuenssberg. He was the only world leader who appeared on the program.
"There have been some surreal moments in the past week for a boy that grew up in the working-class suburbs of lower Hutt," the Labour leader said.
"The sausage roll moment was really cool actually, word got round [that] I give a lot of sausage rolls wherever I go at home in New Zealand.
"But to be presented them by the King and by the Prime Minister of the UK, that's next level."
Asked if Downing Street or the Palace's sausage rolls were better, Hipkins diplomatically avoided answering, saying that would be "dangerous territory".
"There's a lot that goes into a good sausage roll, you've got to get the right mix of meat and pastry," he said.
Hipkins and Sunak first joked on Twitter about sausage rolls when Sunak sent him a congratulatory tweet back in January after New Zealand's leadership handover when Hipkins promised to bring the tomato sauce, if Sunak made good on his promise to offer sausage rolls.
Photographs released by Number 10 show the pair tucking into the sausage rolls with the bottle of tomato sauce sitting on the table between them.
New Zealand's Prime Minister Chris Hipkins (left) eats sausage rolls with his UK counterpart Rishi Sunak at Number 10 Downing Street.Credit: No 10 Downing Street
During his interview, Hipkins declined to say if he thought New Zealand would become a republic in his lifetime but said he thought it would happen "eventually", though most Kiwis subscribed to the view that "if it's not broke, don't fix it".
"I describe myself as a technical republican," he said.
"If I was designing a system this wouldn't be the system that I would design but I also don't think it's a pressing issue, there's a lot happening and this wouldn't be at the top of the list.
He said that if there were a time to start a conversation about changing the constitution it would have been following the death of Elizabeth II last year.
No culinary diplomacy for Anthony Albanese and Rishi Sunak's bilateral meeting at Number 10 Downing Street.Credit: No Downing St
"There hasn't been a groundswell for even having the debate," he said.
Hipkins, like Australia's Prime Minister Anthony Albanese had to swear allegiance to the newly crowned King. He said it did not feel weird because the King is New Zealand's head of state.
Albanese, Hipkins and other Commonwealth leaders departed London on Sunday after long visits. Albanese limited his main media appearance to the Murdoch-owned TalkTV, which screens on Sky News Australia at 11pm, agreeing to be questioned by the provocative commentator Piers Morgan who questioned him about a republic and the trans debate.
Get a note directly from our foreign correspondents on what's making headlines around the world. Sign up for the weekly What in the World newsletter here.
Most Viewed in World
From our partners
Source: Read Full Article