Robyn proposes to Paul in Casualty – and agrees to move away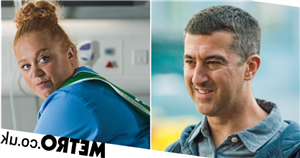 There was a life-changing decision for Robyn (Amanda Henderson) in tonight's Casualty, as Paul (Paul Popplewell) told her there was something he wanted to ask her. No, it wasn't that thing, though Robyn assumed it was after Stevie (Elinor Lawless) made a remark about buying a hat.
The thing in question was whether she'd consider moving to Wigan with him. Paul is just about to embark on a new career as a HCA, and his mum lives in Wigan, so he thought it would be a good time to move there and wanted Robyn and Charlotte to come too.
Paul really managed to prove himself to Robyn in this shift as they were both helping to look after a baby who'd been injured in a train crash. The baby's guardian (Neil Grainger) was the partner of her dead mum and he was full of doubts about his own abilities to be a parent to the little girl. As Robyn listened to Paul reassuring the man and telling him how much he loved Charlotte, she knew he was the right man to make a future with for her and her daughter.
So Robyn had Paige (Shalisha James-Davis) bring Paul to the garden at the end of the shift which she'd decked out in fairy lights and candles. 'It's a yes for Wigan,' she told him, and then got down on one knee and proposed – and Paul happily accepted.
Aside from this heartwarming story, the usual blood, guts and drama were carrying on in the rest of the ED as the injured were brought in after the train crash.
Along with the casualties there was also a new doctor. Max Cristie (Nigel Harman) had been travelling on the train when it crashed and had been first to tend to a young girl with a collapsed lung. Insisting that he wouldn't leave her side until he knew she would be ok, he came to the ED and soon met a face from his past – Dylan Keogh (William Beck), who was at medical school with him. Obviously being Dylan there was no happy banter about old times and in fact it seemed that he and Max had been very far from being best friends back in the day.
This is a rivalry that's set to continue and be explored as at the end of the episode Max announced that Marcus (Adam Sina) had offered him Dylan's old job of clinical lead.
Max is one of those doctors that we can file under 'maverick,' as he had no qualms about talking the law into his own hands when he suspected that a football coach had been abusing one of the girls in his team. Approaching the man in a corridor Max threatened him: 'If you go near any of the girls, I'll come for you with a scalpel when you least expect it and make sure you can't mess with anyone ever again.'
He's going to fit in perfectly.
Elsewhere, Marcus has succeeded in driving a wedge between Stevie and her best mate Faith (Kirsty Mitchell) and has made Stevie feel she has nobody to rely on but him. He started the shift by putting her on minor cases even as the other doctors were being overwhelmed by the injured from the train crash and Stevie was seething at being sidelined.
Source: Read Full Article