Jeopardy! Host Ken Jennings Joins Contestant in Dragging The Price Is Right — WATCH VIDEO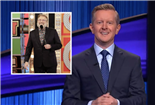 At least they didn't trash Plinko!
In introducing contestant Greg Snyder on Tuesday's Jeopardy!, host Ken Jennings teed up the Las Vegas-based call center manager's previous game show experience. And it quickly devolved from there.
Cancellation Jitters: 13 Shows in Limbo



Launch List


"Fifteen years ago I was lucky enough to get picked on The Price Is Right, where I won a car," Snyder revealed. "I gotta say, [Jeopardy] is just a thousand times better. So much more fun.
"Anybody can be on The Price is Right," Snyder added. "You gotta work to be on Jeopardy!"
That prompted an equally dismissive Jennings to crack, "We didn't just pull you out of the crowd today, Greg. You didn't come in with a uniform or a funny sign." (Watch video of the exchange above.)
Ironically, Snyder ultimately fared much better on Price is Right than he did on Jeopardy!. Whereas on the former he walked away with a brand new Pontiac, his winnings on the latter — where he finished in third place behind four-day champ Matthew Marcus and runner-up Carolyn Shivers — amounted to a mere $1,000.
TVLine has reached out to reps for CBS and The Price is Right for comment.
Meanwhile, in completely unrelated news, Jeopardy! on Tuesday announced that Jennings will pass the Season 39 emcee baton to fellow host Mayim Bialik beginning Feb. 20.
Source: Read Full Article