Dan Walker mortified by Strictly's Nadiya 'awkward' admission about him 'Didn't know!'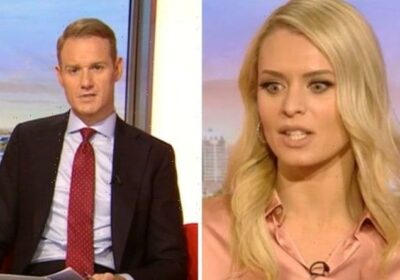 Strictly: Nadiya says she didn't know who Dan Walker was
We use your sign-up to provide content in ways you've consented to and to improve our understanding of you. This may include adverts from us and 3rd parties based on our understanding. You can unsubscribe at any time. More info
Dan Walker and Nadiya Bychkova were eliminated from Strictly Come Dancing on Sunday after making it through to the quarter-final. The 32-year-old professional dancer appeared on Tuesday's instalment of BBC Breakfast to discuss her time in the BBC competition with host Dan. However, Dan was left feeling "awkward" after Nadiya admitted she didn't know who he was before they were paired up.
The Ukrainian-Slovenian joined Dan and co-host Sally Nugent on the red sofa to talk about their Strictly Come Dancing journey.
During the interview, Nadiya explained: "He loves performing and I am so glad that I got to show him that dancing is something he could perform as well, it was just beautiful to watch him grow in confidence."
Sally asked: "You were introduced to each other in Wembley and there was that moment on the pitch which was brilliant. Did you panic and think he was so tall and thought it wasn't going to work?"
Nadiya replied: "Before we were paired up I wanted to get him, I don't know why as I'd never met him before."
Sally interjected: "Did you even know who Dan Walker was at this point?"
As Nadiya uncomfortable paused to think of an answer, Dan quipped: "Well this is awkward."
Nadiya laughed and replied: "No, not really. Obviously, I did my homework and [found out] he was a presenter on BBC Breakfast."
The professional dancer then changed the subject to their first meeting in Wembley and explained that when she saw Dan perform a few steps "very naturally" that was the point when she wanted to work with him.
Sally remarked: "That's interesting – so you were good from the very start?"
The modest father-of-three denied that he was naturally a good dancer, and credited Nadiya for her wonderful teaching skills.
He explained: "The great thing Nadiya did is that she sort of used what I had and she said, 'You have two friends, me and the floor.'
"And I sort of understood, because I like golf and you react quite a lot to the floor in golf, so we used quite a few golf analogies to make sure my feet moved in the right way."
He then couldn't resist asking Nadiya about the final four celebrity contestants left in the competition, who he described as "brilliant".
The finalists include CBBC presenter Rhys Stephenson, EastEnders' star Rose Ayling-Ellis, presenter AJ Odudu and Bake Off star John Whaite.
Dan asked Nadiya: "What do you think is going to happen in the semi-finals and the final?"
Nadiya explained: "I think it's going to be very interesting because you never know what will happen and it's about who people want to see in the final.
"I think they are all brilliant and you and I always thought it was going to be Rose and Giovanni [Pernice]."
She said one of the specialist moments in the competition was when a part of Rose and Giovanni's dance moment to Symphony by Clean Bandit featuring Zara Larsson was performed without music.
Rose, who is deaf, gave viewers the chance to understand her world more by pausing the music during the routine while she and Giovanni continued to dance in silence.
BBC Breakfast continues weekdays on BBC One between 6am and 9am.
Source: Read Full Article