Coronation Street death fears for beloved resident as they're rushed to hospital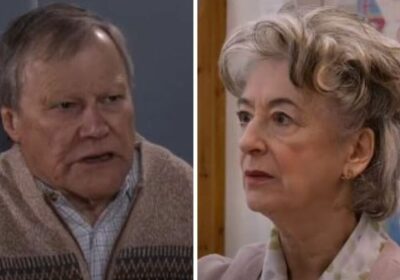 Coronation Street: Nina sobs as Roy leaves in a cab
Since his debut in Weatherfield back in the 90s, Roy Cropper (played by David Neilson) has been a fan-favourite in the ITV soap.
However, viewers have been left concerned the character could be meeting a deadly end after falling ill.
Last month, The Roy's Rolls owner abandoned his friend Evelyn Plummer (Maureen Lipman) during their dance lesson after feeling odd.
Clutching onto his chest, he decided to visit Dr Gaddas (Christine Mackie) where he explained experiencing breathlessness and chest pain.
Although there were tests arranged to get to the bottom of the issue, Roy's health takes a drastic turn.
In upcoming scenes, Nina (Mollie Gallagher) reveals that Roy is nervous about taking his new pet Freddie for a walk.
Wanting to reassure her friend, Evelyn offers to accompany Roy on his stroll to put his mind at ease.
Although once they set off, Roy starts to develop terrible chest pains once again.
As Evelyn urges him to chase up the appointment with the heart specialist, Freddie spots a cat and makes a run for it.
Don't miss…
Coronation Street exit fears as beloved resident makes heartbreaking decision[SOAP]
Ruth Langsford 'loving drama' with Phillip Schofield hours after Eamonn's dig[VIDEO]
Bargain Hunt star Caroline Hawley's life and famous husband explored[INSIGHT]
However, Roy is brought up short by the pain in his chest, realising something is wrong Evelyn quickly calls out an ambulance.
It looks as though this could be the beginning of the end for Roy Cropper as actor David Neilson spoke about a potential exit two years ago.
At the time, he said: "I'm 72, obviously. When Corrie aired Norris' funeral, we had a scene with the hearse pulling up.
"Because of Malcolm Hebden, I thought 'I'm really sorry that I won't get to work with him again'.
"But there are two exits in this for me: One for the character and one for David.
"Hopefully they won't coincide, maybe they will. I know Roy leaving will get a reaction.
"It's a big part of your life and a big part of that popular culture. He will be remembered for a long while."
Coronation Street continues Mondays, Wednesdays and Fridays on ITV from 8pm.
Source: Read Full Article