Some Liberal party members to get a say in leadership fight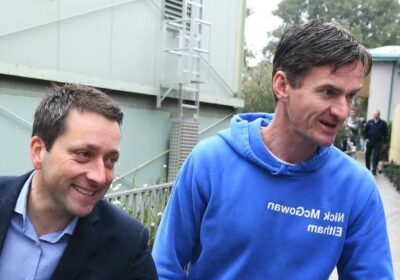 Victorian Liberal Party branch members will, for the first time, play a role in electing the party's leader after the opposition's poor election result.
Liberal upper house candidate Nick McGowan, who is projected by the ABC to be elected for the North Eastern Metropolitan region, has taken the unorthodox step of allowing rank-and-file Liberals to decide his vote when MPs meet to elect their new leader this week.
Nick McGowan (left) with Matthew Guy in 2018.Credit:AAP
In a letter to local members, McGowan said they were "the lifeblood of our party" and he wanted them to be "involved in policy and matters of importance to our party's future".
"While I do not necessarily hold this approach as a model going forward, I want to encourage outside-the-box thinking. I remain wed to the view that our members deserve a greater say in their party's leadership and policies than is presently the case," he wrote.
McGowan, who was defeated Liberal leader Matthew Guy's chief of staff before the election campaign, wrote to members on Sunday announcing he would host a Monday night debate between the contenders, Hawthorn MP John Pesutto and Berwick MP Brad Battin.
The debate will be attended by delegates and branch executives from the 11 lower house electorate conferences in McGowan's upper house region, which stretches from Mill Park, in Melbourne's northern suburbs, to Bayswater in the outer east.
"I will then invite those present to vote [in a] secret ballot for the candidate they believe should be our party's state parliamentary leader," McGowan wrote.
"I will then cast my vote at the party room meeting next Thursday consistent with your collective will. In this spirit, I urge you to reach out to your local party members prior, and discuss with them how you may vote."
Liberal MPs hoping to regroup will have a choice between Pesutto, an urbane and articulate politician who some colleagues believe lacks conviction and interpersonal skills, and Battin, a former policeman who presents well and symbolises the type of growth area where the Coalition needs to win votes, but whose detractors claim he lacks intellectual heft.
Pesutto confirmed he would attend the debate and said it was vital to engage with grassroots members. Battin will also attend, and emphasised the work he had done to energise local branches in the south-eastern suburbs.
Liz Truss speaks in Downing Street in October, as she resigned as British prime minister.Credit:Getty
Battin's camp is increasingly confident he will win. Pesutto's allies also believe he is a good chance of winning in a tight vote. While the probability of McGowan's vote determining the outcome is low, a predicted close result and the relative paucity of Liberal MPs boost the value of each vote.
Rank-and-file Labor members vote to elect the leader of the federal and state parliamentary teams, but members of the Coalition parties do not.
In a sign of the dissatisfaction some senior Liberals feel towards the group of Liberal MPs, party president Greg Mirabella last Friday explained his conversations with leadership hopefuls.
"I said to them, 'Thanks for letting me know, and just so you know, it is my view that the parliamentary wing has lost its sole right to determine the future of this division'," he said.
"Further, I said, I don't want to see a party leader who is aspiring to the party leadership because it is just their turn … I want to see a leader who is prepared to be part of a plan."
While some party activists may appreciate a stake in leadership ballots, commentators have pointed to British Labour's election of Jeremy Corbyn and the Conservative Party's election of Liz Truss as examples of branch members choosing a leader whose values are embraced by ideologically-driven party members, but ultimately rejected by the general public.
NSW Treasurer and leading moderate Matt Kean last week launched a broadside on the Liberal Party's membership, warning that it might be out of step with the voting public and risk being rejected at an upcoming election for failing to preselect enough women.
The Victorian seats of Northcote, Bass, Pakenham and Preston have not yet been declared. The electoral commission expects some of them to be called this week after full preference distributions occur on Wednesday. If Labor wins all four, it could end up on 56 seats, which is one more than it held before last Saturday's election.
The seat of Northcote tightened over the weekend. The Greens have conceded to Labor, but the minor party only trailed by about 150 votes on Sunday afternoon.
The Morning Edition newsletter is our guide to the day's most important and interesting stories, analysis and insights. Sign up here.
Most Viewed in Politics
From our partners
Source: Read Full Article