Prince Harry's relationship with Charles is 'telling' at reunion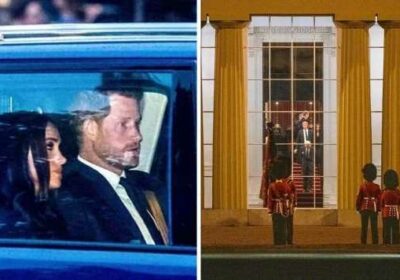 Meghan Markle: Russell Myers discusses Windsor appearance
We use your sign-up to provide content in ways you've consented to and to improve our understanding of you. This may include adverts from us and 3rd parties based on our understanding. You can unsubscribe at any time. More info
Meghan Markle and Prince Harry were photographed inside a car last night, which took them to Buckingham Palace. They followed the Queen's coffin with the rest of the Royal Family and met with King Charles in the Palace. What was their body language like?
Judi James spoke to Express.co.uk about Harry and Meghan's facial expressions while they travelled in the car. They were seen from the car's windows looking, understandbly, sombre.
The body language expert said: "The photograph in the car is a very poignant one as, viewed in part profile, Harry looks so very similar to the small boy we saw following his mother's coffin after Diana's death.
"The facial expression is almost the same as Meghan's expression of sadness, but also strength might be something he will be drawing on over the next few days."
The couple were then pictured with Charles inside the Palace, standing behind him. This photo was the first glimpse the public saw of Meghan and Harry with the King – before this, the Sussexes had been seen only with Prince William and Kate, whom they had reunited with at Windsor over the weekend to greet crowds near the Castle's gates.
READ MORE: Kate Middleton diet: The Duchess' diet plan she follows to stay slim
Judi continued: "The photo of the couple inside the Palace with Charles gives a telling glimpse of their relationship together.
"When Harry and Meghan did their infamous Oprah interview Harry did speak of William with some brotherly love, but his body language when he spoke of his father suggested that relationship might be under greater threat than that with his brother.
"Here we can see Harry and Meghan following Charles down a flight of stairs, but with Harry and his father separated by space and mood, as Charles walks ahead with his head down rather than joining his younger son to walk together and talk."
However, Judi stressed that "the moment could be misleading though, given the tragic circumstances, and at least we can see them in one place at the same time".
DON'T MISS:
Easy way to deep clean a 'filthy' rug in less than 10 minutes [VIDEO]
Keep bread fresh & mould-free for 3 wks with quirky food storage hack [EXPERT]
Easy way to clean pillows without a washing machine [COMMENT]
The Queen's coffin was taken from Scotland to Buckingham Palace yesterday, where it was greeted by the Prince and Princess of Wales, William and Kate, and Prince Harry and Meghan, who travelled from Windsor Castle in different cars.
It was difficult to see, from the images inside the car, what Meghan and Harry were wearing – apart from the standard black mourning outfits.
Kate, however, was wearing poignant accessories as she travelled by car with William to the Palace.
She was seen wearing pearl earrings, which can sometimes symbolise tears because of their shape. The option to wear pearls could also be a nod to the Queen, who was a fan of pearls and was rarely seen without them.
Princess Anne, Prince Andrew, and Prince Edward with their spouses, the Queen Consort, Sir Tim Laurence and the Countess of Wessex were also present at the Palace last night.
They were accompanied by the Queen's grandchildren, including Princess Beatrice and her husband Edoardo Mapelli Mozzi, Princess Eugenie and Jack Brooksbank, Peter Phillips, Zara and Mike Tindall, Lady Louise Mountbatten-Windsor and James, Viscount Severn.
Today, September 14, Prince Harry will be reunited with his brother as they intend to walk behind the Queen's coffin.
The brothers will come together with Charles in a poignant walk behind the coffin, where it will be taken from Buckingham Palace to Westminster Hall, where it will lie in state.
Kate and Meghan will travel by car with Queen Consort Camilla and the Countess of Wessex.
Prince Andrew, Princess Anne and Prince Edward will also walk in the sombre procession, as well as Vice Admiral Sir Tim Laurence, Peter Phillips, the Duke of Gloucester and the Earl of Snowdon.
The procession will leave the Palace at 2.22pm and is expected to arrive at Westminster Hall at 3pm. A service lasting around 20 minutes will be led by the Archbishop of Canterbury accompanied by the Dean of Westminster.
It comes after William, Harry, Kate, and Meghan were reunited as the "Fab Four" on Saturday, September 10, for a surprise walkabout at Windsor Castle to view floral tributes and greet well-wishers.
Source: Read Full Article