Is Succession the most compelling TV show ever?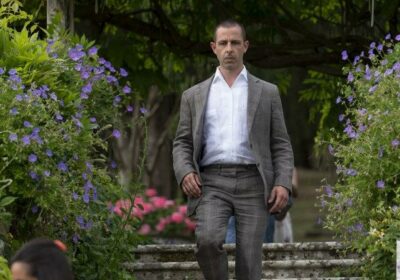 Anyone already dreading family tension around the Christmas lunch table could do worse than get in some early aversion therapy by watching the thrilling high-wire act that is Succession, the most compelling TV show ever.
Not sure if you can deal when someone cracks it because Nan used packet jelly in the trifle? Worried two Bailey's Irish Cream heart-starters might make Uncle Rod more boorish than ever? Right. You need to see HBO's brilliant, backstabbing Roy family in action.
Kendall Roy (Jeremy Strong) in a scene from the latest episode of Succession.Credit:HBO/Foxtel
For the uninitiated, Succession is the story of the Roys, led by sociopathic patriarch Logan (Brian Cox), his offspring, his minions, his rivals and his Waystar media octopus. Everyone says the show, now in its third season and nine-time Emmy winner, is inspired by the Murdochs but surely none of them ever celebrated a new office by masturbating on the window.
It's addictive, ugly, dazzling TV, a comedy drama which is equal parts Shakespearean tragedy and lavish soap opera. Succession's poisonous dynastic dynamics have garnered comparisons to The Sopranos, but for all its frenzied cinematography and razor-sharp scripts, its reversals of fortune and plot twists owe just as much to fantastic 1970s soapies Dallas and Dynasty.
Still, where past villains like JR Ewing and Cecil Colby were famous for double-crossing and having just as many dealings in the bedroom as the boardroom, they were still kind to their mamas. Not so Succession's baddies. And there's not just one black hat. Everyone is awful.
It's a screen rarity, having no wisecracking best friend or befuddled single dad to create audience affection (Cousin Greg comes closest, with his courtly language and wide-eyed ingenuousness.) Succession revels in having nobody to like. Everyone is out for themselves, paragons of venality, sharpening their amoral wit and knives for their next victim.
Witness Tom suggesting to his wife Shiv Roy that he could offer himself as a fall guy sacrifice and face jail time to save Logan having to do it.
"Punchy," says Shiv of the idea her beloved could go to the pokey. Tom knows she's not sentimental – she proposed an open marriage on their wedding night – but worries aloud anyway that he won't get his favourite cold white wine in jail.
Shiv points out an upside. He'll "bank gold" with Logan.
Why are we all – from hardened critics to those who swore off family dramas after Game of Thrones went all Three-Eyed Raven on us – obsessed with creator Jesse Armstrong's guilty pleasure satire?
Logan Roy (Brian Cox) and Shiv Roy (Sarah Snook) in Succession.Credit:Foxtel/HBO
Let's start with obscene wealth and power. Knife-edge intrigue. Greed. Property porn. The lack of shame that drives the filthy rich. Think Kendall Roy making guests enter his 40th birthday party through a giant birth canal. No such thing as bad taste when you can force the president's hand with a couple of deft headlines.
And wow, the dysfunctional relationships. Manipulative father Logan pitting his children against each other. Siblings duking it out – and they would do it to the death – for dad's approval. Loyal lieutenant Gerri and her dominating thing with Roman Roy. Shiv and Tom. Tom and Greg. Greg and Grandpa. Grandpa and Logan. And so on.
The enormously privileged world of the Roys is different to other shows about the filthy rich because it's oddly lacking in real comfort. Their incredible homes and private jets (the "PJs") are impersonal, with no family portraits or soft furnishings. They're more often in the back of a car or on a windy tarmac than in a European palazzo, which underlines the family is all business.
Even with their billions, the Roys are never in tennis whites or skimming down black runs. They're always working. Mediterranean cruises are about deals, with the only nod to privilege being the etiquette around choosing a desirable cabin: "Port out, starboard home."
In the most recent episode the Roys hit Italy for their mother's wedding, but even the decadence of Tuscany was a mere backdrop to the family's Machiavellian manoeuvres and the promise of a series-changing cliffhanger.
The last couple of times I've been out for dinner a new parlour game line of conversation came up: which power-hungry Roy sibling are you? Useless libertarian Connor (Alan Ruck). Grandstanding faux woke playboy Kendall (Jeremy Strong.) Shrewd cutthroat Shiv (Sarah Snook.) Walking lawsuit Roman (Kieran Culkin.)
All products of emotional abuse, white privilege and excessive entitlement. Nobody wants to be any of them, of course. We just really like to watch.
The Morning Edition newsletter is our guide to the day's most important and interesting stories, analysis and insights. Sign up here.
Most Viewed in Culture
From our partners
Source: Read Full Article