I worked for Ray Kelvin at Ted Baker. I wish I'd stood up to him
When I worked for Ray Kelvin, Ted Baker's founder and CEO, in the mid-1990s he was well-known as an eccentric, exuberant character and a maverick in the industry. He shunned many of the conventions of the fashion business and built a brand on quirkiness and the prevailing lad culture.
Ted Baker staff complain of 'forced hugs' by company founder
The cocksure corporate culture was very much built in Ray's image. You had to have resilience to take the sex chat and the "banter", to accept the often unwanted physical contact and to put up with the ritual humiliation: if you were late (10 burpies in front of the open plan office) or if you stood up to an unreasonable demand. It was acknowledged that that was "Ray's way" and it was very much an accepted part of working there. Hey, who is going to say no to a hug from their physically imposing, larger-than-life, alpha male, multimillionaire CEO? Not me!
In the early 90s, the Ted Baker brand was an anomaly in the fashion industry. They didn't advertise, they didn't court fashion journalists, their window displays were unique, quirky, witty and irreverent and the labels in their clothes weren't just washing instructions, they gave you life instructions. Ray's mother, Trudie, wearing a name badge saying "Ted's' mum", worked on the counter at their concession at Way In in Harrods – and there was a grassroots vibe that made you feel part of the club if you "got it".
As a PR student, I totally got it. I loved visiting the shop in Covent Garden (then on Langley Court), with its gyrating Elvis made of Red Stripe cans and branded T-shirts (the only thing I could afford). As a jobless graduate in the summer of 1994, I was walking down Langley Court and saw an advert in the window: PR/PA required. I couldn't believe it. The salary was a pittance, but I'd be working for an amazing brand, at the height of 90s lad culture. I was interviewed by Ray and he told me that they could have their pick of PRs with bursting contact books, but they wanted someone new and fresh. I got the job without any fashion PR contacts and no PA experience. I could touch type and I loved the brand. What could possibly go wrong?
I tenuously held on to the job for six months. I was woefully unprepared and inexperienced. I soon realised that to get the job I hadn't been competing against the pick of PRs with bursting contact books. First, none of them would have worked for the £10k salary (including PA duties) and secondly, they would all have been aware of the brand's reputation among the press.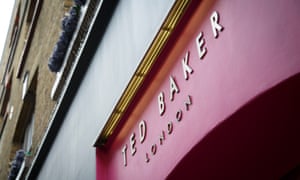 Due to "Ted's" anonymity, Ray would rarely be interviewed and definitely not be photographed. When your titular employer doesn't actually exist, gaining PR coverage is quite a challenge. Add to that an advertising budget of zero and you don't have much leverage with fashion journalists.
I was once instructed to ring up the fashion director of GQ or Esquire magazine to ask why they had interviewed another designer and not interviewed Ray. Ray stood over me as I made the call. "Hi, Ray's asked me why you haven't interviewed him," I nervously said. "Is Ray standing next to you now?" asked the fashion director. "Yes," I answered as ambiguously as possible. "Oh, Erica. I can imagine exactly how he asked you to call me," came the resigned reply.
While it could be argued that much of what went on during my tenure was purely laddish banter, everyone draws the line somewhere.
For me, there were two instances. The first came during a car journey from the office near Oxford Street to the Tottenham Hotspur ground on White Hart Lane. Ray and I were both going to the match (with different people) so he offered me a lift. For much of the journey he talked to me in detail about his sex life. It was one of the most uncomfortable experiences of my career, but it was just "Ray's way" and as such I didn't tell any senior management about it. This happened 25 years ago and I still think about it now. I think about whether I was complicit in making him think it was acceptable to talk like that to an employee. I think about whether I gave the impression that I was "up for the bants" and I think about why I didn't tell him how uncomfortable it made me.
The second was during a 5-a-side tournament on a dreary winter's evening somewhere in east London. A Ted Baker team was competing in this all-male tournament and staff members were encouraged to go along to spectate. I lived in west London at the time, so it was a schlep to get there. Looking back, I'm guessing that there was a tacit expectation from Ray to go.
At some point during the match, the goalkeeper was injured. "Get in goal," Ray shouted to me across the pitch. "What??" I said, not sure if it was a joke. It wasn't, and I refused. In front of the players and spectators I stood my ground. It was embarrassing to be asked and if you don't know Ray it's hard to convey the forcefulness of his personality. It's hard to refuse him without looking like a killjoy, like you don't get the joke, like he's being unreasonable.
My time at Ted Baker was not without its successes. I came up with the name and oversaw the PR of the launch of the new Ted Baker Lite (geddit?) store in Liverpool with the help of Jim King at Cream. However, neither myself nor Ted Baker Lite would endure. The Baker Lite concept was short-lived – returning to simply Ted Baker some time after – and I was asked to leave when sample product that I had loaned for a magazine shoot wasn't returned and we discovered it had been stolen. I was relieved.
That was in 1995 and while those things might have been more acceptable nearly 25 years ago, it seems that that culture has become ingrained within the company. I wish I'd stood up to him back then. I wish I'd told him how uncomfortable I was during an extremely sexually explicit conversation while in his car on the way to a football match. I wish I'd stood up for other staff members when he humiliated them in front of the open-plan office. I wish I'd been better prepared as a 23-year-old to stand up to a man 20 years my senior.
• Erica Roffe is the managing editor of the Bedford Independent and the Bedford Clanger and creative director of Explore Bedford
Source: Read Full Article