I'm a flight attendant and I do a safety check at every hotel I stay at – I've even found people hiding in my room | The Sun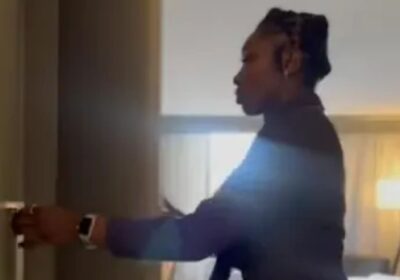 A FLIGHT attendant has revealed that she does a security check in every hotel room that she stays in. 
Known as Lea, the woman took to her social media account to share the step-by-step process she takes to ensure her own safety while travelling. 
"As a flight attendant I do a safety check at every hotel," she said as she used a keycard to get into her room. 
She then explained that she uses her suitcase to keep the door open because she wants to "leave quickly if the room is unsafe". 
Lea then systematically goes through the entire room, opening cupboard doors, checking under the bed and looking in the bathroom. 
She does this to make sure there's no one hiding in the room, adding: "And believe me, it happens". 
read more fabulous stories
I worked 3 jobs on £3 an hour and scrubbed hotel toilets… now I run a £15m empire
Hotel stays in top resorts are now cheaper than Airbnbs, surprise figures reveal
The woman then uses a hanger to poke the curtains in front of the windows. 
"A senior flight attendant once told me to always use a hanger when checking behind the curtains," she continued.
"Because if they grab something, it won't be me." 
Once she's sure the room is completely safe, she uses a doorstop that latches around the lock. 
Most read in Fabulous
MYSTIC MEG
In love, being together can mean very different things to two people
HONEYMOON HELL
My hubby planned honeymoon with strangers & no sex, I thought he was joking
MUMFLUENCER
I'm a curvy girl with a mum tum & I've discovered the best Primark fashion hack
LE-GO-GO-GO
Tesco shoppers can bag Lego sets for almost half the price but there's a catch
She also uses a doorstop with an alarm that goes off in case someone does try to access her room while she's asleep. 
TikTok user @cnnunderscored posted the clip from Lea's account and added in the caption: "Do you check your hotel room when travelling? Lea's safety routine is a must!" 
People were quick to comment as one person wrote: "New fear unlocked," to which they replied: "Right!" 
Another said: "As a woman remembering all this information to stay safe overwhelms me. I feel at that moment I'll forget."
While a third suggested: "Check the room phone to make sure it actually works. Make sure the windows are locked. I pick up take out on my way to the hotel."
Others, however, weren't convinced this was an issue people really needed to be worrying about.
One said: "People got mad issues no one's gonna be hiding in the room like tf," as a second called Lea "paranoid". 
But one person came to her defence as they argued: "For those that are saying this isn't necessary…
"Flight attendants basically live in hotels so the likely hood of something lurking in their hotel is 90x more likely than the two times a year you go on vacation and stay in a hotel". 
A man who worked at hotels for seven years previously spoke out on the top things you should do to feel safe.
Justin Aldrich told Insider that you should always use the latch and deadbolt to lock your door and check the room before settling in. 
Using the 'Do not disturb' signs is a good way to get privacy and could even prevent someone from walking in on you showering. 
Justin also advises guests to get a door stopper if they're travelling alone. 
READ MORE SUN STORIES
The 6 best chocolate bars if you're trying to lose weight – and the 3 to avoid
Love Island favourite reveals huge new career change away from reality TV
"Use your last name instead of your room number in public spaces," he added. 
Do you check your hotel room? 

Source: Read Full Article