I made a prank called aged 16 – I had no idea that it would change my life | The Sun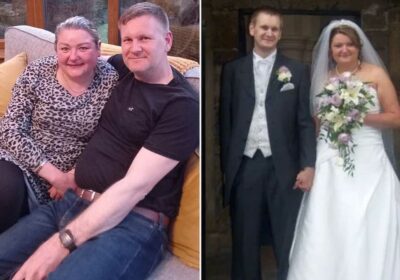 FORGET Tinder hook-ups and dating apps – love can be found in weird and wonderful places.
From prank calls to being stranded at sea, three women reveal the unlikely ways they found their soulmate.
Helen Walker, 38, is a charity marketing manager and lives in Scunthorpe with her husband Chris, 40, a marketing manager, and their children Jack, 11, and Emelia, eight.
"Somewhere in my house is a treasured relic – a 22-year-old Nokia mobile phone that doesn't work, and even if it did, there's no internet access or photos.
If my children found it, they'd think it was ridiculous, but I'll never get rid of it, because it's the reason they exist. That phone – and a silly dare – is what brought me and their dad together 22 years ago. 
In March 2001, aged 16, I was at school when my friend dared me to make a prank call with the mobile phone my parents had given me for Christmas. She suggested I call my own number, but change the last digit. Two rings in, a male voice answered.
READ MORE FABULOUS
My boyfriend is 5'5 and I love it, there's a perk to dating 'short king'
MIC couple in shock split after dating for three years and moving in together
I didn't have a plan, so I improvised and asked if his name was Rich. He replied: 'No, it's Chris.' Asking how his day was going, he told me he was at university in Hull, which was 40 minutes away from me.
I told him to have a nice day, hung up and we fell on the floor in hysterics. The entire call lasted 10 seconds. I had no idea that it would change my life. 
That Saturday, I was babysitting and suddenly thought to text Chris. He instantly replied and soon the messages were flying between us. Back then, you had to pay for each text, but that didn't stop us.
I learned that Chris was 18 and studying computer science. We arranged to meet that weekend, outside Topshop in Scunthorpe. My friends couldn't believe it when I told them beforehand, and my friend Gemma agreed to come as back-up. 
Most read in Fabulous
Prince Andrew refusing to leave 30-room mansion in new row with King Charles
Wills & Kate release Netflix-style vid behind the scenes of Coronation
King Charles sits on throne flanked by two heirs Wills & George in new photo
Victoria's Secrets fans slam woke lingerie brand's plans to use 'real' women
I told my mum I was meeting a boy that Gemma knew and, as the phones couldn't send photos, I told Chris what I was wearing so he would know who to look out for. 
When I laid eyes on Chris, I instantly liked him – he was good-looking and really nice. He officially asked me to be his girlfriend on the phone the following week, but we didn't kiss for another few weeks. It was my first kiss, and was lovely. When my parents met him six weeks later, they really liked him. 
We've been together ever since, buying a house together and getting engaged in 2007. My parents didn't find out how we'd met until our wedding in July 2008, when the best man included it in his speech, and they found it really funny. 
These days, meeting through your phone is nothing new, but we were like the original Tinder date, just without photos. I'm sure we were meant to be together – and we have two Nokia phones to thank for it!"
Chris says: "I remember getting a call from a number that looked like mine, and not thinking much of it when Helen said she'd got the wrong number.
"Then, when I got the text, I was sure a friend was winding me up. I was still sure it was a joke as I waited outside Topshop, so when Helen appeared, it was a lovely surprise. I love that we met this way, and that all these years later, our numbers are the same, just one digit apart. They remind me that one phone call really can change everything."
'We were stranded in the Caribbean sea'
Bethany Vakulich, 30, is an emotional health and wellbeing worker and lives in Manchester with her husband Maksim, 31, a bartender, and their daughter Nova-Wren, two.
"Stepping on board the cruise ship in Jamaica, where I was about to begin a 10-month contract as a performer, I was so excited about visiting some of the most beautiful places in the world. 
It was March 2020, and I had no idea that a global pandemic was around the corner – or that I'd disembark six weeks later having met the man of my dreams.
I'd been working on cruises on and off for a decade, and had visited more than 64 countries. This ship had 3,000 passengers and 1,500 crew, with staff from each department living and socialising separately, meaning I hadn't met the bar or housekeeping staff in the two weeks since I'd stepped on board. 
Two weeks in, we were suddenly being refused entry to other ports due to Covid, then news about the UK lockdown hit. The announcement came that all passengers would disembark in Jamaica and fly back home, while the staff would all stay, because everyone thought it would blow over soon.  
It was strange to see the ship empty. The rules for crew were relaxed. Everyone could spread out and use the guest cabins, pools, bars and restaurants. It was surreal, but fun. Because we were in the bubble of the ship, it was hard to understand how serious Covid was.
I was waiting for the lift when I saw Maksim. Our eyes locked, and he introduced himself and asked for my Instagram.
I liked his confidence, so I gave it to him, and an hour later, he messaged me. I didn't know it then, but he was from Belarus and not confident in spoken English, which is why he wanted to message.
I was intrigued, and when he asked to meet for a coffee, I agreed. We sat in the cafe for hours, talking about our lives and doing a jigsaw puzzle. The connection was immediate – I loved his outlook, his belief in living in the moment and his positivity.
Maksim was a bartender, and if passengers had been on board, our meeting would have been impossible. But because of the pandemic, we were free to hang out. Soon we were in our own little romantic bubble.
Within days, I knew it was something special. A week after our first date, we kissed, and after two weeks, said we were in love. Six weeks flew past and then it was time for Maksim to head home. It was awful and we were both in tears. But we knew that we'd see each other again. 
In June 2020, I flew to Minsk, where Maksim was waiting for me at the airport. I jumped into his arms. We were in isolation for two weeks, and spent it watching films, making plans for the future and trying for a baby. We explored the capital city and I met his friends and family. Two weeks later, I was feeling nauseous and took a pregnancy test. It was positive – we shed tears of joy!
It was hard to return to the UK without Maksim, but we applied for a tourist visa, which allowed Maksim to come to the UK for a few months, and again just before I gave birth to our daughter, Nova-Wren, in February 2021. 
We got married in August and it was perfect, and a few months later, Maksim was granted his two-and-a-half-year visa to stay, though we're not sure what we'll do after that. Before this, I didn't believe in fate, but now I'm sure we are soulmates. It just took a pandemic for us to find each other!"
Maksim says: "The moment I saw Bethany, my life changed. I knew she was The One. From our first date, it was like being in a film. It was a scary time, but for us it was perfect. There have been hurdles since, but now we'll be together forever. This journey has proved to me that fate had a plan for us."
'He heard me on the radio and knew I was the one'
Laurie Jane Woodruff, 34, lives with her fiance Matt Foster, the pair met after Matt heard Laurie's voice on the radio back in 2019.
She says: "When I got a call from a producer at the Toby Foster At Breakfast show on BBC Radio Sheffield asking me to make an astrological birth chart for Toby and talk about it on air, I almost said no because of my voice. I'd been self-conscious of my soft Yorkshire accent for years. But I told myself to be brave and say yes. I didn't know then that it would lead me to the love of my life. 
It was September 2019, I was 30 and not looking for love, having only been single for a few months. I was focused on juggling my work with looking after my son Henry, then two. I'd been fascinated by astrology for years, and used it in my practice. I put Toby's chart together and went on air. He was amazed, and the callers had loads of questions. I connected with Toby, so I friended him on Facebook. 
The next day, I had a Facebook message from Toby's brother, Matt. He said he'd heard me on the radio, been impressed with how accurate the birth chart was and asked if I'd make him one. When I started writing it, I felt an attraction. I could see Matt was powerful and strong. He asked if I'd deliver the chart to his house, so the next evening I drove over. 
Instantly, I fancied him. He had lovely manners and a great smile, but I kept it professional. For 45 minutes, as I ran through what I'd found, I suspected that he also felt the heat between us. And I was right, as the next day he asked me out for coffee, which turned into going to a comedy club, dinner, and spending the night together. It was clear we both liked each other. 
We became serious quickly. I'd gone from not being interested in dating to falling in love within a week. After a couple of months, I introduced him to my son Henry, and around then Matt told me the truth – he'd no interest in astrology and didn't believe in it, but he'd heard my voice on the radio that day and immediately fallen in love.
He knew if he told me that in his first message, it would have sounded weird, so he pretended to want a birth chart, to have the chance to meet me. I couldn't believe my voice – something I'd been so self-conscious of – was what had attracted him to me.
We got engaged in October 2020 and our son Albert was born in September 2021. Now, I love my voice and I use it in my new career as an actress. As for Matt, he may not have believed in astrology, but I know that the universe put me on the radio and made him tune in. It had a plan for us, after all!"
Read More on The Sun
Holly Willoughby & Phil Schofield turn backs on peace talks for worrying reason
Eurovision viewers spot awkward blunder as men are seen crawling off stage
Matt says: "When I heard Laurie's voice, I was captivated. Logging on to Facebook later, I saw that a woman called Laurie had friended my brother Toby. It was her, and she was beautiful.
"From the moment I opened my front door and saw Laurie, the sparks flew and we've been incredibly happy ever since." 

Source: Read Full Article