Kirsty Gallacher breaks silence after 'deleting' post about Russell Brand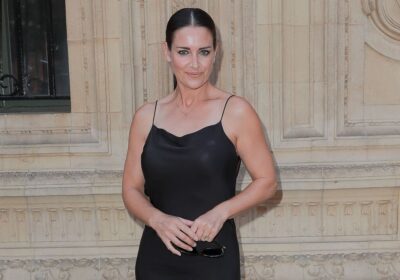 Timeline of events around Russell Brand allegations
Kirsty Gallacher has broken her Instagram silence to wish her colleague Natalie Pinkham a Happy Birthday after seemingly supporting her accused brother-in-law Russell Brand in a previous post.
Ahead of The Times and Channel 4's Dispatches investigation, in which Russell is accused of sexual assault, rape and emotional abuse between 2006 to 2013, the actor shared a lengthy video denying any wrongdoing.
Ex-GB News presenter Kirsty, 47, then shared his video with a love heart on her Story, seemingly in support of him.
According to various publications, she later removed the post before it expired and before the allegations went public.
Now, the presenter has shared a very different post to wish her fellow presenter a Happy Birthday.
Alongside a picture of the pair, she wrote: "Happy birthday to this special woman, how lucky am I to have you in my life."
Kirsty has not made any public comment about the allegations made against Russell.
Likewise, her sister Laura Gallacher, who married Brand in 2017, has stayed silent.
In the past, however, the presenter has referred to Russell as her "pillar of support" following her split from Paul Sampson in 2014.
Speaking in 2020, she discussed how she was forced to quarantine alone without their sons as she battled Covid-19.
As well as citing Gabby Logan and Dermot O'Leary for their support, she went on to praise Russell, who gave her some advice.
Speaking on Lorraine, she told how the comedian urged her to be on her own for a while and, in reflection, agreed he was right.
She went on to say: "Russell has always been a pillar of support. He gave me some encouraging words of motivation to follow my dreams and focus on doing what I wanted."
Of the recent accusations against him, Russell has said all his relationships had been consensual.
As part of the clip shared on social media, he said: "These allegations pertain to the time when I was working in the mainstream, when I was in the newspapers all the time, when I was in the movies.
We use your sign-up to provide content in ways you've consented to and to improve our understanding of you. This may include adverts from us and 3rd parties based on our understanding. You can unsubscribe at any time. More info
"And as I've written about extensively in my books, I was very, very promiscuous. Now, during that time of promiscuity, the relationships I had were absolutely always consensual.
"I was always transparent about that then, almost too transparent, and I am being transparent about it now as well.
"To see that transparency metastasised into something criminal, that I absolutely deny, makes me question: is there another agenda at play?"
Brand claimed the "very serious allegations" have come amid "a litany of astonishing, rather baroque attacks".
He also said the accusations were a "coordinated attack" and an "agenda to control his voice" after being characterised as a "conspiracy theorist".
He is yet to make any further comment.
Source: Read Full Article