Gwyneth Paltrow's 'reckless' skiing caused brain injuries, court hears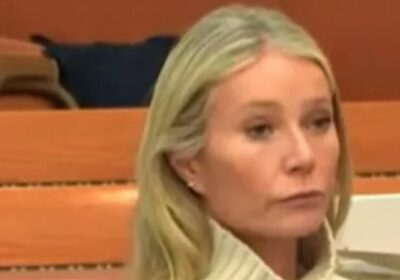 We use your sign-up to provide content in ways you've consented to and to improve our understanding of you. This may include adverts from us and 3rd parties based on our understanding. You can unsubscribe at any time. More info
Gwyneth Paltrow, 50, is being sued by retired optometrist Terry Sanderson who alleged that the Hollywood actress skied "out of control" and hit him in 2016. The Oscar-winning actress's "reckless" behaviour at the ski resort resulted in the man sustaining permanent brain injuries, the US court has heard.
Gwyneth appeared in court on Tuesday to hear opening statements in the case, wearing a high-necked cream jumper and brown trousers.
Lawrence Buhler, representing Mr Sanderson, blamed Gwyneth's "reckless" behaviour for the incident.
He said: "Ladies and gentlemen… distracted skiers cause crashes. Defendant Gwyneth Paltrow knew that looking up the mountain and to the side while skiing down the mountain was dangerous.
"She was looking somewhere else blindly skiing down a mountain while looking up… [this] was reckless."
He went on to tell the jury that Gwyneth's "neglect and conscious choices" had combined together to cause Mr Sanderson "four broken ribs and permanent brain damage".
Mr Buhler claimed that following the collision, the actress had not said anything to Mr Sanderson, but had "bolted" away down the mountain.
He continued: "Before this crash, Terry was a charming, gregarious outgoing person.
"He was living a full life travelling the world, doing everything possible to enjoy life and guard his health… but after the crash, he is no longer charming."
The defence is seeking damages of up to $3,276,000 (£2,688,000), Mr Buhler said.
Gwyneth has filed a counterclaim, alleging that Mr Sanderson had hit her and delivered a full "body blow" and is seeking damages of $1.
The claim says she was shaken by the collision and stopped skiing with her family for the day.
It added that Mr Sanderson apologised to her and said he was fine.
Stephen Owens, representing Gwyneth, said the actress was a "conservative" skier and had been "freaked out" when she had collided with Mr Sanderson.
He said: "She's skiing, enjoying herself and suddenly she sees two skis appear between her skis and a man comes up right behind her.
"They're not going fast…(Mr Sanderson) comes up almost body to body and starts groaning.
"She doesn't know what's going on… she's moving forward, they begin falling to the right and she's feeling freaked out."
He claimed that the actress tried to pull away from the defendant, causing him to fall, with him later saying to her, "words to the effect of 'I didn't see you'."
Mr Owens noted that the defendant had also been struggling with vision and hearing problems at the time of the accident.
He added: "You'll never hear the words hit and run.
"This was not a hit and run. The plaintiff even had a ski expert evaluate it and he said it's not a hit and run – take that out of your mind.
"Gwyneth was hurt by Mr Sanderson's negligence…she is upset. Anyone sustaining a blow is upset, she is sore, she never went to a doctor…but it rattled her and it physically hurt her.
"Mr Sanderson said his memories of this case get better over the years, that's all I'm going to say about that – that's not how memory works."
The trial continues and is expected to last at least seven days.
Source: Read Full Article