Blake Shelton Defends New Song 'Minimum Wage' Amid Backlash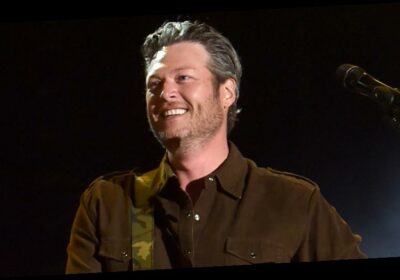 Blake Shelton is standing up for his new song.
The 44-year-old country superstar reacted to criticism of his latest track, "Minimum Wage."
PHOTOS: Check out the latest pics of Blake Shelton
During an interview with CMT, Blake reacted to those who took offense to the track due to Blake being a millionaire and seemingly romanticizing money troubles amid the pandemic.
"Girl, lookin' at you lookin' at me that way / Can make a man feel rich on minimum wage / Girl, your love is money, your love is money / Yeah, your love can make a man feel rich on minimum wage," he sings.
"I just feel like these days, there are people out there who don't want to know the truth. They just want to hear what they want to hear, and they want to pick a fight. No matter what your intention is, no matter what the truth is, they want it to be something that they can be upset about so that they can get on social media and try to grab a headline," he said in response to criticism on social media.
He added that he thought he "missed something" offensive in the song, and said the backlash "was really not real."
"Whatever this backlash is, is just four or five people that probably don't know anything about country music. They clearly hadn't heard the song or read the lyrics. If they had, they couldn't feel this way about the song," he explains.
"It's literally a love song about how if times are tight and you ain't got much money — as long as you have love and you're happy — at the end of the day, that's all any of us can really hope for. You got it if you got that. That's all that matters. And if that's offensive to you, then we'll just have to agree to disagree," he continued.
"I have to say, if we have to start thinking like this, then I guess that'll be where I have to bow out. Because that's one of the longest-standing traditions in country music is lyrics about love. And if you've got love, then that's all that matters. There won't be much left to play or write about on country radio if this is something that we have to think twice about."
He added that he has "some of the best memories" when he was struggling for money at the start of his career.
"If I was making minimum wage back then, it was barely minimum wage," he explained.
"I just related to the lyrics so much, you know? Just like probably 95 percent of artists out there, I struggled for so long to get by. But at the end of the day, I wouldn't trade those times for anything. Those days when the big struggle was, 'Man, do I pay my rent or my electric bill, or do I just say screw it and go buy some beer?' You had to decide because you didn't have enough to go around."
Gwen Stefani recently revealed something about their relationship.
Source: Read Full Article