'You weren't there': Teo rejects experts in testy evidence at hearing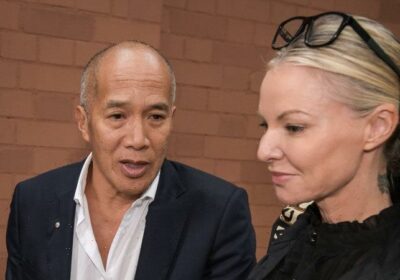 Neurosurgeon Charlie Teo has dismissed testimony of experts at a disciplinary hearing over claims of unsatisfactory conduct, saying he knows more about complex brain tumours than almost anyone in the world.
Taking to the witness stand after days of damaging evidence about his catastrophic surgical outcomes on two patients, Teo bristled when the Health Care Complaint Commission's barrister Kate Richardson, SC, suggested he'd made the wrong diagnosis on a female patient who did not regain consciousness after Teo's surgery in October 2018.
Charlie Teo leaves the hearing with partner Traci Griffiths on Thursday.Credit:Dean Sewell
She died several months later.
When Richardson suggested that two expert neurosurgeons were "unequivocal" about the type of tumour, and that his own expert witness described Teo's rationale for surgery as "nonsense", Teo snapped, saying he was more likely to be right than them.
Professor Bryant Stokes.
"I don't expect them to know as much as I do," he said. "I have more experience with brain stem tumours that almost anyone in the world", including his own expert witness Professor Bryant Stokes from Perth, said Teo.
Wearing an open-necked white shirt, a blue suit and colourful socks with hamburgers on them, the controversial neurosurgeon was testy from the outset.
He agreed the outcome was "catastrophic" and that he had learned from the operation, but then added "I would do the same things today" as the outcome could have been good.
Teo said that he had told the patient and her husband all the critical risks, including that there was a high likelihood of death.
When it was suggested that the patient's husband had made contemporaneous notes in which he recorded Teo saying there was only a 5 per cent risk of serious complications including only death, coma and locked-in syndrome, Teo raised his voice.
"How can you say that? You weren't there! Why would I make up something like that!"
Teo also said he had a witness. Earlier in the week, the credibility of that witness was challenged.
Teo's former surgical fellow Dr Amit Goyal had provided an initial statement to the HCCC saying, "Charlie didn't go into a lot of detail with Mr and Mrs [name suppressed]. However, I do specifically remember his emphasising how risky the surgery was and him telling them that the operation could leave [the woman] in a vegetative state."
However, when contacted by Teo's lawyers last August, Goyal provided Teo's legal team with a new statement included an extensive list of risks that he said Teo had told the Perth couple.
Under cross-examination, Goyal conceded that the lengthy list of risks could not have been raised by Teo during the two to three minutes Goyal was in the room.
Charlie Teo and partner Traci Griffiths arrive at the disciplinary inquiry on Thursday.Credit:Nick Moir
Earlier on Thursday, the hearing heard that a Geelong man complained about Teo's disastrous operation on his wife in 2019.
"What the f— are you crying about? I'm here to fix you – you should be happy," Teo is alleged to have said to the couple at their initial consultation.
The woman, who was wheelchair-bound, had just been told by Teo's surgical fellow that her tumour was increasing rapidly.
Dr Amit Goyal worked with Charlie Teo.
"I'm not going to bullshit anything. If you don't have the surgery by Tuesday, you'll be f—ing dead by Friday," the husband recalls Teo telling them after they were ushered in for a consultation.
The husband has also complained that the controversial neurosurgeon offered that "brain tumours are the best f—ing way to die. You'll just gradually fall asleep."
Richardson told an expert witness that she wanted him to assume that Teo had said those words, but ultimately, it was up to the HCCC's professional standards committee panel of inquiry to determine.
Based on Teo's dire prediction that she would be dead by Friday, the woman agreed to have the surgery straight away, the inquiry has heard.
The operation on the 61-year-old Geelong woman's brain stem glioma had a dreadful outcome, and on February 26, 2019, the day after the operation, Teo slapped the unconscious woman in front of her family in an attempt to rouse her.
Three neurosurgeons told the hearing on Wednesday that the slap was "totally unacceptable" and was "actually assault".
The three expert witnesses said that Teo's operation on the Geelong woman had resulted in the largest removal of brain matter they had ever seen. Teo took out most of the right frontal lobe, removing normal brain tissue and leaving behind a significant amount of the tumour.
The woman did not recover and died the following month.
On Thursday, two professors of medical ethics agreed that patients had to be given time to give proper consent.
Professors Chris Ryan and Paul Komesaroff agreed that in high-risk procedures such as brain tumour removal, it was incumbent upon the doctor to explain to the patient the magnitude of the surgery risk.
The husband has told the inquiry that Teo told them his surgery might buy his wife more time.
He said that the possibility she might never wake up was not told to them. Instead, the risks given were paralysis down one side and some memory loss. Based on these risks and the fact that she had only until Friday to live, they chose the surgery.
The Health Care Complaints Commission's professional standards committee inquiry is hearing two complaints of unsatisfactory conduct by Teo, including that he did not sufficiently inform patients about risks of surgeries.
Teo's evidence will continue on Monday.
The Morning Edition newsletter is our guide to the day's most important and interesting stories, analysis and insights. Sign up here.
Most Viewed in National
From our partners
Source: Read Full Article