XL Bully owners blast government £200 scheme to euthanise their pets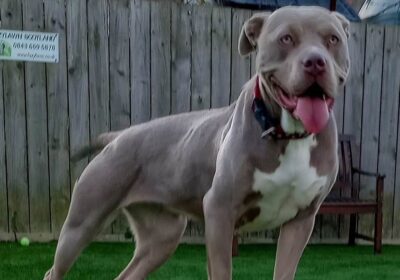 'No money would ever tempt me to kill my XL Bully': Furious dog owners blast government £200 'puppy scrappage scheme' to euthanise their pets – as charities face an impossible task to rehome animals before December 31 deadline
The breed will be banned under the Dangerous Dogs Act by the end of the year 
Livid Bully XL owners are refusing to accept a £200 Government handout to euthanise their soon-to-be-banned pets, branding the plan 'absolutely disgusting'.
The breed will be banned under the Dangerous Dogs Act by the end of the year, following a spate of recent fatal and horrific attacks. 
Owners can apply to have their pets exempt from the crackdown – which means they would have to pay £92.40 for a certificate and the dog would need to be microchipped and neutered, among other rules.
The second option would be to have their dogs put down, with the government offering £200 in compensation to these owners. 
But news of the measures this week triggered fury from Bully owners, who branded the move a 'puppy scrappage scheme'. 
Fuming Bully XL owner Ashley Oxley from Brighton told MailOnline: 'No money would ever tempt me into putting my girl down she's fine the way she is and that's how it's staying can't believe in this generation this kind of brutality is even allowed.' 
Mother-of-three Dani Harland added: 'This breaks my heart. I own an XL Bully and I would never ever even dream of putting her down. I find this absolutely disgusting that they [the government] are even offering to pay people money to have their dogs put to sleep.'
Dani Harland owns a Bully XL and says she refuses to allow her pet to be put down 
Lily the Bully XL has been stuck in a rescue home for almost a year in Berwick Animal Rescue Kennels, with the home's boss saying it will take a 'miracle' for the dog to be rehomed before the December 31 deadline
Fuming Bully XL owner Ashley Oxley from Brighton said he would never accept £200 to put his beloved pet down (pictured is Ashley's dog)
The outcry comes as animal charities today warned they face an impossible task of trying to rehome hundreds of Bully XLs stuck in rescue centres before the December 31 deadline, after which it will become illegal to rehome, breed, or sell the dogs.
Mel Kermode, operations manager of Freshfields Animal Rescue in Liverpool, said: 'It is a desperate race against time to try and save these dogs. The clock is very much ticking,' 
READ HERE: What IS an XL Bully? Government releases official definition amid warnings dog will be 'impossible to track' once ban comes into place because it is not a recognised breed
The Merseyside rescue shelter is trying to rehome about five Bully XL-type dogs but is being inundated with calls from 'alarmed' owners seeking to dump their pets before the ban comes into force.
Ms Kermode said this has led to a crisis within the animal rescue sector, with centres across the UK now 'bursting at the seams' and unable to take any more pets in.
She now fears more healthy dogs which aren't banned – and that could have be rehomed – could now be put down due to the huge backlog, in a situation she has branded 'heartbreaking'.
'The pressure is really on,' she added. 'It's very stressful. Rescue centres are already flooded with dogs. The pandemic and cost-of-living crisis forced lots of people to surrender their pets. So kennels were already bursting but adding this ban into the mix has made it worse.' 
It's a similar situation at a rescue centre more than 200 miles to the north, at Berwick-upon-Tweed, in Northumberland. 
Berwick Animal Rescue Kennels (BARK) has been struggling to find a home for two-year-old Bully XL Lily, who has been with the charity for almost a year. 
Now the site faces just weeks to find a 'committed' owner for the 'bright' dog who loves to play. 
'The main problem for us is the timescale. We're torn between trying to do it responsibly and then rushing to rehome, so the dogs aren't put to sleep,' said Jan Ross, who runs BARK.
XL Lily has been with the charity BARK for almost a year and is unlikely to find a home in time for the deadline 
XL Bully owner Dani Harland said: 'This breaks my heart. I own an XL Bully and I would never ever even dream of putting her down' 
'We're having to look for a miracle home in seven weeks for a dog we have had in our care for 340 days.
'It will absolutely break my heart if we put her to sleep. But it will be for her safety. It will be so that there is no chance she will get seized and have a god-awful end of life.'
As it stands, from December 31 it will be illegal to breed, sell, advertise, exchange, gift, rehome, abandon Bully XLs. 
The challenge is finding an owner who can take on Lily, who the rescue centre warned is 'strong', can be 'quite intimidating' and is 'more than capable of jumping a 5ft 5ins fence'. 
The centre manager said she won't bend its stringent vetting rules, which will see Lily requiring a home with a 'very secure garden', no children and an owner with 'previous experience of large breed dogs'.  
'We have seven weeks to find the perfect home. If we haven't found a reasonable home for her now how are we going to do it in seven weeks,' said Jan.
The grandmother-of-10 said she has only had to put down about seven dogs during her 20-year career in the animal rescue industry. 
She added it had been 'horrendous' since news of the ban broke. 'People are calling all the time. We had a call from the vets about to put a 14-week pup down. It's been awful. It's really hard on all the staff,' she said. 
The RSPCA today warned there was a 'huge risk' shelters will 'not be able to cope with the demands put on them by this law'. 
And the Blue Cross said charities were 'under increasing pressure', with the organisation saying it was 'very worried about the impact' upon frontline teams who face being put in the 'unenviable position of having to put to sleep perfectly healthy pets who we know would have the chance to live if this law was different'.
From December 31 it will be illegal to breed, sell, advertise, exchange, gift, rehome, abandon XL Bullies. Pictured: Chloe Stirling's XL Bully
Ashley Oxley (left), Bully XL owner, said: 'No money would ever tempt me into putting my girl down' 
Meanwhile, vets have already voiced fears that XL bullies could be abandoned in the streets by owners worried about the impending ban.
IVC Evidensia, the UK's largest vet group, said in Colchester, Essex, council dog wardens were no longer picking up stray XL bullies. 
'No one knows what is now happening to stray dogs of that confirmation,' David Martin, group animal welfare adviser at IVC Evidensia, told a parliamentary select committee last month. 'There is a risk these dogs will be dropped off outside veterinary practices. We don't have the facilities to adequately house a dog for a week.'
Colechester City Council said that 'due to health and safety concerns for our officers' it was no longer collecting XL bully-type dogs from vets. 
In the past month it had collected five such strays from vets which it believed 'are being abandoned at vets by breeders who, due to the recent publicity, have been unable to sell their dogs'. It has not received reports of any roaming the streets.
'Our officers, although very experienced, are not trained to handle such powerful dogs should they become aggressive,' a spokeswoman told The Times. 'We appreciate the concerns of some vets and we are working to co-ordinate an agreed approach to tackle this problem, while also facing our own challenges.'
The RSPCA said it is still seeking to rehome XL Bullies in its care. Last month it was reported the organisation was looking after more than 100 of the breed. A spokeswoman said the charity is making progressing finding some new homes, with two adopters having recently been lined up. 
Charity BARK faces just weeks to find a 'committed' owner for 'bright' dog Lily who loves to play
But an RSPCA spokeswoman said the ban was having a major impact on kennels and owners, warning: 'Not only does this situation remain devastating for many dogs, but is also taking a heavy toll on owners, on rescue centre staff who have grown close to dogs in their care, and to vets who face the prospect of being asked to put to sleep healthy dogs.'
Changes in the law will be phased in over several months. From December 31, breeding, selling, advertising, rehoming, abandoning and allowing an XL bully dog to stray will be illegal in England and Wales, the government said.
Also from December 31. XL bully dogs must be muzzled and on a lead in public.
From February 1 2024 it will then become illegal to own an XL Bully – unless its owner applies for their pet to be registered on the Index of Exempted Dogs, and complies with a strict set of rules, by the end of January. 
The rules include a requirement to keep their pets muzzled, neutered, microchipped and kept on a lead at all times in public. 
However, concerns have been raised over the amount of time pet owners have been given to make the adjustments.  
'We have serious concerns about the very short amount of time in which owners have to comply with the rules, especially as the UK Government is yet to release information on how owners can register their dogs,' the Dog Control Coalition said.
The organisation, made up of the RSPCA, Blue Cross, Battersea, Dogs Trust, Hope Rescue, Scottish SPCA, The Kennel Club and British Veterinary Association, also hit out over a lack of clarity at which dogs would qualify as an XL Bully.
'There is currently no clear understanding of how many tens of thousands of dogs could be fall within this breed specification, and we urge the UK Government to ensure that the teams responsible for enforcing this law – the police and local authorities – have the resources and training they need before the ban begins to avoid any more dogs than absolutely necessary from being caught up in this,' it said.
Environment Secretary Therese Coffey said the Government was taking 'quick and decisive action to protect the public from tragic dog attacks'.
She added: 'We will continue to work closely with the police, canine and veterinary experts, and animal welfare groups, as we take forward these important measures.'
Source: Read Full Article