Xinjiang imams paraded to deny criticism of China's human rights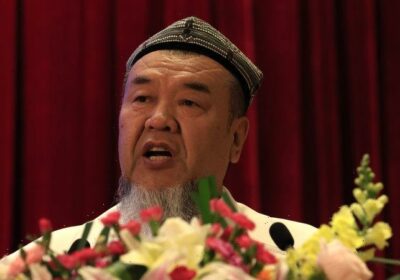 Beijing: The Chinese government's latest attempt to counter accusations of human rights abuses in Xinjiang was on display when Muslim leaders from the region rejected Western allegations of suppressed religious freedom.
The event for foreign diplomats and media at an Eid al-Fitr reception at the end of the holy month of Ramadan, came a day after human rights groups and Western nations met and demanded unfettered access for UN human rights experts to the region. US Secretary of State Antony Blinken had also condemned China for "crimes against humanity and genocide against Muslim Uighurs" during the release of an annual report on international religious freedom.
Abdureqip Tomurniyaz, who heads the association and the school for Islamic studies in Xinjiang, speaks during a government reception held for the Eid al-Fitr festival in Beijing.Credit:AP
The Uighurs are a mostly Muslim ethnic group in Xinjiang, a remote north-west region where China has been accused of mass incarcerations, forced labour and forced sterilisation in recent years as it imposed a strict security regime after a series of militant attacks.
Echoing the government line, the president of the Xinjiang Islamic Association said China had eradicated the breeding ground for extremism by improving livelihoods, teaching people about the law and setting up vocational training centres. Foreign analysts say the centres are part of a detention system that has locked up an estimated 1 million people or more.
Abdureqip Tomurniyaz, who heads the association and the school for Islamic studies in Xinjiang, accused anti-China forces in the US and other Western nations of spreading rumours and lies.
"They want to sabotage Xinjiang's harmony and stability, contain China's rise and alienate relations between China and Islamic countries," he said.
He also said the US was turning a blind eye to its own human rights violations, citing its involvement in conflicts in Iraq, Afghanistan and other Muslim countries and anti-Muslim discrimination at home.
Religious leaders from five mosques spoke at the 90-minute presentation, three in person and two by video. They all described prayers and feasting for Eid and rejected criticism of China's religious policies. Videos showed men praying inside mosques and people dancing in squares outside.
However, the Uighur Human Rights Project, a US-based group, said in its report that it had documented at least 630 religious figures detained or imprisoned in Xinjiang, most since 2014. The charges included illegal preaching and teaching religion to children, which is outlawed in China.
Mamat Juma, the imam of the historic Id Kah mosque in the city of Kashgar, said all ethnic groups in Xinjiang support the steps taken to combat terrorism. He said people were grateful to the Communist Party for restoring stability and promoting economic growth.
The Id Kah Mosque in Kashgar, Xinjiang, during a government organised visit for foreign journalists last month.Credit:AP
On Thursday, the AP also reported on the falling birthrate in Xinjiang. The region had the sharpest known decline in birthrates between 2017 and 2019 of any territory in recent history
The report from the Australian Strategy Policy Institute showed the 48.74 per cent decline was concentrated in areas with many Uighurs, Kazakhs and other largely Muslim ethnic minorities, based on Chinese government statistics over nearly a decade.
Birthrates in largely minority counties fell 43.7 per cent between 2017 and 2018 alone, with more than 160,000 fewer babies born. That compares to a slight increase in births in counties populated mostly by China's Han majority.
Such an extreme drop in birthrates is unprecedented in the 71 years since the United Nations began collecting global fertility statistics, beating out even declines during the Syrian civil war and the genocides in Rwanda and Cambodia, said Nathan Ruser, an ASPI researcher and co-author of the report.
A man holds a child as they watch a dance performance at the International Grand Bazaar in Urumqi in Xinjiang. The region had the sharpest birthrate decline of any other in China between 2017 and 2019.Credit:AP
The ASPI report corroborates an AP story and a report by German researcher Adrian Zenz last year that found the Chinese government was systemically slashing Uighur birthrates with sterilisations, abortions and intrauterine devices, and fining and detaining people with three or more children.
It comes as a new report by Reuters on Friday showed some mosques in Xinjiang have had their minarets removed. The Jiaman mosque in the city of Qira is now hidden behind high walls and Communist Party propaganda signs, leaving passers-by with no indication that it is home to a religious site. Minarets on the building's four corners, visible in publicly available satellite images in 2019, have gone.
"There's no mosque here … there has never been a mosque at this site," said one of the men in response to a question from Reuters. He declined to identify himself.
Reuters visited more than two dozen mosques across seven counties in south-west and central Xinjiang on a 12-day visit during Ramadan.
It reported there was a contrast between Beijing's campaign to protect mosques and religious freedom and the reality on the ground. Most of the mosques that Reuters visited had been partially or completely demolished.
Researchers at the ASPI estimated in 2020, after a survey of 900 Xinjiang locations, that 16,000 mosques had been partially or completely destroyed over the previous three years.
Signs outside the Xinqu Mosque said a housing development would soon be built on the site.
"For ethic unity, build a beautiful Xinjiang," a sign read.
At a daily briefing on Thursday, Chinese Foreign Ministry spokesperson Hua Chunying said Wednesday's meeting of human rights groups and Western nations was based on "lies and political bias," and accused participating nations of ignoring their own histories of prejudice and racism.
Hua said China was not denying unfettered access to Xinjiang for the UN High Commissioner for Human Rights because it had anything to hide, but because of the likelihood that any resulting reports would be distorted.
AP, Reuters
Most Viewed in World
From our partners
Source: Read Full Article