Woman threatened to share ex's sex tape on Instagram in bid to win him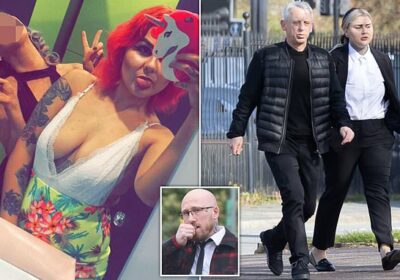 Jilted bride-to-be threatened to share sex tape of her ex on Instagram in bid to win him back after learning she had made £2,000 by posting pictures of her feet on fetish site
The victim, Daniel Oates, told a court the abuse made him feel 'sick and upset' 
A jilted bride-to-be threatened to publicly share a sex tape of her ex-fiancée on Instagram in a bid to win him back after proudly bragging to him she had made almost £2,000 posting pictures of her feet on a fetish-type site.
Mother-of one Amy Williams-Smyth, 31, sent her estranged ex Daniel Oates a screengrab of her earnings from adult channel AdmireMe-VIP in a warped attempt to rekindle their whirlwind romance.
During a series of emails Williams-Smyth, a beautician told Mr Oates in a chilling boast: 'Look how much I made – if you want your half, come and get it. Not bad for an hour's work.'
She then vowed to publicly share intimate videos the pair had previously uploaded to the subscription-only social media channel and warned: 'I got more than this – You want to see me jealous, fine make me jealous.'
Mr Oates who had broken up with Williams-Smyth due to her erratic behaviour later called in police fearing sexual footage of him had been made public. 
Amy Williams-Smuth (centre) a jilted bride-to-be threatened to publicly share a sex tape of her ex-fiance
 Daniel Oates told police the ordeal had made him feel 'sick, angry and upset'
Ms Williams-Smyth was convicted of threatening to disclose images of a sexual nature
Inquiries revealed the offending video was in fact of Williams-Smyth accusing the victim of cheating on her whilst she was scrolling through his phone contacts.
But Mr Oates said: 'I feared for the worst. I was scared to open the message because I thought she had put footage of me online. I felt sick, angry and upset. I hit rock bottom. It has been draining and has had a massive impact. 
'The only safe space has been at work. I rarely leave the house now and only go to the gym because I am there with my personal trainer.'
At Wigan magistrates court in Greater Manchester, Williams-Smyth, of Skelmersdale was convicted of threatening to disclose images of a sexual nature and was banned from contacting Mr Oates for two years under the terms of a restraining order.
The court heard the pair had met via the dating app Tinder in December 2020, began dating the following month then moved in together in February 2021. They announced their engagement on social media shortly afterwards.
Mr Oates said: 'The relationship was pretty full on at the beginning. I had been single for four years before I met her and was it was nice that she kept saying she liked me and that we were both interested in the same things.
'But soon after we moved in together we had our first episode. She had got into a fight with her friend and she took it all out on me. Later we went to a tattoo convention and after that we went back to hers and slept together.
'We were lying in bed watching Disney when she started going off on one. I told her it was over and that she should never contact me again and as far as I'm concerned the relationship ended on April 9.'
Ms Williams-Smyth met Mr Oates on  the dating app Tinder in December 2020
The pair embarked on a relationship which Mr Oates would later describe as 'full on'
Mr Oates moved back in with his mother in Wigan but bumped into Williams-Smyth on April 12 shortly after he posted a selfie inside Revolution bar in the town socialising with his friends.
He was said to have become 'distressed' by her presence and eventually collapsed in the bar with heart issues. The court heard Williams-Smyth herself dialled 999 but then pretended to be his girlfriend and even tried to get into the ambulance with him to hospital.
Mr Oates added: 'I found out through friends she was trying contact me via email whilst I was in hospital.
'When I got out, I went for a walk and got a call from a withheld number, which I picked up but then hung up after realising it was her. She was mad at me because I wasn't responding to her when I was in hospital. She then sent me endless emails and even messaged me about a friend's post I liked on Facebook.'
Williams-Smyth also sent Mr Oates mother, a WhatsApp message saying: 'Best give your son a wake up and tell him to become a man.'
Eventually on May 21 she then sent an email to Oates himself saying: 'Our pictures are still up.' She then followed up with an email saying 'Look how much I made from our sex tape, if you want your half come and get it' and attached was a screenshot of an Instagram post that showed earning of £1821 made from AdmireMe.VP site which mainly showed Williams-Smyth's feet in a 'foot fetish style.'
When arrested Williams-Smyth said the pair had sent sexually explicit content to each other on AdmireMe.VIP. She said that she only put the video of her scrolling on Instagram to 'get back at him' after she claimed he had threatening to tell her family she was on the sex site.
After Mr Oates ended things, Ms Williams-Smyth repeatedly threatened him with releasing pictures 
She was banned from contacting Mr Oates for two years following proceedings 
She told the court: 'Our relationship got really toxic and he told me I could not contact my friends and he even controlled what I wore. We argued but we didn't break up. He always went to back to his mums and we got back together.
'I took pictures of myself and uploaded them to AdmireMe. Daniel then signed a contract so we could upload the photos to the website. He sat next to me when we did it because I can't type well.'
'The content we uploaded was mainly of me, although he did put one video of himself up. However, we decided to take it down after he was put off by guys commenting on his picture.'
'I had to send him the money we made from the videos every week as his own account had been frozen due to financial issues. I ended up sending him the money in cash because he didn't want his mum to find out.'
'He kept saying: 'I love you 3000' everyday. He would also message saying 'what I would do to get my hands on you again.' He would then kiss girls in front of me to make me jealous.'
Williams-Smyth who denied wrongdoing was also conditionally discharged for two years and was told to pay £644 in costs. She was cleared of a second charge of stalking.
Deputy District Judge Asif Munir told her: 'There was a threat to disclose images of a sexual nature. You were essentially saying cut the other girl off, be with me or else and that is a threat. These pictures you posted onto Instagram were done without his consent.'
Source: Read Full Article