Woman fleeced his grandmother, 91, out of £24,000 for JustEat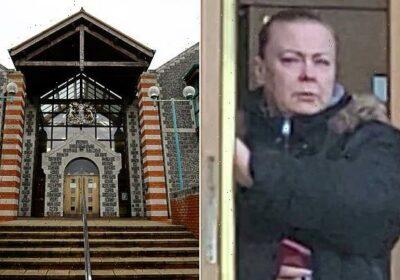 Finance worker, 47, claimed her 'big eater' grandmother was to blame after she fleeced her out of £24,000 then spent money on takeaways from JustEat and McDonald's
Amanda Farr, 47, plundered her 91-year-old grandmother's bank account

On Friday, she was convicted of fraud at Canterbury crown Court after a trial 
A finance worker fleeced her own grandmother out of thousands of pounds to splash out on fast food and games – then blamed the OAP being a 'big eater'. 
Amanda Farr, 47, defrauded 91-year-old Joyce Hutchings out of £24,069 by wasting it on takeaways at JustEat and McDonald's, as well as on websites such as iTunes and the PlayStation Store.
When trying to explain in court where the unaccounted money had gone, Farr pointed the finger at Ms Hutchings, claiming she was a 'big eater' of oriental cuisine.
Farr claimed the financial arrangement was above-board, with much of the money spent on her grandmother who 'liked her food'.
She claimed Ms Hutchings could spend up to £20 a week on sugary treats, £180 sending her pet to 'dog school' and would shell out £35 a time to have the animal walked.
Amanda Farr, 47, of Whitstable, Kent, defrauded her 91-year-old grandmother Joyce Hutchings out of £24,069 by siphoning her cash into her own account
Farr claimed the 130 transactions between December 2017 and September 2019 – which also included William Hill bets and an Amsterdam holiday – were consensual and designed to benefit the whole family.
The defendant told jurors during her trial the family who all lived at the same house in Whistable, Kent, pitched money into 'one pot', while she was tasked with managing the purse-strings.
But the former finance worker said she was ill-equipped to manage the outgoings, with their home 'haemorrhaging money' due to repairs and decorating works.
She argued her mother spent large sums of the joint kitty online for high-end items, while her partner made numerous video game purchases that were agreed by the victim.
But at Canterbury Crown Court on Friday, Farr was unanimously convicted by jurors, who saw through her lies about how she used the ill-gotten gains.
The court heard how Farr hid how money was moved between the accounts and even intercepted her grandmother's post and hid it under her bed.
Opening the case, prosecutor Kieran Brand, claimed Farr used a criminal technique dubbed 'layering' in an attempt to hide the money.
After skimming Ms Hutchings' account via online banking, she would rapidly transfer various amounts between her own current and savings account to blur the lines between legally and criminally held cash, Mr Brand said.
At Canterbury Crown Court on Friday, Farr was unanimously convicted by jurors, who saw through her lies about how she used the ill-gotten gains.
He also accused Farr of 'strong-arming' her daughter into providing a false statement to the courts, in a bid to pervert the course of justice.
But jurors unanimously cleared her of the charge on Friday.
Living at the same address was Farr, her mother, the victim, plus the defendant's own daughter and partner, the court heard.
Mr Brand told the court: 'There was no arrangement for you to take over the family finances and there was no discussion with Joyce about what you were doing with her money.'
Farr replied under cross-examination: 'Yes there was.'
Mr Brand added: 'Which is why you were trying to cover your tracks. You were intercepting her and your mother's post, you intercepted the post didn't you?
'You were hiding [the bills] weren't you? Because you were spending money on holidays and gambling. Which is why [the bills] were tucked away under your bed.'
Farr responded: 'No, it wasn't under my bed.'
Farr, who now lives in New Addington, Croydon, south London, will be sentenced on March 23 at the same court pending probation reports.
Source: Read Full Article