Why boys are the key to smashing period discrimination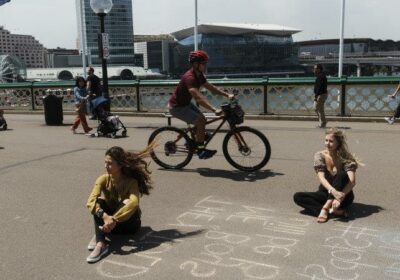 For our free coronavirus pandemic coverage, learn more here.
"She must have been on her period." I'm sure almost every person who menstruates has had this unoriginal insult directed at them at least once in their lives.
During my time at high school, I would regularly hear boys make sarcastic comments behind our backs about menstruation – a normal, healthy bodily function that should be celebrated.
Plan International youth activist Elizabeth Payne (left) says more needs to be done to reduce period discrimination. Credit:James Brickwood
So I was saddened, but not really surprised, when a survey conducted by Plan International Australia and U By Kotex found that more than 40 per cent of Australian boys aged 16-21 said they had witnessed girls being bullied because of their periods. More than half of the boys said talking about periods made them feel uncomfortable, and half said their school education on menstrual health was poor or non-existent.
I often missed school the first day or two of my period – I suffered from painful cramps and a heavy flow and was worried I wouldn't be able to manage it at school.
Part of the reason I skipped school when I had my period was fear that I would bleed through my pad, and others – especially boys – would see. Many of the boys I knew likened menstruating to defecating or urinating – something that shouldn't be discussed publicly.
I was mortified that I would be marked for the rest of my high school years as that girl who bled on her school skirt. Staying home seemed like the only option.
I'm certainly not alone in this experience. Research earlier this year found almost one-third of Australian girls aged 10-14 are missing school because they're embarrassed about their period.
While young people who menstruate may not stay out of school permanently because of their periods, for many girls, women, transgender and intersex people in other places around the world, the story can be quite different.
In some communities, young people suffer from the stigma of menstruation through cultural taboos that discriminate. In India, many girls are not allowed to be in the kitchen when they have their periods, while in Colombia and Ecuador it's perceived as an illness. In Nepal, girls have died after being banished to "menstruation huts".
Girls and gender-diverse young people need to feel able to talk about their periods and challenge this discrimination. Boys can play a big role in this – if they also get the right support and resources.
Without an early and comprehensive education on periods, boys will continue to associate menstruation with smells, mess, blood, gore, impurity and disgust.
Even in Australia, almost one-quarter of boys/young men associate periods with being "dirty" (24 per cent), and one in five (19 per cent) say periods are "disgusting" and "should be kept secret". Alarmingly, almost 15 per cent of those surveyed believe periods are "impure".
But the survey also found that 70 per cent of boys who said their earlier school education on periods was good are very comfortable discussing periods.
This demonstrates that with education we can transform the reactions of boys from feeling "awkward" and "gross" when talking about periods to feeling considerate and compassionate.
We need transformative period education in our schools. By having co-educational menstrual health education together as a class, everyone is able to ask questions, learn from each other, and create a school environment free from stigma.
Elizabeth Payne, 22, is a youth activist with Plan International Australia.
The Morning Edition newsletter is our guide to the day's most important and interesting stories, analysis and insights. Sign up here.
Most Viewed in National
From our partners
Source: Read Full Article