What lies beneath: Bikes and casino furniture dredged up from depths Yarra River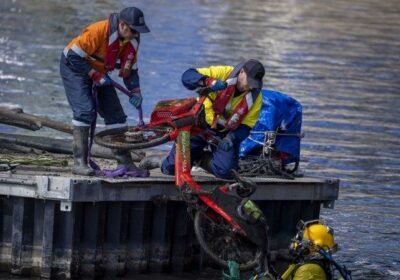 Key points
Dredging the Yarra has removed 20,000 cubic metres of silt; enough too fill eight Olympic swimming pools.
Divers retrieved 100 e-scooters and e-bikes, 30 road bikes, 40 shopping trolleys and more than a dozen chairs and tables. 
Divers cleaning the Yarra River have pulled out more than 100 electric bikes and scooters, as well as shopping trolleys and tables and chairs from Crown casino.
A team of divers has spent recent weeks in the Yarra's murky waters sifting through mud to retrieve discarded objects, as part of a dredging program that has removed 20,000 cubic metres of silt – enough to fill eight Olympic swimming pools.
A school group kayaks past a pile of rubbish removed from the Yarra.Credit:Wayne Taylor
This week, a four-person commercial dive team from Australasian Marine Associates worked in front of the rowing boat sheds and piled a barge with a jumble of debris.
Australasian Marine Associates managing director Dr Adam Cohen said the team retrieved more than 100 e-scooters and e-bikes, 30 road bikes, 40 shopping trolleys, more than a dozen chairs and tables, and some unexpected objects.
"Lots of tyres, signage, lots of wire, rope, trolleys, quite a diverse array … and we found a lot of tables and chairs [from] Crown casino," Cohen said.
It was unclear why there were so many chairs and tables from the casino in the river, he said.
A diver and colleagues remove rubbish from the Yarra on Monday, including an e-bike from a bike share scheme.Credit:Wayne Taylor
The divers did not find any bodies.
Parks Victoria acting district manager Hanna Kowalczyk said the authority had a $4.6 million budget over four years to clean up the Yarra and provide maintenance dredging.
"The dredging is mainly about keeping the Yarra open, safe and clean, and providing safe access for boats," she said.
"We're not only removing bikes and shopping trolleys, we're also removing sediment in areas that have gotten a bit shallow to access."
A pile of rubbish on a barge in the Yarra.Credit:Wayne Taylor
Kowalczyk said maintenance dredging of the Yarra was carried out regularly and litter traps were used to collect rubbish, but divers were also needed to clear the route for the dredgers and retrieve large objects.
"It is quite shocking how much we do find because we don't do a big clean of the Yarra very often," she said. "I didn't really think there was going to be this much stuff, but we're finding a lot, and it's good that we're getting it out."
Kowalczyk said the amount of rubbish retrieved from the Yarra fluctuated but had declined over the past five years.
In 2017, about 355 cubic metres of rubbish was removed from the river, whereas about 146 cubic metres was taken out last year. This year's total is yet to be calculated while the cleaning continues.
Kowalczyk said most items retrieved from the river went to landfill, but work was underway to return e-bikes and e-scooters to share scheme operators Lime and Neuron.
Neuron said all its e-scooters were fitted with GPS and controlled by geofencing, so the company knew their locations at all times.
"Thankfully we have found that the overwhelming majority of riders and the community are responsible and respectful and there has been a very low number of Neuron e-scooters ending up in the Yarra River," a spokeswoman said.
"Where e-scooters can be ridden next to the river we do not allow trips to end there, and this significantly reduces the issues that were previously faced by the shared bike schemes."
Lime government relations director Will Peters said one of the company's highest priorities was ensuring it practised sustainable and environmentally responsible operations.
"We report all illegal vandalism to police and fine, suspend or ban those involved when we encounter anti-social behaviour," Peters said.
"Any vandalised e-scooter or e-bike returned to our operation centres undergoes a deep clean and safety inspection, including each individual part, before returning to service. Those that do not meet our strict standards are retired."
Crown did not respond to requests for comment.
The Morning Edition newsletter is our guide to the day's most important and interesting stories, analysis and insights. Sign up here.
Most Viewed in National
From our partners
Source: Read Full Article