We live in 'Call the Midwife town' but the reality is completely different to the show | The Sun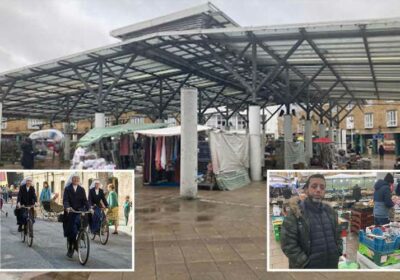 LOCALS living in the town where BBC drama Call the Midwife was set have told how their reality is worlds away from the show.
The hit BBC drama about 1950s London is set in Poplar.
While the show is filmed elsewhere – it portrays the area as a thriving community where everyone greets one another.
But locals say their reality is far from what's seen on TV.
One local business owner said the lack of funding has taken a hit on the community.
They've said the Tower Hamlets is a far cry from how it's portrayed in the hit drama.
READ MORE ON UK NEWS
I'm a 103-yr-old D-Day hero & had to wrap up in TEA TOWELS after OVO abandoned me
Travel delay warning as freezing fog hits – and temps drop to -6C
One local business owner said the lack of funding has taken a hit on the community.
Mohammed Toklas Miah, who has run a fruit and veg market stall for the last 23 years, said everyone is "suffering".
Battling with the idea of having to shut the stand because of a lack of income, Mohammed said he is having to consider a different career.
He told MyLondon: "It's hard. People need to know that this market, and our community, is suffering."
Most read in The Sun
Love Island's Haris sensationally DUMPED from the villa after shock punch video
Millions to work LONGER as pension age to be hiked – what it means for you
Shocking footage emerges of Love Island's Haris Namani in street brawl
Martin Lewis issues urgent warning to everyone using a debit card
Another business owner said crime is rife.
Huseiyn said there was two stabbings outside his organic shop and café last year.
He said: "Where I live in Clapton used to be known as 'The Murder Mile'; now it's preferable to Poplar."
However, one man who works at the high street's Spares Centre said he wouldn't change the area and enjoys working there.
Woody North said: "There are a lot of characters – sometimes you might think to yourself 'Jesus, they're a bit scary'.
"But I wouldn't change it for the world."
The popular BBC series follows a group of nurses living in the East End during the 1950s and 60s.
But one woman, Denise Cox, said the area is at risk of losing the "real" EastEnders as negative attitudes take over.
Read More on The Sun
Shocking video reveals why you should never rub your eyes if you're tired
Shoppers rave about Primark coat that's 'perfect dupe' for £290 North Face version
She said customers only come into her shop now to moan about the state of Poplar.
Despite people's views, Denise said: "Us east-enders stick together."

Source: Read Full Article