Watch as protesters clash with cops outside Tate Britain over drag queen story-telling as demo descends into chaos | The Sun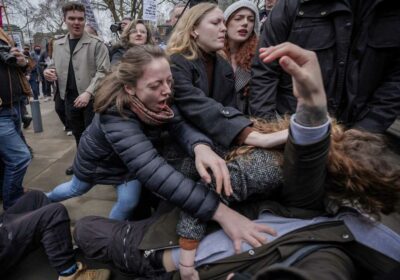 UGLY scenes erupted outside the Tate Britain as rival demonstrators clashed over a drag queen story telling event.
The Metropolitan Police said one person was arrested on suspicion of making a racially aggravated comment towards an officer outside the central London art gallery on Saturday.
Around 30 far-right protesters clashed with similar numbers of counter-protesters who appeared in support of the story-telling.
No injuries have been reported and officers remained at the scene until the protest finished just after 3pm.
The Tate was hosting Drag Queen Story Hour UK on Saturday, with tales told by author Aida H Dee, who the gallery's website describes as "the first drag artist in Europe to read stories to children in a nursery".
Writing on Twitter, the drag queen said the day had been "proper emotional", adding that five protesters had gained entry to the Tate and "caused a disruption" in parts of the building, but they did not affect the readings.
Aida tweeted: "5 haters made it into the Tate. They caused a disruption. BUT not to Drag Story Hour UK… They made a fuss elsewhere in the building, not where the show was!! SHOW 2 went swimmingly!!!"
The drag queen had been staging three story-telling sessions on Saturday, at 11am, noon and 2pm.
It is understood the protest group is led by far-right organisation Patriotic Alternative, while counter-protesters from Stand Up To Racism also appeared in support of the story-telling.
Right-wing demonstrators held signs reading: "No drag for kids!" and "Leave our kids alone!"
Most read in The Sun
Tommy Fury drives past girlfriend Molly-Mae after moving out of family home
Nicola's partner reveals 'panic' over her phone at centre of probe being found
Vanessa Feltz discovered fiance Ben was cheating in messages sent by troll
Morning Nicola vanished was 'different' to others, 'panicked' partner says
Signs from the second group read: "Don't let the far right divide us" and "Trans rights now."
Tate Britain said none of its events were disrupted by the protest.
A spokesperson for the Tate said: "Police attended a disturbance outside Tate Britain this morning.
"The gallery has remained open to visitors throughout the day and all events went ahead as planned."
Conservative Party life peer Emma Nicholson described the event as both "propaganda" and "nonsense on stilts," in an open letter to the Tate's board of trustees.
Baroness Nicholson said: "Having adults read to children is a wonderful thing, of course, but why does it have to be a man pretending to be a woman?"
She added: "These are children. Are they to be offered entertainment by murderers, paedophiles, terrorists, furies and other fetishists so their parents have to explain why they cannot be left with the kooky, colourful cartoon character they have seen promoted?"
A petition against the event organised by the group Art Not Propaganda was signed by more than 14,000 people.
Read More on The Sun
Mum hits back at trolls over 'sexualised' pic of her in bikini hugging teen son
I make the ultimate Costa-dupe cheese & ham Air Fryer toastie with my 85p hack
Previously, a spokesperson for the Tate said: "We do not programme artists in order to promote particular points of view, nor to reconcile differing points of view.
"Our galleries offer a broad programme and visitors have the freedom to choose which aspects of it they engage with."

Source: Read Full Article