Victory for 'continuity candidate' Humza Yousaf in SNP battle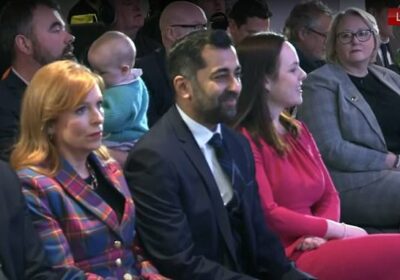 Victory for 'continuity candidate' Humza Yousaf in SNP battle: Health minister vows to be First Minister 'for all of Scotland' as he takes over from Nicola Sturgeon after seeing off challenge from Kate Forbes
Humza Yousaf said he is the 'luckiest man in the world' today as he was unveiled as the new SNP leader after a bitter five-week battle that threatened to tear the party to shreds.
The health minister, seen as the 'continuity' candidate, emerged victorious and is now set to take over from Nicola Sturgeon as First Minister tomorrow. He pledged to govern for 'all of Scotland'.     
Mr Yousaf saw off the challenge from Kate Forbes, who had faced a backlash over her devout Christian views, despite brutal attacks on his record in government.
There had been speculation that Ms Forbes would benefit from the second preferences of supporters of the other contender, Ash Regan – but it was not enough to overturn his advantage. 
He nearly passed the 50 per cent threshold in the first round, but succeeded in the run-off by 52 per cent to 48 per cent. Only 50,000 of the SNP's 72,000 members voted.
Mr Yousaf now faces a massive task to restore the SNP's fortunes after the struggle laid bare deep splits on issues such as gender identity rules and gay marriage. Labour has been gaining ground north of the border and the prospects of an independence referendum are dwindling. 
In her final TV interview earlier, Nicola Sturgeon admitted she is 'a bit sad' and 'emotional' at going.
But appearing on ITV's Lorraine, she said she is still confident she has made the 'right decision' to stand down – and looking forward to life after politics.  
Humza Yousaf said he is the 'luckiest man in the world' today as he was unveiled as the new SNP leader after a bitter five-week battle
Humza Yousaf (centre), Kate Forbes (right), and Ash Regan (left) were battling to become the next SNP leader 
In her final TV interview today before stepping down, Nicola Sturgeon said she felt a 'bit sad' but still confident she has made the right decision
Ms Sturgeon shocked the political world in February when she announced she would be stepping down after more than eight years in the job.
She said today that she was looking forward to some 'free time', although she stressed she will still be an MSP until at least the next Holyrood election.
Ms Sturgeon refused to say who she is backing for the leadership, insisting whoever wins will have her '100 per cent' support. 
Asked if she would consider returning if the SNP meltdown continues, she laughed and replied: 'No I am not planning a comeback.' 
The fate of the three candidates was revealed at the BT Murrayfield stadium in Edinburgh this afternoon.
A vote in Holyrood will follow tomorrow to confirm the SNP leader as First Minister.
Who is new SNP leader Humza Yousaf? 
Humza Yousaf became Scotland's first Muslim Cabinet minister in 2018, when he was appointed justice secretary.
The 37-year-old father has been MSP for Glasgow Pollok since 2016, having previously been elected to the Scottish Parliament as an additional member for the Glasgow region in 2011 at the age of just 26.
He has been serving as the Scottish Government's health secretary, and was widely regarded as the 'continuity' candidate – although Nicola Sturgeon has refused to back anyone. 
Despite long being tipped as a possible replacement for Ms Sturgeon as First Minister, there were concerns Mr Yousaf's chances could have been harmed by the current health crisis in Scotland.
He has come under particular pressure over long waiting times for ambulances and emergency care.
Leadership rival Kate Forbes was particularly scathing about his record in various government briefs during the TV debates. 
Mr Yousaf has a daughter and a stepchild with his second wife Nadia El-Nakla. 
The leadership contest has seen brutal clashes between candidates and the dramatic resignation of chief executive Peter Murrell – Ms Sturgeon's husband – following controversy over the transparency of SNP membership numbers.
Mr Yousaf, 37, and Ms Forbes, 32, had torn into each other's records in government and social views during TV debates.
Ms Forbes, a devout Christian, endured a difficult start to her campaign after she admitted she would not have voted in favour of gay marriage and condemned the SNP's abortive attempt to loosen gender identity rules. 
The result was far from a certainty, as there had been almost no polling of the 70,000 SNP members who will decide the winner. 
But wider surveys had put the candidates almost neck and neck, with Mr Yousaf favoured among SNP voters. Ipsos Scotland research gave him a net favourability of 11 per cent, compared with 6 per cent for Ms Forbes.
The Finance Secretary was preferred by the general public, with a net popularity rating of minus 8 per cent, compared with the Health Secretary's minus 20 per cent.
Labour has been gleeful about the SNP turmoil, with experts suggesting the party could be in a position to pick up significant numbers of seats in Scotland at the next general election.
But Tory ministers have made little secret about their relief at the departure of Ms Sturgeon, who has dominated politics north of the border for nearly a decade. 
There was a toe-curling eight-second silence when Michael Gove was asked for Ms Sturgeon's 'biggest achievement' during an interview yesterday.
The Levelling Up Secretary seemed completely stumped after being prompted to pay tribute to the outgoing Scottish First Minister as he appeared on the BBC's Sunday with Laura Kuenssberg programme.
Mr Gove stared at the floor and frowned as the presenter waited patiently for his verdict on the SNP chief.
The Tory minister finally managed: 'I don't want to say anything bad or… what's the word, negative about Nicola Sturgeon. 
'Because I think that she is a dedicated public servant and she has devoted her life to public service.
'And as First Minister of Scotland I worked with her during the pandemic. I know that she was committed to coming to the right conclusions in the interests of the people of Scotland.
'I fundamentally disagree with her on many things, but I wish her well.' 
Mr Gove seemed completely stumped after being prompted to pay tribute to Ms Sturgeon yesterday
Source: Read Full Article