Victoria's deadliest weapon is at the centre of a youth 'madness' wave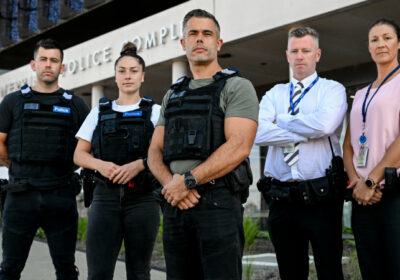 Save articles for later
Add articles to your saved list and come back to them any time.
Household knives are routinely being wielded with brutal and fatal consequences in schoolyard disputes, street crimes, and public brawls across the state.
The situation has been described as "madness" by one top trauma specialist and sparked Victoria Police operations targeting at-risk youths, gang crime and weapon possession.
Knife violence has reached unprecedented levels in Victoria.Credit: Illustration: Aresna Villanueva
Hospital admissions related to knife assaults have more than doubled in less than three years, with 820 patients – more than two people a day – arriving at state emergency departments in the 2021-2022 financial year, according to the Victorian Injury Surveillance Unit.
Police have also seized record numbers of bladed weapons since 2019 during operations targeting knife crime, using special powers that allow warrantless searches in public areas, including train stations, shopping strips and popular entertainment precincts. Under Operation Omni, police declared 36 warrantless search zones around Melbourne in the last financial year, more than double the year before.
But those operations have failed to prevent the exponential rise in injuries related to knife violence.
Data from the Coroners Court of Victoria suggests that, in most years, knife-related homicides occur at double or triple the rate of gun-related homicides.
Children and young adults are increasingly falling victim to the violence, with the number of people under 19 treated for knife wounds more than quadrupling since 2019.
Dr Mark Fitzgerald, head of trauma at The Alfred hospital, said hundreds of stabbing patients a year were now being treated at the facility, many of whom were being admitted with several wounds to vital organs.
"It was relatively uncommon a couple of decades ago, but now it's almost to the point of reckless stupidity," he said. "Particularly young people dying of stupidity, either their stupidity or someone else's stupidity.
"It's a community problem that needs to be fixed. It's madness, complete madness."
Operation Alliance targets knife crime. From left: Detective Acting Sergeant Brendan Bennett, First Constable Mel Newman, Acting Detective Sergeant Robert Luri, Detective Acting Sergeant Magnus Vaisnys and Acting Detective Sergeant Leah Marriner outside the Werribee police complex. Credit: Joe Armao
An investigation by The Age has examined the extent of the state's knife violence problem, the impact on victims, and how police and community groups are tackling the issue following high-profile incidents.
More than two dozen stabbings have already been reported since the start of 2023, including a wild melee in a public park between groups of teenagers that left a 13-year-old and a 14-year–old with serious injuries.
In early April, a mother was stabbed to death in her inner suburban home, allegedly by her teenage son and a friend.
A 16-year-old was also stabbed several times during a fight on a bus in Templestowe in mid-March, and less than a week later a man was sent to hospital with knife wounds after being attacked in broad daylight in Bourke Street.
The record of incidents and police intelligence also points to a disturbing new trend of "swarm" attacks, where large groups of up to ten teens ambush lone victims in blitz-style assaults that inflict several, often fatal, injuries.
In December, 18-year-old Hashim Mohamed was fatally stabbed on the St Kilda beach foreshore during a group attack in front of hundreds of beachgoers. Six suspects, aged 15 to 18, have been charged over the deadly brawl.
Less than three weeks later, a 19-year-old was stabbed in a swarm attack at a busy shopping centre in Melbourne's north-west by a 14-year-old following an alleged drug deal gone wrong. Five teenagers are facing charges over the attack.

In April, a 16-year-old boy was stabbed by a group of nine offenders aged 14 to 16 years old outside Ashburton train station. Two other 16-year-old boys also had their shoes stolen.
A police officer working to combat youth and knife violence, who asked not to be named for fear of losing their job for speaking out, said knife-related crime and violence was "as bad as it's ever been", with knives being found everywhere, including school grounds.
"Everyone is carrying knives now. Knives are in schools, knives are at every fight now and these kids are prepared to use them."
The officer said some youths were carrying knives for self-defence, but they risked having the weapons turned against them.
Youth workers from the Youth Support and Advocacy Service (YSAS) have witnessed the trend towards widespread knife-carrying.
Officers from Victoria Police's Operation Alliance conducting searches for weapons.Credit: Victoria Police
"The increase in knife crime, particularly, and young people taking knives to school has become a much bigger issue than it was when we started," said Tracie Alborough, a youth worker at YSAS.
"We've had a number of young people that we've first seen because they've been a victim of usually armed robbery. And then we see them cycle through, and they are the ones with the knife. Usually, it's because they feel like they now need to protect themselves."
There were two major incidents in schools in late February and early March. A student was stabbed in the neck with a woodworking knife at a school in Reservoir, and a Wyndham Vale high school student threatened classmates with a large knife.
The Department of Education refused to release data about the frequency or type of knife crime occurring in the state's schools, and the Australian Education Union declined to comment.
Victoria Police Assistant Commissioner Brett Curran, who runs police operations in the north-west metropolitan region, said random knife attacks were "extraordinarily rare". He said the majority of knife assaults and murders were committed between people who knew each other, in situations such as criminal associations or family violence.
Police intelligence indicates more than 70 per cent of offenders charged over knife homicides had a "prior association" with their attacker in the past two years.
"What you'll find is, if you produce a knife, then you've raised the stakes. The other person, if they're carrying a knife, does the same – and that's going to lead to a tragic outcome for somebody," Curran said.
"Often when you're talking about kids … they don't care about the consequences, or understand the consequences of what's going on. Knives are really dangerous, but knives are also an everyday item."
Adults comprise more than 70 per cent of those charged with murder, according to Victoria Police, but about one in five homicides are connected to youth gangs.
Youth gangs are not a new phenomenon. Semi-organised violent groups of teenagers have existed in Melbourne for decades. But the way those groups form, organise, and eventually dissolve has changed.
Curran told The Age they were not organised like traditional crime groups, such as outlaw motorcycle clubs with rigid hierarchies, clubhouses, and gang colours or emblems.
Mark Fitzgerald, the head of trauma at The Alfred hospital.Credit: Justin McManus
"While there are organised gangs, they can also be a bunch of kids who've just come together. They all get engaged and all of a sudden, somebody's stabbed."
Curran said organised gangs were often vying for respect and notoriety, in sometimes bloody conflict, over perceived slights against members by rivals on social media.
Victoria Police estimates there are about 600 youth gang members in the state operating under the umbrella of about 50 groups. Most of the 600 are prolific offenders who were arrested multiple times in the past year.
Members do not hesitate to fold one gang and create another when allegiances change, making the groups notoriously hard to police. Their fluid nature means these groups lack long-term thinking and a sense of self-preservation, which can make them erratic and violent.
A number of recent, high-profile public incidents has been linked to gang activity, including a planned daylight brawl between two groups in a busy shopping centre, in which Victoria Police intervened before nine machetes, five knives and three other weapons could be used. Some of the weapons had been hidden in bushes or cars around the Watergardens shopping centre, where police alleged more than 14 people were planning to clash. Police said they arrested and charged 13 teens aged 13 to 19 in connection with the planned melee.
Police sources and community members say there have been incidents of gang members breaking into the homes of their rivals during the night, stabbing them in bed and terrorising innocent family members.
The attacks have left several young people with life-changing injuries, including a 17-year-old boy whose arm was partially severed with a machete during a home invasion in Wyndham Vale, police sources said.
They revealed another teenage boy was also left in a serious condition in hospital after a group of youths stormed into his home in Williams Landing and slashed his throat in a separate attack.
Some attackers have been known to give warnings to their targets, taunting them online and telling them "we are coming to your home tonight".
Youth engagement programs have had some success diverting teens away from gangs, with law enforcement figures showing 232 known members cut ties with the groups in the past year. However, those have been almost offset by 186 youths who were added to the police watch list in the same period.
Concerned parents say they are being kept awake at night worrying about their children's safety and fear their home could be broken into and ransacked next, community leaders and victims' relatives have told The Age.
Bol Aweng Machar, a community leader from Melbourne's western suburbs, where several of the home invasions have taken place, said the attacks had traumatised the victims and spread fear among the community.
A knife found near a crime scene last year.Credit: Nine News
"If you're sleeping at night in your house you'll feel that you are safe, but when someone attacks you while you're sleeping with your kids, that's something very serious," Machar said.
"They are attacking different houses because they know that that house belongs to one of the boys that are members of a group."
What once might have ended in a fistfight at recess is now being amplified on social media platforms such as Snapchat and Instagram, where gang members boast about exploits, threaten rivals, and arrange weapons and drug deals.
In the days following the stabbing of Reservoir teenager Declan Cutler, his friends were taunted and threatened on social media. "Your next [sic]," one comment read. "It's his fault he died," read another.
The 16-year-old, known to his friends as DJay, was bashed and stabbed several times in a "swarm" attack as he left a house party in Coburg North in March last year. Eight teenagers have been committed to stand trial.
In social media exchanges seen by The Age, youths who identified as being part of a gang boasted about having "a link up" and "smoking" a victim — and warned rivals against starting "beef that you can't finish".
"Years ago it would have been insults on the playground. Here, through social media, it increases. You get one, then they throw one back," Curran said.
"If you're surrounded by like-minded people who think carrying knives is the identity they want … it just feeds off itself."
The widespread availability of household knives has been a major problem in efforts to stem the violence.
The weapons being used are often simple kitchen knives taken from homes, or bought or stolen from shops, police say.
In other incidents, warring groups of teenagers have armed themselves with kitchen knives taken from a house party before a planned street fight turned fatal, while police have confiscated blades from children as young as 12.
Retailers have attempted to block access to knives in high-risk crime areas by "hardening" shops against theft by locking knives inside counters, replacing them on display shelves with cardboard samples, and verifying the age of purchasers.
Officer from Victoria Police's Operation Alliance search people for weapons.
Woolworths revised its procedures in 2021 after a serious assault inside one of its stores in Brunswick using a knife taken directly off the shelf, which prompted a ban on their sale.
"Knives came back on sale last year, accompanied by updated packaging protocols to ensure the remaining knives we sell are housed in high-grade, clamshell packaging. There is a selection of stores across the country that have continued to not sell any knives at all," a spokesman said.
Dr Fitzgerald said it was disturbingly common to see "terrible" injuries caused by knives and noted a trend of assailants inflicting wounds on the groins of their victims.
"Often it's not just one stab wound, it's multiple stab wounds. If someone is stabbing you in the neck or in the front of the chest near the heart, they know exactly what they are aiming for," he said.
Treating injuries quickly is being complicated by the unsafe conditions at the scene of incidents, he added.
"The paramedics can't get access to the scene because the police don't think it's safe yet, and the patients can just bleed out," Fitzgerald said.
At least 11 per cent of knife injuries over the past decade have been connected to family violence incidents, according to Monash University's Victorian Injury Surveillance Unit data. But with more than half of victims admitted to hospital not identifying their assailant in hospital records, that figure is likely to be higher. Another third of victims reported they were attacked by strangers.
Machar, who has been meeting families of young men injured during the home invasion attacks, said it was time for the community to have a conversation about how to solve the issue.
"No one wants to see young people dying every day or every week," he said. "We need to find a way forward to change this situation."
The Morning Edition newsletter is our guide to the day's most important and interesting stories, analysis and insights. Sign up here.
Most Viewed in National
From our partners
Source: Read Full Article