Victorian government tries to halt lockdown class action as it battles separate COVID court case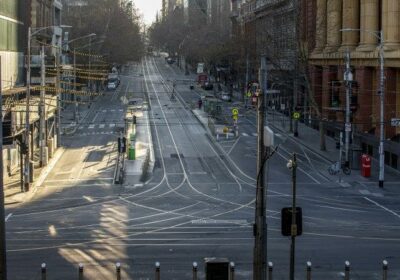 Businesses hurt by Victoria's second COVID-19 lockdown may have to wait until 2025 to have their case heard in court if a bid by the state government to have proceedings put on hold succeeds in the Supreme Court.
Lawyers representing the government want to halt the class action until a separate criminal case against the Department of Health over its hotel quarantine program is resolved.
Empty Bourke Street on the eve of Melbourne's stage four lockdown in August, 2020.Credit:Wayne Taylor
If the state's application is successful, the class action could be put on hold until as late as 2025, more than four years after the plaintiffs in the case filed their writ with the court.
The application has already been delayed twice in recent weeks after the state's counsel in both court cases, Dr David Neal, reportedly experienced COVID-like symptoms and was unable to appear in court.
The class action, brought on behalf of retail, hospitality, beauty and fitness businesses, claims the government's mishandling of the hotel quarantine program led to Victoria's second lengthy lockdown in 2020, devastating businesses and resulting in widespread job losses.
The lead plaintiff in the case, Keilor Park restaurant 5 Districts NY, argues the government was negligent in its response to the pandemic and failed in its duty to take reasonable care to ensure that effective infection control measures were implemented in hotel quarantine.
The state government previously failed on two separate occasions to have the case thrown out in court on the basis they held responsibility towards all Victorians not just businesses, the latest of which failed in August.
Damien Scattini, a partner at the law firm Quinn Emanuel, who is leading the action on behalf of the plaintiff, said some business owners were "holding on by their fingernails waiting for an outcome" and further delays in the case would be brutal.
"They've had two goes to kill the case, and now they are trying to put the case on ice for an interminable period. There's only one party in that room that wants it delayed and that's the state," Scattini told The Age.
"We've got the state worried about its reputation, we've got tens of thousands of Victorians, taxpayers' businesses, who are needing a resolution on this case as soon as possible, and we intend to provide it to them."
Anthony Ferrara, owner of 5 Districts NY, is the lead plaintiff in a class action against the Andrews government.Credit:Arsineh Houspian
More than 1000 businesses have registered to take part in the class action, which is open to any traders that experienced a financial loss as a result of the restrictions.
Victoria's second wave claimed more than 800 lives and caused four months of tough restrictions, including a nighttime curfew, a widespread commercial shut-down, and a ban on leaving home for anything but exercise and essentials.
Scattini conceded aspects of the class action overlapped with the criminal case, but he said any potential conflict between both cases could be managed.
Justice John Dixon said progress in the case had been "extremely slow" and advised the state's lawyers to prepare a defence ahead of the case's return to court in February.
"I feel the need to keep this moving," he said.
"Having read the submissions I think there's considerable traction in the proposition that this could be taken step by step rather than have it stayed."
He will make a formal decision on the government's application to stay the class action when the case returns to court later this month.
The Department of Health is facing tens of millions of dollars in fines if found guilty of 58 breaches of occupational health and safety laws in the criminal case being heard in the Magistrates Court.
WorkSafe alleges the department failed to provide a safe workplace for its employees and failed to ensure people were not exposed to risks to health and safety in quarantine hotels.
A five-week committal hearing is under way for Magistrate Simon Zebrowski to determine if there is sufficient evidence to support a conviction on the charges.
With AAP
The Morning Edition newsletter is our guide to the day's most important and interesting stories, analysis and insights. Sign up here.
Most Viewed in National
From our partners
Source: Read Full Article