Traveler tracks his stolen luggage containing using Apple AirTag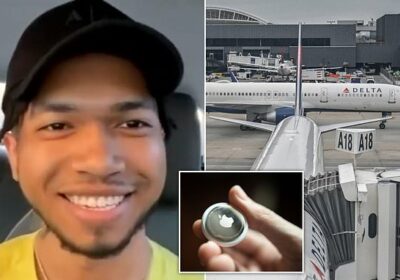 Caught the bad apple! Traveler uses Apple AirTag to hunt thief who stole $3,000-worth of his luggage from Atlanta airport – and found suspect wearing his shirt, jeans and SOCKS
Jameel Reid used a $29 Apple AirTag to recover $3000 worth of belongings

Reid's bag was stolen from the baggage claim at Atlanta International Airport

Police found the thief after Reid gave them its exact location with the AirTag app 
A traveler recovered a suitcase stolen from baggage claim at the Atlanta airport thanks to an Apple AirTag he'd slipped into the bag while packing.
Jameel Reid had about $3000 worth of belongings in his suitcase, but when he went to collect the bag after landing at the Atlanta Hartsfield Jackson International Airport he found it was nowhere to be seen.
Reid pulled out his phone to look at his AirTag app, only to see his bag was somewhere near the Grady Memorial Hospital in downtown Atlanta.
Days later the app showed his bag was near the airport and Reid was able to provide its exact location to police, who swooped down on the bag's location and discovered the thief wearing Reid's shirt, pants, and socks.
Jameel Reid found his stolen luggage using an Apple AirTag he'd slipped in while packing
Jameel Reid's bag after he recovered it. Police found the thief wearing his clothes
Reid was finally reunited with his baggage on Wednesday morning after the harrowing ordeal.
'I had about $3000 worth of stuff in here,' he told Good Morning in America while filming his newly-recovered chrome rolling suitcase and recalling how it was nowhere to be seen when he went to pick it up from baggage claim days earlier.
He said he'd long kept the AirTag in his luggage, and immediately checked his phone to see what it might tell him.
'I just had it in my luggage, cause just knew that I would probably need it one day,' he said.
'I pulled out my phone, and it was showing that it was at Grady Memorial Hospital. I was looking at it for a couple minutes and it's still saying Grady,' he said. 
'I'm like okay this is not looking too good, I'm starting to get a little nervous.'
When the cops bagged the suspect days later with the help of the AirTag, Reid said 'he had my shirt on, my jeans, and my socks.'
Reid shared a picture of his bag after it was recovered with its contents haphazardly splayed about after being apparently rummaged through.
AirTags and other cellphone linked tracking devices like Tile Trackers sell for between $30 and $50.
The tags work by pinging off iPhones near them and sending a signal to the owner's phone to show where they are. 
Apple AirTags cost about $29. It helped Jameel Reid discover his bag after it was stolen
Jameel Reid said his bag contained about $3000 worth of property when it was stolen
The tracking devices have been used to help people find countless missing items, including one woman from the UK who recently used one to track down her stolen car.
Zoë Pettit and her friends managed to track down her Ford Fiesta after it was stolen in February.
Like Reid, they found the car using the AirTag app and called police to help them recover it from the thief.
And in January, a California woman was able to find her beloved dog which had been swept away in a flood thanks to the AirTag she'd attached to his collar.
But the small metal disks have also been discovered being used by stalkers who discretely place them on people they want to follow.
Last year a young mother in Texas said she found an AirTag taped inside her duffel bag as she traveled from Texas to Maine. 
'I think they definitely would have hurt me. I don't think you do that for no reason,' she told Inside Edition. 'It took almost 14 hours to let me know this was happening,' she said. 
The device is designed to prohibit 'unwarranted tracking' by alerting a nearby iPhone when the AirTag has been separated from its user. For example, if someone was to place an AirTag on a car but not get in the car, then the driver of the vehicle should be alerted that there is an AirTag nearby or moving with them. 
Source: Read Full Article