'TikTok riot' forces school U-turn on 'gender neutral' PE kit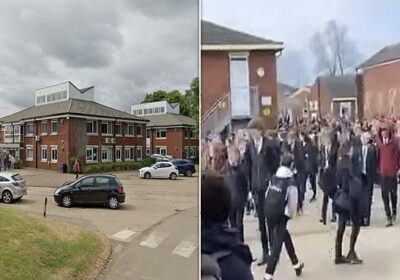 'TikTok riot' forces school to abandon plans to enforce new rules on 'gender neutral' PE kit and ban on skirts after pupils staged protest
Police called to the Warriner School in Banbury on Friday following disruption
Revealed: The TikTok videos urging pupils to take part in school protests
A so-called 'TikTok riot' has forced a school to scrap plans to enforce new rules on a 'gender neutral' PE kit and a ban on girls wearing skirts.
Police were called to the Warriner School in Banbury, Oxfordshire, on Friday to break up a 'disturbance' and the school was forced to close for the day after students rebelled against the rules.
The school has since backed down, saying it had reversed its decision to enforce a gender-neutral uniform policy.
The Warriner said there will be no changes 'without further consultation involving the whole school community', as it was 'concerned about any further disruption to school and students being able to continue their studies'.
On the school's website, Dr Annabel Kay, the executive headteacher, apologised for 'under-estimating the strength of feeling on this issue' and 'not properly engaging or consulting with all parents and students'.
Videos appeared showing students protesting in the school grounds, with one pupil wearing a skirt over their trousers
Following the protest, Warriner School released a statement on its website saying 'there will be no changes to uniform policy without further consultation'
The Warriner School is a co-ed secondary in Banbury, Oxordshire, with 1,500 pupils aged 11 to 18
She added: 'We fully respect the rights of students to protest and we want to hear the voices of young people in a safe and constructive manner.
'Our intention was, and remains the case, to be inclusive, supporting and empowering all our students equally and with respect.
READ MORE: Revealed: The TikTok videos urging pupils to take part in school riots sweeping the country and giving advice on how to emulate rebellions against new rules on uniforms and unisex toilets
'We have listened to our students and we are committed to engaging further on our uniform policy, and on other future policy changes, with both parents and students in a constructive and positive manner.'
Staff sparked the row after sending a letter home to parents informing them that from September, all pupils would be 'required to wear black tailored trousers' and a 'gender neutral Physical Education Kit'. 
Female students would be banned from wearing skirts to school from September, and during summer months all students would be made to wear knee-length black shorts. 
In the letter, assistant headteacher Lotty Keys, said the reason behind the decision was to 'promote inclusivity and further support and empower our students with our values of equality and respect'.
'This was a decision made because, unfortunately, there is still a challenge by a lot of our female students wearing their skirts to our desired appropriate length,' it said.
'Students who roll skirts to an inappropriate length are sending out the wrong social message in their choice of style – they seem to feel they need to conform to a certain image, in order to fit in with friendship groups.
'We feel this has no place in an educational setting and for this reason we are introducing trousers for all students.'
But this prompted furious students to stage a munity against the new rules, with dozens of parents backing them.
Videos appeared on social media platforms showing scores of students protesting in the school grounds, with one pupil wearing a skirt over their trousers.
One pupil claimed Friday's trouble was a 'riot more then a protest, with lots of damage being done to the school site and property'. 
One parent said their child, who has autism, was severely 'shaken up' and had to 'barricade themselves inside their classroom' alongside other pupils to stay clear of the protests.
The mother said that girls had been 'upset' by the letter and thought the school's leadership 'could have gone about it better'.
She added that the 'protests were not the correct way to handle it, they got out of hand.'
A pupil at The Warriner School, who wished not been named, told the Banbury Guardian: 'Personally I disagree with the new uniform rules as why should boys be able to wear shorts if girls can't wear skirts?'
Upset parents have claimed the change in uniform will punish girls at the school for the actions of a minority.
They have also argued that the changes are an expense that parents do not need 'forcing' upon them during a cost of living crisis.
MailOnline found messages on TikTok which show pupils asking how they could replicate a protest at their school
One mother, Jenny, said: 'The children have arranged this themselves without parent influence, the teachers are supervising them, and the police are on site now as well.
'As a parent, I'm extremely proud of the way the students are conducting themselves today, they are being peaceful, respectful, and keeping high spirits.
'The change of uniform was put across as saving money for the parents and as being gender neutral and inclusive for all the students, but there was no consultation, and that is what smarted the parents'
'It feels like they are punishing girls for wanting to be girls, and that doesn't feel inclusive.
READ MORE: TikTok protests cause chaos at schools nationwide as headteacher blames social media trend for clashes over ban on using toilets during class, skirt-measuring and girls told to show a red card when on their period as students slam 'prison rules'
'There are a handful of girls that roll their skirts up, but that has been the way since I was at school in the 1980s, but why punish the entire female student body for the sake of a handful of girls?'
Another parent said he 'will not be acknowledging your school uniform update and my daughter will continue to wear skirts and other female clothing to school.
He called the letter 'nonsense' and 'anti-female' and demanded that the teachers at the school organise a meeting with parents and reverse the decision 'along with an apology for the incredibly hurtful letter'.
Lesley Southam, who has a daughter in year 10, said: 'I think they've taken away the girl's choices – they're penalising the girls.'
Thames Valley Police confirmed they had 'received a report of a disturbance' at the school at 9.10am on Friday morning and officers attended to 'ensure the safety of students and staff'
'No arrests were made,' the force said.
Following the protest on Friday morning, the school was forced to send an email to parents asking parents to collect their children after being advised by the police.
It said: 'We have made the very difficult decision to close the school today. If you are able to please come and collect your child, please do immediately.;
A number of 'TikTok protests' have continued to rock Britain's schools, with children in Southampton, Blackpool and Essex staging demonstrations in the past 24 hours that were posted on the platform.
The demonstrations appear to be arranged over apps popular with youngsters, such as TikTok and Snapchat, with some clips attracting millions of views.
MailOnline found videos with comments from pupils at other schools, asking how they could emulate the protest at theirs, amid fears the trend is sweeping the nation.
The trend prompted the Department for Education to release a statement, saying it was 'concerned' by the spate of school protests. 
Its spokesman said: 'We are concerned at the reports of disruption and will be in touch with all schools and local authorities to ensure they are supported at this time.
'We will always back headteachers to take the action required to maintain calm and supportive classroom environments as they are best placed to work with their teachers, parents, pupils and local communities when developing and implementing policies.'
The Warriner School and TikTok have been contacted for comment.
Source: Read Full Article