Thousands take to Melbourne's streets to protest vaccine mandate, pandemic bill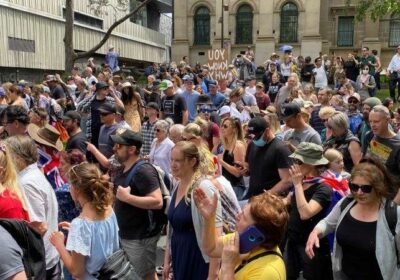 For our free coronavirus pandemic coverage, learn more here.
Thousands of demonstrators against the Victorian government's pandemic legislation are gathering in Melbourne's CBD and a gargantuan model of a gasping koala is making its way around St Kilda as two protests kick off.
In the largest of the two rallies, over 1000 protesters marched down Bourke Street to Parliament House on Spring Street just after 12pm, with shouts of "free Victoria" and "Sack Dan Andrews".
Demonstrators march through Melbourne's CBD on Saturday, protesting the Victorian government's vaccine mandates and proposed pandemic legislation.Credit:Rachael Dexter
The anti-vaccination demonstrators also held aloft signs as they gathered outside the State Library calling for the Andrews government to "kill the bill" – referencing Victoria's proposed pandemic legislation.
The new pandemic-specific laws, which are set to replace state-of-emergency powers when they expire on December 15, curtail the chief health officer's powers, giving the premier authority to declare a pandemic and the health minister the role of making public health orders.
With protests now legal again, police are monitoring the edges of the crowd but only moving people on if they are blocking traffic. The crowd is a mix of families, including children, the elderly and the young.
Meanwhile, a four-metre high skeletal koala puppet called Blinky, with wisps smoke floating off it and a grimace on its face, was the focal point of the morning's Extinction Rebellion protest against inaction on climate change in St Kilda.
The sombre Extinction Rebellion procession through Catani Gardens was accompanied by a group of musicians playing Chopin's Funeral March. The group's signature, silent "Red Rebels" – wearing flowing red dresses and white face paint – lead the protest of more than 100 people.
Earlier on Saturday, skeletons clutching briefcases full of money had cycled from the Melbourne CBD to St Kilda, in order to highlight the "failure" of this week's COP26 climate summit in Glasgow, Extinction Rebellion's spokeswoman Jane Morton said.
"UN Secretary General Antonio Guterres has said that its code red for humanity," she said.
"But Australia has gone to the last-ditch COP26 climate negotiations as a laggard and a wrecker. The whole world is watching in dismay. Our children are watching in despair.
"The future of the world as we know it hangs in the balance. We are approaching the point of no return for out of control warming and billions of deaths."
Australia declined to join a pledge by 80 nations at the COP26 summit this week to cut methane emissions, much of which are generated from oil and gas production.
Our Breaking News Alert will notify you of significant breaking news when it happens. Get it here.
Most Viewed in National
From our partners
Source: Read Full Article