The Woolly Warriors! Woman's hand-knitted tribute to World Wars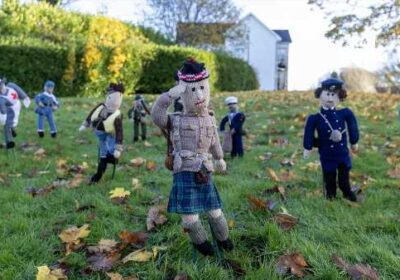 The Woolly Warriors! Woman's hand-knitted tribute to the men and women who served in both World Wars
Led by a saluting Scottish soldier in kilt and Glengarry, the mysterious little army marches across the hillside in their uniforms.
But the riddle of their origin has now been solved – they were knitted by their creator as a tribute to family members who served in the First and Second World Wars.
Frances Oates made the woollen dolls, which appeared on a hillside in Beith, Ayrshire, in their honour to mark Remembrance Day.
She decided to knit them last year as a challenge and to take her mind off her breast cancer treatment.
Leader: Scots soldier in kilt and Glengarry salutes
Intricate detail: Each doll features delicate touches such as the sailor's kit bag, the pilot's scarf and soldier's rifle
She said: 'I needed something to keep my mind and fingers active. I'm doing really well and can't complain but I needed to keep busy.'
There is a sailor, complete with a tiny Royal Navy badge on his hat, a nurse dressed in the instantly ­recognisable white apron with a red cross and the
saluting Highland soldier.
Mrs Oates used 1940s Women's ­Institute patterns to create the dolls and then painstakingly designed and made the individual uniforms.
Sudden arrival: The figures have turned up on a small hill in Beith
The figures are full of detail including rifles with ­bayonets, gas mask boxes, Women's Land Army armbands and pilots' life jackets.
Helen McNaughton, chair of the Beith and District Community Council, said: 'Frances works tirelessly for the town and brings much happiness to the community, we can't thank her enough.'
Source: Read Full Article