Tensions ignite as US schools suspend classes amid record COVID cases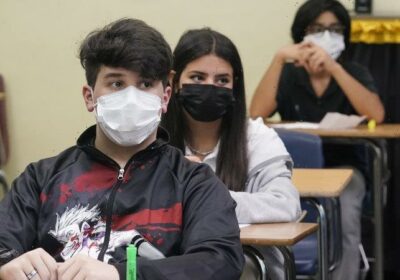 For our free coronavirus pandemic coverage, learn more here.
Washington DC: US President Joe Biden has told schools they should remain open after thousands of classrooms shut down just as students were due to return and the nation recorded more than one million COVID cases in one day.
Tensions between teachers, parents and governments erupted after some districts temporarily moved to switch to remote learning, reigniting anger over one of the most polarising debates in the US since the pandemic began: whether children should be in classrooms as coronavirus cases soar.
Thousand of classes across the US have been shut down again as coronavirus cases reach record highs. Credit:AP
In Chicago, the Chicago Teachers Union was set to hold a vote on Tuesday night, US time (Wednesday AEDT) for staff to walk off the job and switch to online classes – a position at odds with the stance of the city's high-profile mayor, Lori Lightfoot.
"The best thing that we can do for our students, staff and all our partners… is to get vaccinated," Ms Lightfoot said in a statement on Tuesday morning as union members accused her of failing to have an adequate COVID plan for schools.
"Keeping kids safely in school where they can learn and thrive is what we should all be focused on."
Similar divisions have emerged in New York, where the teachers' union has also hit out at the decision of the city's new major, Eric Adams, to keep schools open, and have warned of ongoing staff shortages due to staff being infected with the virus.
In Detroit, classes have moved online until January 14, in a move that left some working parents scrambling to find alternative arrangements for their children. And in Los Angeles, students and staff will be required to show proof of a negative COVID test to return to school next week, regardless of their vaccination status.
By Tuesday, it was estimated that more than 3000 schools across the US had delayed in-person learning, as the number of people diagnosed with COVID in the US exceeded more than one million on Monday. The figure is the highest number ever recorded by a country and more than double the previous record set in the US only four days ago.
Speaking ahead of a briefing with the White House COVID taskforce this afternoon, Biden urged classrooms to remain open, telling reporters: "Schools can and should be open this winter. We have all the tools to keep kids safe."
However, hospitalisations involving children are also increasing, with states such as Pennsylvania, Georgia, Connecticut, Ohio among many reporting record rates of infected children. According to a data analysis by the American Academy of Pediatrics, there were over 325,000 child COVID cases reported by December 30 – a 64 per cent increase from the week prior.
Health experts say the peak of the virus is not likely to be reached for another three weeks, presenting the Biden administration with an ongoing challenge as it seeks to get the balance between public health and keeping businesses, schools, and services open.
"In the next few weeks schools are going to have to make some challenging decisions here," said US surgeon general Dr Vivek Murthy, urging parents to also ensure their children were masked and vaccinated.
"We hope that they use these mitigation measures that we know work to keep our kids safe, but I recognise in some cases, schools may have to make temporary emergency decisions if they have a large number of staff, for example, who are at stake if they feel they can't take these measures. But the goal is like keep our kids in school."
As cases of the highly contagious Omicron variant soared last month, and the White House came under fire for not dealing with the latest strain quickly enough, the Biden administration announced before Christmas that it would buy 500,000 home testing kits and mail them to people who want them.
However, the kits would not be available until this month, and it is still not clear when exactly they will come online to address what has become a national testing shortage across the US.
Mr Biden acknowledged that Americans were frustrated by the shortage, adding: "believe me, it's frustrating to me – but we're making improvements."
The President insisted that more stock would be available in the weeks and months ahead, and also announced that the White House had doubled its order of Pfizer's antiviral pills, from 10 million units to 20 million.
From next week, private health insurance companies will also be required to reimburse people for the cost of a rapid antigen test.
Meanwhile, the US Centres for Disease Control and Prevention last week shortened the isolation period for asymptomatic adults and children who test positive from 10 days to five. This led to some concerns that the new guidelines allowed people to leave isolation without getting tested to see if they were still infectious.
However, in explaining its rational on Tuesday (Wednesday), the agency said lab tests can show positive results long after someone stops being contagious, and that a negative at-home test may not necessarily indicate there is no threat. It also argued that more than 100 studies from 17 countries indicate that most transmission happens early in an infection.
On Monday, the Food and Drug Administration allowed extra Pfizer shots for children as young as 12, meaning that all teenagers in the US will soon be eligible for COVID boosters.
Get a note directly from our foreign correspondents on what's making headlines around the world. Sign up for the weekly What in the World newsletter here.
Most Viewed in World
From our partners
Source: Read Full Article