Supermarket selling South American meat as 'best British beef'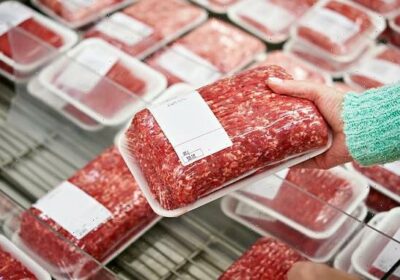 Supermarket chain is investigated by Food Standards Agency for selling South American meat labelled as 'best British beef'
The supermarket is selling pre-packed meat from Europe and South America
The investigation is not into the safety of the meat, but into food fraud
A supermarket chain is under investigation for selling meat from South America labelled as 'best British beef'.
The National Food Crime Unit, part of the Food Standards Agency, has confirmed it is investigating the retailer – which it so far has not named.
The supplier has been selling 'large volumes' of pre-packed meat and deli products from South America and Europe.
But meat industry experts said that it they believe it is unlikely that the scandal will be confined to just one supermarket.
The investigation comes 10 years after Britain was rocked by the horsemeat scandal, which saw the meat being sold as beef in lasagna and other ready-meals.
The National Food Crime Unit, part of the Food Standards Agency, has confirmed it is investigating the retailer – which it so far has not named
Reginald Bevan, deputy head of the NFCU told Farmers Weekly that a 'massive investigation' was under way into one of the supermarket's suppliers, involving a review of around 1.3m documents with which the supermarket was co-operating.
He said the products were being sold to consumers as 'best British beef'.
The investigation is reportedly looking at only one retailer, which has since pulled the products from its shelves.
The NFCU has not named the supermarket, but it is understood that it is not one of Britain's 'big five' supermarkets – Asda, Sainsburys, Tesco, Morrisons or Aldi.
Co-op and Lidl both told the Daily Mail that they are not under investigation.
Lib Dem environment spokesman Tim Farron told the Daily Mail today: 'This supermarket should be named and shamed.
'British farmers need the backing of supermarkets to get through these difficulty times. Farmers aren't getting the help they need from Government and already face powerful supermarkets who constantly make unreasonable demands.' 
Labour were also critical. Labour's Shadow Secretary of State for Environment, Food and Rural Affairs, Jim McMahon MP said: 'We were told the lessons of the horsemeat scandal had been learnt, but unfortunately this investigation could cast that into doubt.
'There are clearly very serious questions to answer and it's right that an urgent investigation is currently underway.
'The next Labour Government will support British farmers and food production by ensuring that we buy, make and sell more great British food.' 
It is understood the supermarket is not one of the 'big five' – Asda, Sainsburys, Tesco, Morrisons or Aldi
National Beef Association chief executive Neil Shand said anyone who was caught falsely labelling or adulterating food products should 'have the book thrown at them', while NFU president Minette Batters said it 'showed how the system can be abused'.
'Horsegate brought this country, as all food scares do, to a standstill and created a huge level of mistrust,' Mrs Batters told Farmers Weekly. 'We have to learn lessons from that era.'
The Association of Independent Meat Suppliers (AIMS) said: 'It is only today that we have found the product concerned is beef, and it is our belief, given the popularity of sliced cooked beef across all trade channels, that its sale by food fraudsters will not have been limited to a single supermarket.
'The NFCU's current play book has the potential to damage UK overseas trade simply by their policy of a lack of transparency and industry engagement.'
Andrew Quinn, deputy head of the NFCU, told Farmers Weekly the retailer concerned continued to work closely and co-operatively with the investigation, to progress the case against the supplier.
'This is not a food safety issue, but a matter of food fraud,' he added.
'Any fraud investigations of this nature take time to go through evidence and bring to any outcome, including any potential prosecution. We take food fraud very seriously and are acting urgently to protect the consumer.'
The UK imports a relatively small amount of beef and beef products from South America; around 24,000 tonnes in 2021.
Concerns over South American beef centre on whether the meat comes from illegally deforested areas. The World Wildlife Fund estimates that production of beef and soy – used mainly as livestock feed – is responsible for more than two-third of habitat losses in Brazil's Amazon and Cerrado regions and Argentina and Paraguay's Gran Chaco region.
Source: Read Full Article