St Mark's Church London: Terrifying moment massive FIRE rips through iconic church destroying 'historic treasure' | The Sun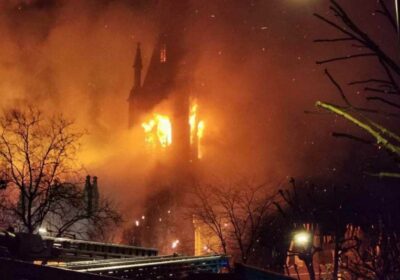 A HUGE fire ripped through and destroyed an iconic church last night.
The North London heritage-listed structure, described as an "architectural and historical treasure", was engulfed in flames at 11.20pm.
Some 80 firefighters rushed to St Mark's Church in St John's Wood to battle the blaze, eventually bringing it under control at 2.22am.
The London Fire Brigade (LFB) said there were no injuries, though it noted the whole two-storey Anglican building was "destroyed".
Residents were earlier asked to keep doors and windows closed due to the significant amount of "heavy" smoke being produced.
Footage from the scene shows the building burning orange and plumes billowing from the roof and windows.
READ MORE UK NEWS
HS2 shambles as £60bn high-speed rail project may not even go to central LONDON
Urgent health warning to millions as cold snap sweeps the UK
A neighbour told the BBC: "It's terrible, the whole church was on fire [with] smoke everywhere.
"It's extremely sad because it's a very old church and it's ruined now."
The LFB said it used three ladders, including the tallest in Europe at 210ft, to distribute water evenly and extinguish the blaze.
Vicar Kate Harrison, who was evacuated from her home, told the Evening Standard this morning: "I'm absolutely heartbroken.
Most read in The Sun
Stacey Solomon reveals new baby's gender – saying 'the boys are so excited'
Major update after woman, 28, savaged to death by pack of ferocious dogs
Moment killer walks with her 'gentle' victim before stabbing him through heart
Man Utd ace Savage to join Forest Green on loan and play for Duncan Ferguson
"That building has served the Christian community for 175 years; it's our base where we have been reaching out, helping people, loving people.
"It's a wonderful beacon of hope and to see it suffer in crushing devastation is completely heartbreaking.
"But it is a building, not the church. The church is the people and our work will carry on, our love will carry on."
The National Churches Trust had listed St Mark's as a grade II Victorian church, describing it as an "architectural and historical treasure" which finished construction between 1846 and 1847.
It contained "stunning" mosaics by the Salviati family as well as highly decorative marble flooring in the chancel.
The overall Gothic-styled design the work was by architect Thomas Cundy Junior.
It was located near Abbey Road Studios and Lord's Cricket Ground, and had links to author Lewis Carroll and Queen Victoria's son Prince Leopold.
The LFB said the cause of the fire is under investigation.

Source: Read Full Article