Six sets of tricky twins to keep teachers on their toes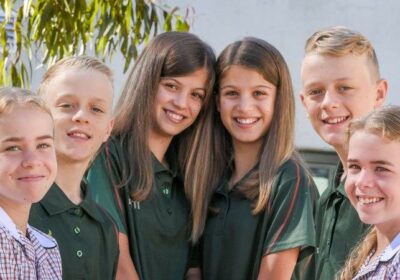 Teachers will be kept on their toes by six sets of twins descending on a Croydon secondary school.
And the cheeky bunch, which includes three sets of identical twins, have already joked about playing tricks on their Melba College teachers as they adjust to seeing double.
Identical 12-year-old twins Charlotte and Ruby Phillpotts are among the thousands of Victorian students starting the new year on Monday.
Melba College principal Aaron Sykes said the school will have 137 students spread across six classes in year 7, one of their largest cohorts, and it was "quite special" there were so many twins.
"At least one pair of the identical twins – two girls – are in the same class, but the majority are in different classes pursuing different interests," Sykes said.
Charlotte and Ruby will both be doing a sports pathway at the school with netball, and are excited to be starting secondary school, especially together.
Melba College's year 7 twins (from left): Troy and Tyson Watson, Sophie and Leah Plant, Charlotte and Ruby Phillpotts, Zack and Billy Loci and Alex and Scarlett Warren. Front: Maddie and Dakota Macpherson.Credit:Justin McManus
"There's always someone that's looking out for you and that you can trust and have faith in," said Charlotte.
Their mother, Eva, said it could be confusing for new teachers, who often resorted to asking or checking for differences — like their sneakers.
"Normally, they just guess who is who," said Ruby.
"We're used to it, we make a joke of it."
Identical twins from front: Maddie and Dakota Macpherson, Billy and Zack Loci and Charlotte and Ruby Phillpotts.Credit:Justin McManus
The girls themselves said they may be up for a prank on their teachers "once or twice".
According to the Australian Bureau of Statistics, 1.4 per cent Australian pregnancies in 2021 resulted in twins or more, about. Of those 4248 multiple births, 4185 were twins and 63 were triplets or more.
Twins Madison and Dakota MacPherson said they switched classes once at their primary school.
"Our teachers would get confused and wouldn't realise," Madison said.
Jess Lacardie's said her fraternal twin sons, Troy and Tyson, were nervous but excited.
"Considering it's a big step from primary school, they are pretty ready to go," she said.
It was nice to "have something in common" with his classmates, said Troy Lacardie, and not to be the only set of twins in their year level.
Tyson said reading his brother's mind was very handy.
"[You can] know the exact move they are going to make every time," he said.
Sykes expected teachers to be on the lookout for twins swapping classes.
"I know one of the twins said when they were in primary school and had some fun with their teachers in the past," he said.
"We'll be keeping our eyes out well and truly for those fun shenanigans."
This is the first time Melba College, which celebrates its 10th birthday this year, has had so many twins in one year.
"Each one of these kids has their own individual talents and interests, and we will look forward to fostering that over their time at the school," Sykes said.
With Justin McManus
The Morning Edition newsletter is our guide to the day's most important and interesting stories, analysis and insights. Sign up here.
Most Viewed in National
From our partners
Source: Read Full Article