Shiva Singam couldn't attend his own fashion gala. But he would have loved it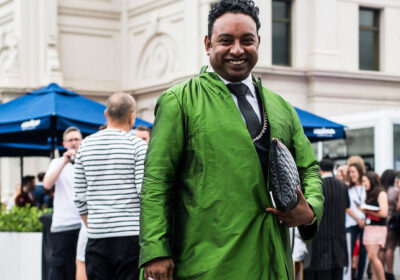 Save articles for later
Add articles to your saved list and come back to them any time.
In an industry some regard as superficial, fashion identity Shiva Singam was widely acknowledged as the real deal.
It only added to the shock and grief many in Melbourne felt after his sudden passing from a heart attack last month aged 50.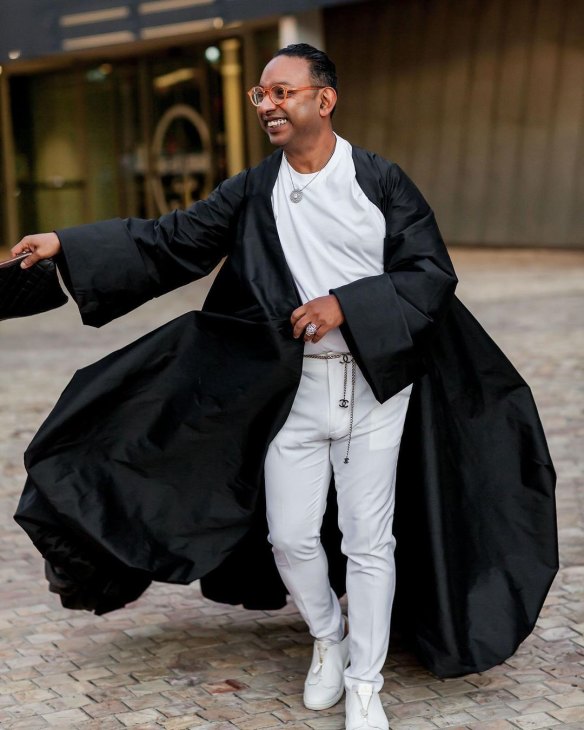 Shiva Singam in full flow.
On Monday night, 400 people from the city's fashion, design, hospitality, socialite, racing, civic and Indian communities gathered in Federation Square to mark his passing at the inaugural Shiva Gala. Those in their finery observing the dress code – fabulous – included Amanda Smorgon, Arthur and Mimi Galan, Kyla Kirkpatrick, Jason Grech and Lana Wilkinson.
Singam was head of partnerships at Melbourne Fashion Festival, but his impact went well beyond his day job. He was a marketing consultant, socialite, sartorial star, mentor and enthusiastic backer of talent who would turn heads at the races, boost an up-and-coming designer, or waft through the halls of Government House for a Fashion Week reception, signature cape flowing.
Words on a page were a poor substitute for the reality of Singam. His ability to charm and connect people was next level, but underpinning it was a remarkable enthusiasm, genuineness and generosity. His greatest role was as a treasured friend.
The dress code at the gala was "fabulous".Credit: Penny Stephens
Once, he approached the restaurateur Scott Pickett, complimented him on his business and gave him – gratis – a marketing plan, only later accepting the offer of a regular booking and a couple of glasses of champagne.
At the riverside Zinc function venue, cocktails and champagne flowed freely on Monday night. Guests enjoyed the Shivarotti cocktail, a blend of Sanpellegrino, vodka, triple sec, prosecco, agave, rosemary and pomegranate seeds.
Friend and performer Jono Francisco, who sang at the gala, wore a Trelise Cooper Couture jacket that he once asked Singam to lend him.
"Over my dead body," came the reply.
Guests recounted how Singam had skipped school aged 12 to catch a glimpse of Princess Diana on Swanston Street during a mid-80s tour. And how during his funeral, mourners spotted a handbag in his open coffin.
Caroline Ralphsmith wearing Sophie Theallet, and Jono Francisco wearing one of Shiva's jackets by Trelise Cooper at the Shiva Gala on Monday night.Credit: Penny Stephens
Caroline Ralphsmith, chief executive of the Melbourne Fashion Festival, told those assembled: "He had a charming and disarming way of using formalities and protocol that made people feel special.
"Shiva's affinity with people, his intellect and his natural ability to connect … made it impossible to not get swept up in the exciting ride he was offering."
Via a video, former foreign minister Julie Bishop also paid tribute.
In the early 1990s, Singam managed his family's Curry Club Cafe in Bridge Road, Richmond.
Singam's sister Janee Rutherford at the event. Credit: Penny Stephens
By 1996, he spoke to The Age, listed as a 22-year-old socialite from Balwyn North, as he rubbed shoulders with former premier Jeff Kennett, garden designer Paul Bangay and restaurateur Maurice Terzini in a best-dressed list during Cup week.
"Exotic, eclectic and a lot of fun is my style. I mix a lot of European designers with traditional garments and that really exemplifies my look. Then I clean it up with Indian jewellery or accessories," he said.
Actor Sharon Johal, who shared an Indian heritage with Singam, remembers well the first time she laid eyes on him as he wandered past her in a glorious cape at the races.
"I turned to my husband and said 'Who the f— was that?' and that's how our love story began," she said.
"Shiva helped me personally further embrace my culture openly and proudly here as an immigrant kid in Australia."
Singam in a signature look.
An influencer before the term was in use, Singam was noted for his Comme des Garcons frock coat and Alexander McQueen butterfly-print suit. Once, invited to the opening of the revamped GPO, he wore a suit covered in a postage stamp design.
He was an early and faithful supporter of Melbourne designers, including Craig Braybrook, Kara Baker and Peter Jago.
At the Melbourne Cup in 2020. Credit: Simon Schluter
Sketches of some of Singham's most beloved outfits were auctioned last night to benefit children's charity the Mirabel Foundation. There is talk some of his outfits may end up in the collection of the National Gallery of Victoria.
To his Instagram friends, he was "Arbiter Elegantarium", an authority on social behaviour and style – but to his friends, he was a deliverer of fragrant home-cooked meals to their doorstep or behind one of countless other gestures to enhance their daily lives.
"He gave all of his precious commodities: his time, his consideration, himself," author and journalist Rachelle Unreich told the crowd at the gala.
Singam's death prompted Melbourne to bestow on him what in life he would never have sought nor thought possible: a gala event in his honour. And a chance, once again, to laud the creative industries that he spent his life enthusiastically championing.
Start the day with a summary of the day's most important and interesting stories, analysis and insights. Sign up for our Morning Edition newsletter.
Most Viewed in National
From our partners
Source: Read Full Article