Sara Sharif cops detain 10 relatives of 10-year-old's dad in Pakistan after schoolgirl found dead | The Sun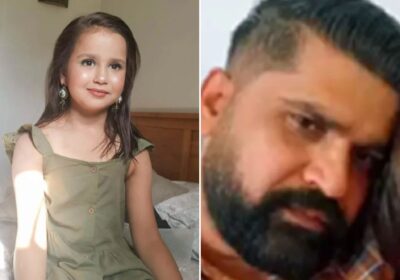 COPS hunting the dad of a girl aged ten found murdered at her home have arrested ten close relatives of the suspected killer.
Sarah Sharif was found dead at her home in Woking, Surrey, on August 10.
But her dad Urfan Sharif, 41, and partner Beinash Batool, 29, had already fled the UK for Pakistan.
A post-mortem examination found she had suffered "multiple and extensive injuries" over a "sustained and extended" period of time.
A police spokesman in Jehlum, 100 miles north-west of Lahore, said Sharif and his wife Batool were in hiding and ten close relatives have been taken into custody for questioning and an investigation.
Among those detained include Mohammad Sharif, the father of Urfan, his brothers and cousins, the spokesman said.
Read More UK News
Body found in the sea close to popular holiday beach in seaside town in Wales
Queen's favourite Andrew pays tribute to his late mum at St George's Chapel
Police in Pakistan often detain the close relatives of wanted suspects.
On Wednesday, Sara's stepmother spoke publicly for the first time since the little girl was found dead.
In a clip of the footage posted online by Sky, Batool described Sara's death as "an incident" and says that she and Sharif are willing to co-operate with UK authorities over the case.
Sharif and Batool left Britain with five children aged between one and 13, and Surrey Police want to question them over Sara's death.
Most read in The Sun
FUGITIVE SNARED
Moment cops arrest escaped 'terrorist' with bike 4 days after jailbreak
HUNT OVER
Daniel Khalife CAUGHT by police four days after 'terrorist' escaped from prison
LEGEND LOST
Telly impressionist Mike Yarwood dies age 82 after career spanning decades
wynne win
Celebrity MasterChef fans all have the same complaint as winner is revealed
Sara's mother Olga Sharif gave an interview in which she spoke of the harrowing experience of going to view her daughter's body.
She said: "One of her cheeks was swollen and the other side was bruised.
"Even now, when I close my eyes I can see what my baby looked like."
Ms Sharif separated from her husband in 2015 and Sara and her older brother had been living with her until 2019, when the family court ruled they should live with their father.
Ms Sharif still had equal rights to see the children and said while that was easy to maintain initially, it became increasingly harder over time.
Sara's grandfather has told the BBC the girl's death was an "accident" and three family members who left the UK for Pakistan will "ultimately" return to face police questioning.
Muhammad Sharif said he saw Sara's father soon after he arrived in the city of Jhelum, in the South Asian country, and said his son had fled the UK out of "fear".
Surrey Police are appealing for information to help them gain a picture of Sara's life.
Cops said they found ten-year-old Sara's body at her family home in Woking at around 2.50am on August 10, after getting a 999 call from her father Urfan.
A spokesman added that the call was made from Pakistan, most likely the country's capital Islamabad.
Surrey Police said: "Officers identified three people they would like to speak to as part of the ongoing investigation into Sara's death.
"These people have been identified as Sara's father, Urfan Sharif, 41, his partner Beinash Batool, 29, and Urfan's brother, Faisal Malik, 28.
"It is believed Urfan travelled to Islamabad, Pakistan, in company with his partner and his brother on Wednesday, 9 August.
"There were five children with them aged between a year and 13 years old."
Read More on The Sun
Signs of diseases hidden INSIDE your mouth – from cancer to HIV & how to check
Helen Flanagan holiday-shamed after sharing unseen pics fromGreek trip with kids
Cops are not looking for anyone else in connection with Sara's death.
There is no extradition treaty between Pakistan and the UK.
Source: Read Full Article