Sadiq Khan blames Boris Johnson for Ulez extension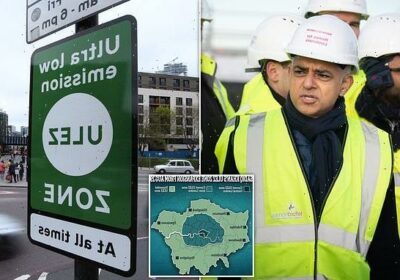 Sadiq Khan blames Boris Johnson for Ulez extension: London Mayor says he inherited controversial policy to expand car charging zone across all of Greater London from his predecessor
Sadiq Khan claims to have 'stolen' the idea from Boris Johnson's 2013 plan  
London Mayor has faced a backlash over the ULEZ expansion to Outer London
Sadiq Khan has blamed his predecessor Boris Johnson for his controversial Ultra-low emission zone plans to expand car charging zone across all of Greater London.
The expansion of the scheme to Outer London, set to take place to cover the whole of the capital from August 29, is aimed at reducing the amount of air pollution in London.
The London Mayor has faced a backlash over the expansion, which will drag millions more into the orbit of paying £12.50 a day for polluting. 
However, despite the uproar he has stirred, Mr Khan told The Telegraph that people do not tend to pay notice to him during his day-to-day travels. He said: 'It's that very British thing, people just get on with reading their newspaper or their phone. 
'Sometimes someone will ask for a selfie or there's a thumbs up, or 'keep it going'.'
London Mayor Sadiq Khan has planned to include all of London's 32 boroughs in the ULEZ, with drivers having to pay £12.50 per day if their vehicles do not meet emissions criteria
The ultra-low emission zone is to be expanded in August to cover the whole of Greater London
What is surprising is that no one has approached him to speak about the ultra low emission zone, he added: 'No, I can't think of an occasion when that's happened.'
The plans to extend the ULEZ sparked questions from the public who argue that the policy is putting even more pressure on those grappling with the cost of living crisis.
During a public meeting last week in Ealing town hall, the Mayor was met by enraged protestors, some of which depicted him with a swastika and a hammer and sickle. 
He said at the meeting: 'Some of those outside are part of the far-Right,
'Some are Covid deniers. Some are vaccine deniers. And some are Tories.' 
Angered members of the public reportedly shouted back: 'We are not far-Right – normal people are not far-Right.'
In response to the comments made last week, Mr Khan said: 'My point was that there were decent people, including Tory members, who've got legitimate objections, and I'm not sure these decent people realised that standing with them were conspiracy theorists and people holding swastikas.'
However, Mr Khan has claimed that he is not to blame for the policy as he 'stole' the idea from Boris Johnson.
 Protestors took to the streets of London calling for the proposed 'Khanage' to be halted
Mr Khan has claimed that he is not to blame for the policy as he 'stole' the idea from Boris Johnson
He said: 'In 2013, Johnson announced he would be doing a Ulez. But he did that classic thing that politicians do; he announced something that he left for other politicians to do. I'm going to see it through.'
Read More: Newly installed ULEZ cameras are vandalised with wires cut and lenses painted black amid growing backlash at Sadiq Khan's planned expansion of the zone
Since its introduction in 2019, the low emission zones have reduced harmful pollution levels in central London by almost half – and nitrogen dioxide levels in central London by 46 per cent in the past 12 months.
According to a study by Imperial College, every year 4,000 people die prematurely because of poor air quality. 
It reads: 'It's an invisible killer. And when you look at those 4,000 deaths, the largest number are in outer London, where you have a greater number of old people for whom bad air quality makes them more susceptible to heart disease and other factors. In London, 500,000 people suffer from asthma and respiratory issues.'
The acts committed by the Mayor will reduce the number of air quality-related hospital admissions by one million by 2050, helping save the NHS and social care system £5 billion.
He continued to add how the policy will save the NHS £10.5billion as it will not be treating people with asthma and respiratory issues. 
Mr Khan added: 'The CBI says it will save businesses £1.6billion a year because staff won't be off sick with respiratory issues.'
Although the ULEZ has been celebrated as a way to tackle climate change, it has been criticised for putting even more pressure on those grappling with the cost of living crisis
Source: Read Full Article