SA premier Peter Malinauskas: 'I've never really bore witness to racism'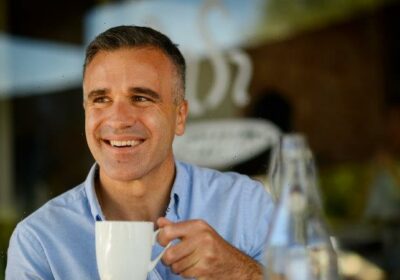 The Queen Street Cafe in the inner east Adelaide suburb of Croydon serves up the standard range of weekend egg varietals but this Saturday there's an addition to the menu: a political super smoothie.
Tall and skinny as a candle, Peter Malinauskas, the 47th Premier of South Australian (and the first with a non-Anglo surname) strides up to take an outside table at his local, attracting the attention of precisely no one.
South Australian Premier Peter Malinauskas at his local Queen Street Cafe.Credit:Ben Searcy
He's here because he wants to talk about "leading the nation" with the SA Voice to parliament, and spruik his state during the Adelaide Fringe, the biggest arts event in the land.
But an early question proves a stumper. Tell us, for the benefit of Sydney and Melbourne readers who haven't witnessed your 11 month-old premiership, something interesting about yourself.
The curveball is entirely unexpected. Malinauskas's eyes dart around before settling in the middle distance and he lowers his head until his chin finds the crease of his palm. He is entirely unsure what answer is expected of him.
We move onto an easier topic: the Voice to Parliament.
The previous day he turned first to the Voice when he took to centre stage in a spiegeltent to launch the Adelaide Fringe Festival. The SA Voice to Parliament would be a voice "I think the nation will grow to love".
Grabbing the microphone in his hand like an old style unionist (Malinauskas was state secretary of the conservative SDA retail workers union before parliament), he didn't skip a beat when the power failed and the event was plunged into darkness.
A metaphor, I suggest, for South Australia's previous energy troubles and small proportion of national GDP. "Noo, not really," comes his reply.
In contrast to the uncertain structure of the proposed federal Voice, the SA voice has been codified in legislation introduced in February. A 12-person body of paid elected Indigenous leaders who can speak on the floor of parliament, advocate to cabinet ministers and lobby government departments. After we met, the SA upper house passed the legislation on Thursday.
This puts South Australia out in front, (Victoria's elected First Peoples' Assembly, is negotiating a treaty with the Victorian government, and could transform into a Voice in the future.)
Peter Malinauskas celebrates victory for Labor in the 2022 state electionCredit:AAP
Malinauskas, 42, speaks of his family, particularly his paternal grandfather, a Lithuanian displaced person fleeing communism in post-war Europe, with reverence. His Hungarian grandmother had a similar experience. "Their story and their experience of this country has undoubtedly had a profound effect on my politics. They came here with nothing and the country gave them a chance. And gave them everything.
"They were pretty determined when I was a youngster to impress upon me how lucky we are to be living in a place like this."
Malinauskas, named after his grandfather, went to a multicultural Catholic school. "And I can honestly say that I've never really bore witness to racism. I can't, I don't remember anything I've been a victim of."
How does he feel that most people assume he is Greek?
"Pretty happy about it. Right. Particularly given that I've got quite a substantial Greek community with my electorate."
"I think multiculturalism is something this country largely celebrates. If we base the discussion by starting from 'what's your racist experience?', then it starts from the wrong position."
He acknowledges racism exists. "I don't think that is representative of the fact that the vast majority of Australians celebrate multiculturalism and aren't racist."
At the Fringe launch Malinauskas told how he had tipped $2 million into the festival to increase bookings from interstate. He has resurrected the Adelaide 500 and has Robbie Williams headlining a concert after the car race in November. He has also made unsuccessful bids for the Australian Formula One Grand Prix and the New Year's Day Test, which led to a humorous back and forth with NSW Premier Dominic Perrottet after national cabinet.
"My personal engagement around him in the national cabinet has been really good. I enjoy chatting to him. He enjoys his cricket."
Anyone who dismisses Adelaide hasn't been to the Fringe, says the South Australian Premier.Credit:Fumika Takagi
He adds that anyone with a dismissive view of Adelaide hasn't spent enough time in the state in February or March when the Fringe, Adelaide Festival and Writers' Week make the city the "cultural heartbeat of our nation".
"I don't need to talk other cities down to make Adelaide feel good about itself."
His pursuit of bread and circuses is in part because state governments can use major events to boost economies damaged by COVID-19 lockdowns. But there is a more fundamental reason.
"We can't hide our light under a bushell any longer. We have a story to tell, economically and culturally. If we want the national spotlight in a positive way we have to go out there and grab it. No one is going to give it to you."
Other spotlight grabbing policies: building the world's biggest hydrogen electrolyser and power plant, amalgamating two universities into the nation's biggest, the Voice, a royal commission into education and the naval shipbuilding program. "These are the things that the eyes of the nation should be upon us."
Peter Malinauskas' pool photo attracted national attention.Credit:Twitter
The eyes of the nation turned to South Australia during the election campaign when Malinauskas made an appearance at a local aquatic centre and a photo of the shirtless leader lit up the internet. "You won't believe how much shit I got from my mates about that," he said.
More serious matters grab his attention. To his great frustration a positive perspective of Christianity is not part of a political debate riven by culture wars.
"Christianity is characterised as being somehow part of a right-wing orthodoxy. I completely reject that. Because for me, Christianity isn't about representing the vanguard against euthanasia or gay marriage. For me, Christianity is about consideration of other people's perspectives."
"My faith is important to me. I've a particular view about Christianity at its best, which differs pretty dramatically from the way Christianity is sometimes characterised. Parts of the value system around Christianity that really appealed to me … is principally around social justice and compassion. That's what I care about more than anything else."
"I believe, and I consider myself a Christian. I'm not a very good Catholic, I don't go every week to church. I try and take one of the kids [he has two daughters and a son with his lawyer wife Annabel West] every now and then."
Does he like a fight? "I am not averse to one, that's for sure. When it is about conviction, absolutely."
Later that day, the premier was preparing to take his children to a circus show at the fringe and then on to the Norwood Greek Festival. Just time to circle back to the interesting question.
"What are you after, something quirky, something that people don't know?"
He laughs when I refuse to define the question for him. "I don't know if I am that interesting a person. I drink a lot of milk. I like the taste of it."
The Morning Edition newsletter is our guide to the day's most important and interesting stories, analysis and insights. Sign up here.
Most Viewed in National
From our partners
Source: Read Full Article