Royal Family news: Prince Philip's will to be kept secret as Meg & Harry's Time Mag cover 'stab in the heart for Queen'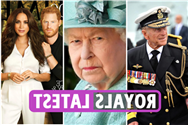 MEGHAN Markle and Prince Harry's Time Magazine cover is a "stab in the heart" of the Queen's reputation, an expert has claimed.
The Duke and Duchess of Sussex were this week named in the magazine's list of top 100 most influential people in the world.
Eric Schiffer, chairman of Reputation Management Consultants, told Newsweek: "Meghan and Harry landing a cover spot of Time Magazine's 100 Most Influential People will be seen as a stab in the heart of the Monarchy's reputation because of the greater implicit credibility it affords them and their previous claims against the crown."
Meanwhile, Prince Philip's decisions on who would share in his assets won't be revealed because of his wife's constitutional role, judges say.
The royal, who died aged 99 on April 9, had an estimated £30million to share among loved ones.
But the details of the total amount, as well as those bequeathed, won't be revealed for almost 100 years – if at all.
Follow our Royal Family blog below for all the latest news and updates…
Milica Cosic

PRINCESS ALEXANDRA ATTENDED A RECEPTION AT RBH CHARITY IN LONDON YESTERDAY

Yesterday, Princess Alexandra attended a reception at The RBH Charity in London.

The Royal Brompton & Harefield Hospitals Charity supports NHS staff at two world leading hospitals.

Her Royal Highness spoke to hospital employees and viewed an art installation designed by staff, inspired by their experiences of working in intensive care throughout the pandemic.

Milica Cosic

HARRY & MEGHAN'S SIGNATURE HOLLYWOOD POSE IS 'UNNATURAL AND STAGED' WITH ONE TELLING SIGN GIVING IT AWAY, SAYS EXPERT

The Duke and Duchess of Sussex are regularly seen staring into one another's eyes whenever a camera comes out.

And according to body language expert Judi James, while a very romantic shot, the pose is far from the natural and candid shot that the pair want to convey.

Here she tells Fabulous Digital what the Sussex's signature pose REALLY means…

"Eye-ball to eye-ball gazing can be used by a couple to transmit all sorts of messages, from 'I love you' to 'Put that pint down, we're leaving!'.

"When a couple use prolonged bouts like Harry and Meghan though, it signals exclusivity; an engagement in intimate and private non-verbal conversations, and emphatically equal amounts of devotion and romantic attraction.

"The eyes are the most telling part of the body and eye-gazing like this suggests a desire to tune into one another and read one another's thoughts. 

"Combined with the kind of matching smiles Harry and Meghan are wearing it is also supposed to let us know they are each other's fan."

Read more here.

Milica Cosic

MEGHAN MARKLE & PRINCE HARRY WARNED 'PEOPLE WILL GET BORED OF THEM' AFTER THEY SIGN NETFLIX DEALS WITHOUT DELIVERING

The Duke and Duchess of Sussex have forged a number of lucrative deals since stepping down from royal life, including multimillion-dollar partnerships with Netflix, Spotify and Apple.

But more than a year on from joining forces with Netflix, the couple have only announced two major productions – Harry's 'Heart of Invictus' about the Invictus Games and Meghan's animated children's show 'Pearl'.

They've also still only released one 34-minute podcast in their nine months with the platform – despite promising much more.

And Royal historian Hugo Vickers says he believes people will get "bored" of the kind of "touchy-feely" content the Sussexes have made so far.

He told the Express: "I'm of the sort of generation that finds all this touchy-feely stuff rather unattractive, and I don't really understand it and I don't go for it either.

"So, I wonder, what have they got to say, will their message get any better as time goes on?

"Or will it just be more of the same? And people will get bored with them, won't they?

"That's what I think will happen."

Meghan and Harry are yet to release all the Spotify podcast episodes they promised Credit: Spotify
Milica Cosic

MEGHAN MARKLE'S PREFERRED NATURAL ALTERNATIVE TO BOTOX IS NOW ON AMAZON

Back in 2018, when Meghan was being welcomed into the Royal Family, she was rumored to be a fan of this product, which has been dubbed"Botox on a bottle."

According to the brand, in just 60 minutes, your skin will have fewer wrinkles and have a visibly younger look.

Many have already tried it, taking to Amazon reviews to rave about the product.

One actually used it in place of Botox amid the Covid-19 pandemic: "This is working. Truly and honestly after a week of use, I woke up and looked in the mirror and didn't see a riverbed of furrows."

Milica Cosic

MEGHAN MARKLE 'TRYING TO BE LIKE THE OBAMAS' WITH TIME COVER – AS EXPERTS SAY SHE'S 'PRIMED' FOR POLITICAL CAREER

The Duke and Duchess of Sussex made waves with their appearance on the front page of the respected US mag that honoured the world's 100 most influential people.

And royal experts think the powerful pictures alongside the detailed profile accompanying their entry under "Icons" marks the start of Meghan's manoeuvres into politics.

Royal commentator Richard Fitzwilliams said of the Sussexes: "This magazine cover has made it very very clear what's in the couple's mind – and especially Meghan's mind – and that's politics. It must be!

"I think there is absolutely no doubt that if they made the cover it's not about what they've achieved, but what they could achieve.

"They're going to become more and more visible. I think that they're looking at politics."

Read more here.

Milica Cosic

MEGHAN AND HARRY'S AMBITIONS HAVE "BACKFIRED" AND THEY ARE MORE TRAPPED THAN EVER, ROYAL AUTHOR SAYS

Duncan Larcombe, the author of Prince Harry: The Inside Story, says the couple moved to LA to try to forge their own path but their mounting unpopularity means it may have backfired.

He said:"If freedom is being able to say what you want, when you want, to whoever you choose to speak to, then Harry has found a degree of freedom. But if freedom is having good will behind you to live in peace, being able to live life as you want it or being at peace with the people you've rowed with, then freedom has not been achieved.

"It's backfired. Harry and Meghan seem to have totally isolated themselves – they're more trapped than ever in this new life they've created."

Milica Cosic

MEGHAN MARKLE IS THE 'REAL POWER OF THE FAMILY' AS SELF-CONSCIOUS HARRY IS HER 'SUPPORT ACT', BODY LANGUAGE REVEALS

Judi James said the Duke, who turned 37 today, and Duchess, 40, "adopted the ultimate City power-poses" in their shoot for Time Magazine's top 100 most influential list of people.

Judi told Fabulous: "Looking more like a scene from Suits than your average royal-marries-actress couple, Harry and Meghan have adopted the ultimate City power-poses here, with most of the power signals coming from Meghan while Harry seems happy to endorse her as a wingman.

"Meghan's leg splay suggests both power and confidence and that partial, one-arm barrier gesture with the other hand raised to the face is the classic 'enquiring intellectual' pose of business experts.

"Meghan is to the front of the pose and Harry stands beside and behind her with one hand placed rather self-consciously on her shoulder while she employs a slightly more tentative hand-touch at waist level. 

"He seems to be directing us towards his wife in terms of the real power and brains of the family here."

Read the article in full here.

Milica Cosic

PRINCE ANDREW 'WORRIED' AFTER HIGH COURT DECISION AND 'NOT HIS USUAL BLASÉ SELF', SOURCE SAYS

The Duke of York is set to face a lawsuit in the US after the High Court in the UK agreed to serve him papers.

Insiders now say he seems concerned. He vehemently denies the allegations against him.

One source told the publication: "He's not been his usual blasé self, acting like everything is in hand.

"The issue has suddenly become very pressing and there is a distinct tension in the air.

"There has been a dramatic shift in mood and the reality that this could not only go on for many months, if not years, as well as costing potentially millions of pounds is very real."

Milica Cosic

PIERS MORGAN RETURNING TO HIS ROOTS AS HE SIGNS DEAL WITH THE SUN – WHAT TO EXPECT

Piers has been a vocal critic of Meghan, hitting out at her on GMB over her Oprah Winfrey interview.

Meghan reportedly complained to ITV boss Carolyn McCall and Piers was asked to apologise on air. But he refused and quit the show.

Yesterday the 56-year-old revealed his sensational comeback – he's joining The Sun and News Corp in a global deal that's a "bigger comeback than Cristiano Ronaldo".

The powerhouse journalist is returning to his roots, coming back to where he started his brilliant career, to present a new global TV show and be a columnist for The Sun.

Piers' new 60 minute show, featuring big name celebrities, politicians and guests, promises to be a "lively mix" of discussion, debate and popular opinion.  In the six years he was at the ITV1 breakfast show, presenting alongside Susanna Reid, he helped treble the programme's ratings.
Milica Cosic

PRINCE ANDREW CAN AVOID BEING SERVED WITH SEX ABUSE LAWSUIT BY STAYING AT BALMORAL

PRINCE Andrew can avoid being served with a lawsuit on sex abuse claims — by staying in his Scottish hideaway.

The High Court in London has ruled it can serve papers on the Duke of York on behalf of American lawyers after previous attempts were thwarted.

But Andrew, 61, is still in hiding on the Queen's Balmoral estate and the English court does not have automatic jurisdiction north of the border. Insiders say the Duke could change his home address to Balmoral to stay out of reach.

The court would have to contact the Court of Session in Edinburgh to serve the papers.

A source said: "Andy and his legal team must have known Scotland would be out of reach when he scarpered up there."

Milica Cosic

'DARK PLACES' (CONTINUED…)

The royal, who wore a suit and white shirt with an open collar, says sport is vital to the rehabilitation of servicemen and women.

"The pride on your faces makes me incredibly happy to know how far you guys have come, the dark places you've been to, and where you are now – stronger than ever before, no doubt," the royal told veterans.

"To see you guys smiling, when I know how much you've been through – it's not just about you and your families.

"You have to remember, you're doing this for your brothers and sisters in arms.

"And those people who are in a really dark place – you know what it's like, you've been there yourselves, recovered for yourselves, and you're leading them to their own recovery."

Milica Cosic

PRINCE HARRY TELLS OF 'DARK PLACES' AND HARD RECOVERY FOR WOUNDED VETERANS AT WARRIOR GAMES EVENT WITH JILL BIDEN

The Duke of Sussex, who served in the Army for a decade, paid tribute to servicemen and women as he spoke of "service" from his multimillion pound home in exclusive Montecito, California.

He was introduced by Dr Jill Biden, who saluted him for his "heart" in a speech live-streamed online.

She said the duke was among those to step forward and serve in the years after 9/11.

"I was reminded of the humanity that shines through the inhumanity of that day. There was a call to defend the values we hold dear," she said.

"You've dedicated time, talent and heart to lifting up service members from around the globe."

And the prince, who has told of his own battles with mental health, said the games are "so important" to those struggling.

"It is ultimately the reminder of service, both at home and overseas," he said.

"As we know, once served, always serving."

Read the article in full here.

Milica Cosic

BLING RING

Meghan Markle showed off a staggering $384,000 (£277,929) worth of jewellery as she posed on the cover of Time's 100 most influential people.

The 40-year-old Duchess of Sussex's bling included two new $525 (£379) diamond pinky rings and Princess Diana's $23,000 (£16,642) gold cartier watch. 

Meghan made sure she looked every inch an A-lister with her impressive jewellery collection, which Fabulous has broken down here….

Princess Diana's $23,000 Gold Cartier watch
Two $525 'pinky promise' rings to symbolise women empowerment
$350,000 engagement ring
£5,800 Gold Cartier Love Bangle
£3,670 mini tennis bracelet 
Custom pinky ring by Lorraine Schwartz

Read the article in full.

'BOTTOM LINE': ANDREW IS BEING SERVED AND 'HE CANNOT REFUSE' SAYS INSIDER

"There has been a dramatic shift in mood and the reality that this could not only go on for many months, if not years, as well as costing potentially millions of pounds is very real."

Another insider added: "The stark reality is that the Duke and his team need to face the fact they need to address this."

Ms Roberts' lawyer David Boies told The Sun: "We are hopeful that Prince Andrew will now stop trying to evade and delay facing his accuser in court.

"The bottom line is Andrew is being served. He cannot refuse."

PRINCE HARRY AND MEGHAN ENJOYED 'LOW-KEY CELEBRATION' FOR HIS BIRTHDAY

Prince Harry and Meghan were reportedly had a "low-key" dinner to mark the prince's 37th birthday. Archie apparently also helped make a carrot cake for his dad.

They were said to be joined by a few friends and the Duchess of Sussex's mother, Doria, on the day.

A source close to the Duke and his wife told DailyMail.com: "Meghan is planning a low-key birthday dinner for Harry. In light of what's happening in the world – from Afghanistan to Covid – they both decided to keep it simple."

Milica Cosic

VIRGINIA ROBERTS RELEASES PHOTOS THAT PROVE SEX ASSAULT PAPERS WERE SENT TO PRINCE ANDREW AT HIS HOME ADDRESS

Prince Andrew's lawyers are continuing to thwart efforts to serve the lawsuit and spark a 21-day period for the duke to reply – but pictures show the papers were sent to the Duke at his home.

Sent via a Royal Mail post box, the envelope which contained the papers was sent off to the duke, with the stamp of the Queen's head on the top.

These photos released as evidence in US court filings show the lawsuit was posted to Andrew on September 9 – one of five attempts to reach the accused royal.

They show a worker from the London office of law firm Boies Schiller Flexner LLP posting the envelope containing the lawsuit into a traditional red Royal Mail post box.

It was addressed to 'Prince Andrew' at his 100-acre 30-room mansion at Royal Lodge on the private Windsor Great Park, just three miles from Windsor Castle, on September 9.

And even came with a first class stamp bearing the Queen's profile.

Read more here.

Milica Cosic

HARRY & MEGHAN'S SIGNATURE HOLLYWOOD POSE IS 'UNNATURAL AND STAGED' WITH ONE TELLING SIGN GIVING IT AWAY, SAYS EXPERT

The Duke and Duchess of Sussex are regularly seen staring into one another's eyes whenever a camera comes out.

And according to body language expert Judi James, while a very romantic shot, the pose is far from the natural and candid shot that the pair want to convey.

Here she tells Fabulous Digital what the Sussex's signature pose REALLY means…

"Eye-ball to eye-ball gazing can be used by a couple to transmit all sorts of messages, from 'I love you' to 'Put that pint down, we're leaving!'.

"When a couple use prolonged bouts like Harry and Meghan though, it signals exclusivity; an engagement in intimate and private non-verbal conversations, and emphatically equal amounts of devotion and romantic attraction.

"The eyes are the most telling part of the body and eye-gazing like this suggests a desire to tune into one another and read one another's thoughts. 

"Combined with the kind of matching smiles Harry and Meghan are wearing it is also supposed to let us know they are each other's fan."

Read more here.

Milica Cosic

PRINCE WILLIAM PAYS HIDDEN SWEET TRIBUTE TO BELOVED GRANDAD PRINCE PHILIP & SON GEORGE AS HE DISCUSSES EARTHSHOT PRIZE

Prince William has paid a sweet tribute to grandad Prince Philip and his son Prince George in his latest video for his Earthshot Prize.

On the bookcase behind the Duke of Cambridge was an adorable photo of his eight-year-old son and his late grandfather, who passed away in April.

The photo shows future king George sitting by his great-grandfather in a carriage.

And what is even more special about the snap is that it was taken in 2015 by keen amateur photographer Kate in Norfolk.

Read the article in full here.

Milica Cosic

PRINCE HARRY'S BALD SPOT HAS BEEN PHOTOSHOPPED IN GLITZY TIME MAGAZINE COVER SHOOT, FANS CLAIM

The Duke and Duchess of Sussex landed the front cover of Time magazine after being named among the top 100 most influential people this year.

But the magazine's front cover left some fans scratching their heads with Prince Harry – who turns 37 today – appearing to have more hair on his head than usual.

In recent years, the dad-of-two has appeared to struggle with hair loss.

One tweeted: "Is Harry wearing a rug? Or just overdone the air brushing?"

Another one joked: "It is possible that Prince Harry got that Bosley hair transplant or Hair Club for Men or whatever."

Someone added: "I feel like the cover photo could be better but look at Prince Harry looking hot AND with full hair…WHEW!"

The cover photo shows Harry wearing all black standing behind Meghan, who is dressed in a white jumpsuit.

Read more here.

Prince Harry has appeared to struggle with hair loss in recent years Credit: Getty – Contributor

Milica Cosic

EXPLAINED: HOW IS PRINCE ANDREW LINKED TO JEFFREY EPSTEIN?

The Duke of York said he first met Jeffrey Epstein, a billionaire financier, in 1999 with the now dead banker once describing him as his "best friend."

That was also the year the UK press reported on the pair's friendship.

The pair are thought to have flown together on Epstein's private jet to the US Virgin Islands.

And in June 2000, Epstein and his Brit "madam" ex, Maxwell were both guests at a party hosted by the Queen at Windsor Castle.

Prince Andrew also became close with Maxwell – pictured together that same year at a Halloween party hosted by Heidi Klum in New York.

Just over a month later, in December 2000, the then 40-year-old prince, threw Ms Maxwell a surprise birthday party at Sandringham, with Epstein among the guests.

Milica Cosic

NEXT HEARING IN PRINCE ANDREW CASE SET FOR OCTOBER 17

A judge this week blasted the royal's legal team for delays.

Andrew's lawyer argued the case should be dismissed and branded it "baseless" during a 30 minute telephone pre-trial hearing.

Super-lawyer Andrew Brettler told the federal court in New York that it was a "non-viable and potentially unlawful" case.

But Judge Lewis Kaplan appeared largely unimpressed – and replied: "You have a pretty high degree of certainty that he can be served sooner than later. Let's cut out all the technicalities and get to the substance."

The case has been listed for a further hearing on October 17.

Milica Cosic

JUDGE TELLS PRINCE ANDREW THAT HE WILL BE SERVED 'SOONER OR LATER'

The Prince has not left the 50,000-acre property since arriving last Tuesday and has been seen dining at lodges there.

Under UK and US law, the papers could be considered served if delivered to his Royal Lodge home in Windsor.

A Royal Mail van was seen dropping off mail there yesterday.

Judge Lewis Kaplan told a pre-trial hearing in New York on Monday that he will be served "sooner or later".

Milica Cosic

MEGHAN MARKLE'S ENGAGEMENT DRESS DESIGNER 'USED FASHION HOUSE TO FUND LAVISH LIFE INCLUDING £1,500 WEEKLY SALON TRIPS'

Tamara Ralph, 39, and her ex-business partner Michael Russo, 40, "personally enriched themselves" before their company Ralph & Russo collapsed, according to claims in documents released by the High Court.

Ms Ralph is being sued by the company's administrators for £20.8 million in damages, but has denied any wrongdoing and is defending against the claim.

Ralph & Russo designed the Duchess of Sussex's £56,000 engagement dress, as well as gowns for stars including Gwyneth Paltrow and Kylie Minogue.

Milica Cosic

CHARLES HIGHLIGHTS BENEFITS OF FINANCIAL AND ENVIRONMENT REDUCING FOOD WEBSITE

The Prince of Wales has suggested families can cut greenhouse emissions – and save money – by reducing the amount of food they waste.

Writing an editorial for the Daily Mirror newspaper, Charles highlighted a research project where families held a "use-up day" and cut the produce they dumped every week by a third.

Charles is known to follow the practice of using up food and has also adopted a range of initiatives to save other resources including converting his Aston Martin sportscar to run on surplus wine.

He also wrote about his long-term hope that food products on supermarket shelves will feature a "kite mark" that indicates how sustainably they have been produced.

His comments came as the crisis engulfing his charitable body the Prince's Foundation deepened, with its chairman Douglas Connell resigning and expressing concern over potential "rogue activity" after reports the organisation accepted a six-figure sum from a Russian donor.

Milica Cosic

MEGHAN MARKLE & PRINCE HARRY HAVE 'DEPRIVED' KIDS ARCHIE & LILIBET BY NOT LETTING THEM MEET QUEEN, THOMAS CLAIMS

Thomas Markle accused the couple of being "terribly unfair" to their children by keeping them away from relatives, including himself and Grandad Prince Charles too.

He told Channel 7's Sunrise: "I think they (Archie and Lilibet) are being deprived of seeing all their grandparents and I think they are being deprived of seeing all their relatives and I think that's terribly unfair to them."

Asked if he would consider legal action to see his grandkids, he said: "I've had offers from several lawyers – pro-bono – because we do have the right to sue to see our grandchildren.

"But to me that's like trying to descend into a game and using them like pawns and I won't sue to see them because I just think that's using them and it's not what I plan to do."

Source: Read Full Article