Rishi Sunak refuses to guarantee Commons vote on NI protocol deal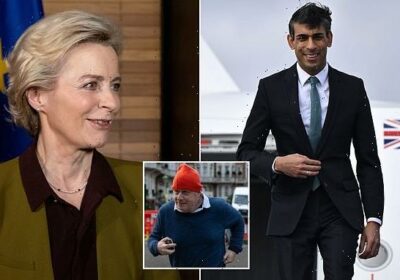 Rishi Sunak risks inflaming Tory revolt as he refuses to guarantee Commons vote on any Northern Ireland protocol deal – amid warnings DUP must approve concessions
Rishi Sunak edging towards a deal with EU on overhauling Northern Ireland rules
Tories and DUP warning PM against making too many concessions to Brussels
Rishi Sunak risked inflaming a building Tory revolt on Northern Ireland today as he refused to guarantee a vote on overhauling the protocol.
Downing Street dodged on whether MPs will get the chance to express their views on an agreement, amid speculation the UK and EU are on the verge of a breakthrough.
Challenged on the issue, the PM's spokesman insisted there is no 'final deal' and 'you will hear our position should a deal be agreed'. 
Mr Sunak has been warned he faces a fresh schism within the Conservatives if he makes too many concessions, with demands for any new terms to be approved by the DUP.
Boris Johnson and his allies have been urging ministers to push ahead with legislation that would give government powers unilaterally to scrap key parts of the protocol. 
Foreign Secretary James Cleverly, Northern Ireland Secretary Chris Heaton-Harris and the European Commission's Maros Sefcovic will hold talks by video link this afternoon. 
No10 has denied that Mr Sunak is having to delay sealing a deal while he works out how to manage the internal pressures.
Rishi Sunak (left) is engaged in intensive talks with the EU on a pact to overhaul the protocol, with speculation of an announcement with Ursula von der Leyen (right) in the coming days
Boris Johnson and his allies have been urging ministers to push ahead with legislation that would give government powers unilaterally to scrap key parts of the protocol
The DUP, which has been blocking powersharing by refusing to join a Stormont executive, has warned it will not support a deal retaining the oversight role of the European Court of Justice.
Unionist MP Sammy Wilson said he does not believe there will be a settlement this week.
'If a deal is agreed which still keeps us in the EU single market, as ministers in the Northern Ireland Assembly we would be required by law to implement that deal and we are not going to do that because we believe such an arrangement is designed to take us out of the United Kingdom and indeed would take us out of the United Kingdom,' he told Sky News. 
'Increasingly we would have to agree EU laws which diverge from UK laws and in doing so would separate our own country from the United Kingdom.
'We are British and we expect to be governed by British law, not Brussels law. We would certainly not collaborate in administering Brussels law in our part of the United Kingdom.'
Mr Wilson expressed concern that the Government had gone into the negotiations with 'an attitude of defeat' conceding too much ground to the EU.
Senior Tory MP Sir Bernard Jenkin has warned that any deal with the EU over the Northern Ireland Protocol will fail unless it has the support of both unionists and nationalists in the Stormont assembly.
Sir Bernard, a veteran Eurosceptic, told Times Radio: 'If it doesn't get the support of both communities in Northern Ireland it is just going to make things worse because it will cement in place an agreement that has destroyed power-sharing in Northern Ireland.
'I recognise that there is progress in the negotiations and so does the DUP, but unless we can get some fundamental principles sorted out then there won't be power-sharing and we can't have an agreement with the EU.'
He added: 'I don't think he (Rishi Sunak) has any intention of making an agreement with the EU that reinforces the collapse of power-sharing in Northern Ireland. It would be completely disastrous.'
Former cabinet minister Simon Clarke has urged the Government to press on with legislation enabling it to override parts of the Northern Ireland Protocol.
Mr Clarke backed a call at the weekend by Boris Johnson to push on with the Bill, currently paused in the House of Lords, to strengthen the hand of ministers in negotiations with the EU over the protocol.
'It is absolutely imperative tactically to give our negotiators the strongest possible hand to play with Brussels. Also the protocol legislation may well be the cleanest way to fix this problem,' he told the BBC Radio 4 Today programme.
'If the perception is there that the Bill is moribund then that will, I am afraid, weaken our hand very considerably. We need to make sure that if a deal is struck here it is genuinely a better one than that we can achieve through our own legislation to fix the protocol.
'I think that is quite a high bar because it is going to involve the EU accepting that Northern Ireland cannot be subject to either EU law or in the single market. That would be a big move on their part.'
Mr Sunak's officials held talks with their Brussels counterparts yesterday on how to give local politicians a greater say in the application of EU law in the region, addressing what unionists call the 'democratic deficit'.
Mr Sunak has stressed his focus on the 'democratic deficit', as he hopes to convince Northern Ireland's largest unionist party to ditch its veto on the formation of a power-sharing executive in Stormont.
But there are claims the PM is ready to go ahead with a UK-EU accord even without the DUP's support.
A Whitehall source told the Times it would be 'unhelpful' to 'set a bar that is not necessarily in the interests of those we are trying to negotiate for'.
Pressure on Mr Sunak is mounting after his predecessor-but-one made a weekend intervention calling for him to take a tougher line with the EU.
A source close to Mr Johnson said his view was that 'it would be a great mistake to drop the Northern Ireland Protocol Bill' – which would empower the UK to unilaterally scrap parts of the treaty.
A senior Government official indicated that a successful outcome would mean the controversial legislation – tabled at Westminster under Mr Johnson's leadership but paused when Mr Sunak entered No 10 – would no longer be needed.
DUP leader Jeffrey Donaldson has been insisting the unionists' tests must be met
Mr Johnson's intervention – his first on Brexit since departing No 10 – has raised concerns over a potential rebellion by Eurosceptic Tory backbenchers if Mr Sunak's changes are put to a vote in Parliament.
Lord Frost – who negotiated Mr Johnson's original Brexit deal – urged the Government to 'push on with the Protocol Bill'.
Other Conservatives criticised Mr Johnson's pronouncements. Former chancellor George Osborne said he was 'causing trouble' because he was 'interested in becoming prime minister again'.
Commons Leader Penny Mordaunt said the ex-premier's intervention was not 'completely unhelpful' as it would 'remind the EU' of the UK's leverage over Brussels.
She also said any pact would have to be supported by the DUP, a widely-held view among Brexiteers.
Tory backbenchers in the European Research Group are expected to meet tomorrow to discuss any deal.
Source: Read Full Article