Republican conspiracy theorist Marjorie Taylor Greene removed from House committees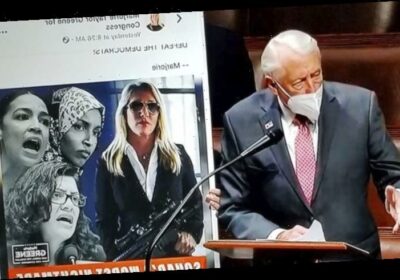 Washington: The Democrat-controlled US House of Representatives has stripped controversial Republican congresswoman Marjorie Taylor Greene of her committee assignments for espousing conspiracy theories and supporting violence against her political opponents.
The decision came against the will of the vast majority of Greene's Republican colleagues, who said it was unfair to punish her for comments she made before entering Congress and without allowing her due process.
Marjorie Taylor Greene said Democrats were trying to "crucify" her for controversial past statements. Credit:AP
In recent days Democrats have sought to make Greene the face of the modern Republican Party and associate their political opponents with dangerous conspiracy theories.
Greene, a first-term representative from Georgia, will no longer serve on the House budget, education and labour committees as a result of the vote on Friday (AEDT). Eleven of the 211 Republicans in the House voted to remove Greene from the committees.
Before the vote, Democratic House majority leader Steny Hoyer held up a large image of a Greene campaign advertisement in which she posed with an assault rifle beside a picture of three progressive Democratic congresswomen.
House majority leader Steny Hoyer discusses removing Republican congresswoman Marjorie Taylor Greene.
In a speech on the House floor, Greene said she regretted some of her past statements, including her support for the QAnon conspiracy theory that claims Democrats are Satan-worshipping paedophiles.
She also said she recognised school shootings were real and that the September 11 attacks had occurred, but did not address social media posts advocating the killing of prominent Democrats such as House Speaker Nancy Pelosi.
"I was allowed to believe things that weren't true," Greene said.
"These were words of the past and these things do not represent me."
She said Democrats wanted to "crucify me in the public square for words that I said a few years ago".
Greene said she stumbled across the QAnon conspiracy on the internet while researching allegations that former president Donald Trump had colluded with Russia during the 2016 election. She said she stopped believing the theory in 2018.
At the end of her speech Greene claimed the media was "just as guilty" as QAnon at presenting truth and lies to divide Americans – a statement that angered House Democrats.
"To equate the media with QAnon is beyond the pale," Democratic congressman Jim McGovern said, adding he did not believe that Greene's speech constituted an apology for her past remarks.
McGovern said QAnon was a "dangerous, sick cult" and no one in Congress should associate themselves with it.
"The party of Lincoln is becoming the party of violent conspiracy theories," he said.
The Democrats' campaign arm this week launched a $US500,000 ($658,000) advertising blitz attempting to link seven Republicans in swing seats to Greene and QAnon.
The advertisements accuse the Republican House members of standing "with Q, not you".
"Our argument is: you can do QAnon or you can do government," Democratic congressman Sean Maloney said. "You can't do both."
The Democrats hold only a narrow majority in the House and are at risk of going into the minority at the 2022 midterm elections.
Republicans said it was an unprecedented step for the majority party in the House to dictate who the minority party selects for committee assignments.
Republican congressman Tom Cole said that Democrats were creating a dangerous precedent that House members could be punished for things they said before being elected.
"I fear that if we open this Pandora's box we will regret what comes next," he said.
"This is bigger than any one individual member."
US power and politics
Understand the election result and its aftermath with expert analysis from US correspondent Matthew Knott. Sign up here. 
Most Viewed in World
Source: Read Full Article