Putin's aggression should make your blood run cold: Biden to UN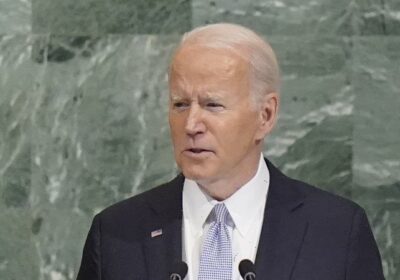 New York: US President Joe Biden has delivered a stinging rebuke of Russia's aggression towards Ukraine, telling global leaders that Vladimir Putin's actions – including his latest threat to unleash nuclear weapons – should make the world's "blood run cold."
Hours after Putin declared a partial military mobilisation to call up as many as 300,000 reservists and hinted he was prepared to deploy "all the means at our disposal", Biden used a speech at the United Nations General Assembly to accuse the Russian president of "war crimes" and of "shamelessly" violating the UN charter by challenging Ukraine's sovereignty.
US President Joe Biden addresses the 77th session of the United Nations General Assembly.Credit:AP
"Putin claims he had to act because Russia was threatened. But no one threatened Russia – and no one other than Russia sought conflict," he said. "We will stand in solidarity against Russia's aggression, period."
Biden also used his UN address to clarify his position on China after explicitly saying over the weekend he would be prepared to send in US troops to defend Taiwan if China makes an unprecedented attack.
The president insisted the US remained committed to the One China policy, which acknowledges China's view that there is only one Chinese government. But he added that America wanted stability across the Taiwan Strait, and would "continue to oppose unilateral changes in the status quo, by either side".
"Let me be direct about the competition between the United States and China," he said.
"We do not seek conflict. We do not seek a Cold War. We do not ask any nation to choose between the United States or any other partner. But the United States will be unabashed in promoting our vision of a free, open secure, and prosperous world and what we have to offer communities and nations."
Biden's UN speech was the first time he addressed Putin's plan to call up as many as 300,000 reservists in a bid to reverse setbacks in his war on Ukraine, including Russia's recent retreat in the north-eastern region of Kharkiv.
The Russian president made the announcement in a national broadcast at 9am on Wednesday, Moscow time, lashing out at the West and hinting that he was ready to use nuclear weapons to defend what he views as Russian territory. He also voiced his support for staged referendums being planned as a precursor to the annexation of occupied areas of Ukraine.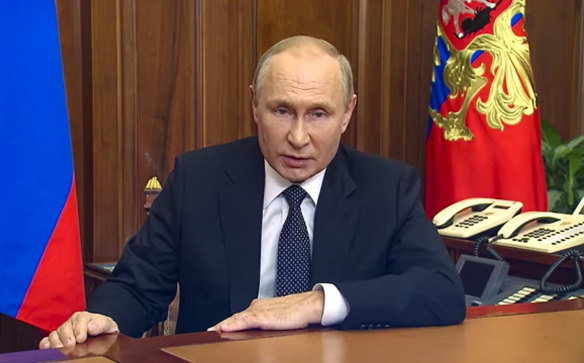 Russian President Vladimir Putin addresses the nation in Moscow on Wednesday.Credit:AP
But Biden told global leaders that the world should "see these outrageous acts for what they are" and branded Putin's new nuclear threats against Europe as "reckless disregard" for Russia's responsibilities as a signatory to the Treaty on the Non-Proliferation of Nuclear Weapons.
"This is a war about extinguishing Ukraine's right to exist as a state, plain and simple, and Ukraine's right to exist as a people. Wherever you are, whatever you believe, that should make your blood run cold," he said.
The war in Ukraine has all week dominated the UN General Assembly, which comes after two years of virtual and hybrid summits, thanks to the global pandemic.
But while COVID-19 has eased, the gathering of leaders in New York nonetheless takes place in the shadow of multiple crises, from food insecurity and environmental degradation, to record inflation and human rights abuses across the world.
Biden addressed some of these challenges in his speech, announcing $US2.9 billion in global food aid to tackle shortages caused by Russia's invasion of Ukraine and the effects of climate change.
He also called for reforms to strengthen the UN, such expanding the Security Council and refraining from using the veto "except in rare, extraordinary situations". As a member, Russia holds veto power over any action the council tries to take over the invasion of Ukraine.
Get a note directly from our foreign correspondents on what's making headlines around the world. Sign up for the weekly What in the World newsletter here.
Most Viewed in World
From our partners
Source: Read Full Article