Professional Santa branded a 'paedo' in lies by boss LOSES tribunal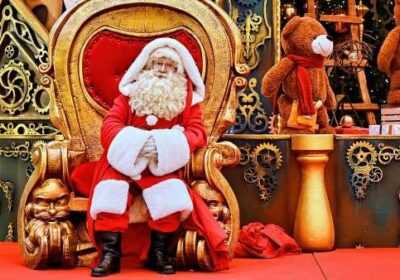 Professional Father Christmas branded a 'paedo' by work boss loses employment tribunal after chair rules the verbal abuse was not sexual orientation discrimination
Grotto Santa Carl Graham was branded as a 'paedo' by garage boss Jon Gill
A professional Father Christmas sued for discrimination after his boss at his day job kept calling him a 'paedo' and 'kiddy fiddler' because of his festive role.
Carl Graham was mocked by sales manager Jon Gill after he found out he dressed up as Santa Claus for appearances in grottos at shopping centres, an employment tribunal heard.
Mr Gill would regularly call him a 'sexual predator' and joked that he must molest children because he 'enjoys his role as Father Christmas'.
As a result of his sideline, Mr Graham was the butt of 'paedophile' jokes for three years at the car dealership where he worked, the hearing was told.
After he was sacked for having a fight with a colleague, Mr Graham tried to sue Swansway Garages Ltd in Liverpool for sexual orientation discrimination.
However, he lost his case because after the panel ruled calling someone a 'paedophile' does not relate to their sexuality.
The hearing was told Mr Graham began working for Swansway Garages, which has dealerships across the West Midlands and North West of England, in September 2017.
However, for many years at Christmas he dressed up as Santa and appeared at a number of popular public venues in Manchester and Liverpool.
A professional Father Christmas sued for discrimination after his boss at his day job kept calling him a 'paedo' and 'kiddy fiddler' because of his festive role (stock photo)
In bringing his claim, the proud Father Christmas said: 'I have for 10 years worked at Liverpool One, Dobbies Garden Centre, the Trafford Centre and for the last three years Knowsley Safari Park and play the role of Father Christmas.'
Discussing the jokes, Mr Graham said: 'I worked for Swansway Garages and was subjected on a daily occurrence that my sexual orientation/preference was that of children over a three year period.
'I was called paedo, kiddy fiddler, and had… comments said to me by my line manager Jon Gill.'
Mr Graham claimed there were 10 comments that were regularly made.
A tribunal report stated: 'His case is that it was finding out about his role as Father Christmas that caused Jon Gill to start making comments to the effect that he was a paedophile.'
Former colleague Marc Crosby gave evidence about Mr Gill, saying he 'would sit in his office and hurl abuse at the staff in the office passing it off as 'banter'.'
The report added: 'Mr Crosby described the nature of the abuse as always sexual and commonly referred to children being molested, more specifically he denoted that Carl was a paedophile because he enjoys his role as Father Christmas and therefore molested children including his own.'
At the tribunal, held in Birmingham, Mr Graham said he was seeking £44,000 in damages. He said: 'The daily abuse which lasted for three years about my sexual preferences/orientation has destroyed my life.'
Mr Graham was sacked in August 2020 for assaulting another colleague who had described him as 'the one that likes to play with kids'.
The tribunal found Mr Graham was 'prone to hyperbole' after Mr Graham went as far as to state: '[This] is the most horrific abuse anyone has ever suffered in UK employment history.'
Employment Judge Tim Kenward ruled the abuse was not 'daily' as Mr Graham suggested but did occur regularly.
It was also heard there was a culture at the Liverpool dealership of 'vile and abusive' comments and that Mr Graham was an 'enthusiastic participant'.
A WhatsApp chat set up by Mr Gill, which Mr Graham contributed to, was regularly used to make offensive comments.
A tribunal report said: 'Swansway accepted that Jon Gill was an individual who had made vile and disgusting comments to Mr Graham and other employees, with Jon Gill seeking later to explain in such comments on the basis that they were intended to be humorous.
'Swansway's position… was that Mr Graham's written account involved significant exaggeration and he had sought to embellish his story.'
Mr Gill said: 'At the time I saw this as office banter, I now realise that this behaviour was unacceptable.'
Mr Gill said 'daily banter' was 'a part of culture within the Used Sales Department' and that everyone including Mr Graham were 'all giving as good as they got'.
WhatsApp messages showed Mr Graham posted offensive messages, many of which were homophobic and some were about child abuse.
Judge Kenward ruled: 'The Tribunal accepts Mr Graham was verbally abused by Jon Gill between September 2017 and August 2020.
'The Tribunal was not satisfied that the abuse was daily.
'Ultimately, the Tribunal has concluded Mr Graham is prone to exaggeration and describing the abuse as daily probably amounts to an imprecise description of the frequency of the abuse, but the Tribunal does accept it was happening on a regular basis.'
Judge Kenward dismissed Mr Graham's claim of sexual orientation harassment as he had misinterpreted what it meant.
'Calling someone a paedophile is not related to his or her sexual orientation', Judge Kenward said.
'Because a paedophile could be someone whose sexual orientation was towards persons of the same sex or persons of the opposite sex or persons of either sex.
'The Tribunal was unable to articulate, distinctly and with sufficient clarity, the feature or features of these comments, which would lead to the conclusion that the conduct was related to the protected characteristic of sexual orientation.'
It was heard Mr Gill was given a final written warning following his conduct.
Source: Read Full Article