Pandemic shortages would pale against foot and mouth disease chaos, farmers warn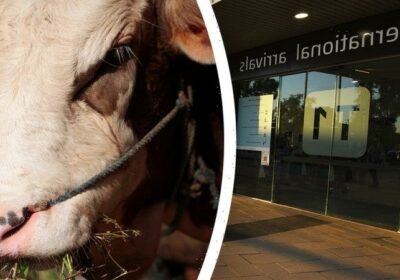 Toilet paper panic emptied shelves nationwide ahead of COVID-19 lockdowns, but farmers warn consumers face supermarkets devoid of meat and dairy products for much longer periods if foot and mouth disease takes hold in Australia.
"It'll be worse than toilet paper," WA Farmers Federation president and Pingelly crop and livestock farmer John Hassell warned.
Indonesia has been grappling with a foot and mouth disease outbreak, with the disease also detected on the holiday island of Bali. Credit:Bloomberg
The recent detection of the disease in Indonesia and the holiday island of Bali has raised fears travellers may bring it into Australia and shut down domestic and export sheep, cattle and pig markets.
Foot and mouth disease causes lameness in livestock and resulted in the destruction of more than 6 million cattle, pigs and sheep in the UK's 2001 outbreak. It can be carried on clothing, meat, dairy products and in human noses, and can remain infective for up to a month in the right conditions.
Speaking ahead of a summit of farmers from WA's South West region on Tuesday, Hassell predicted similar scenes of empty shelves at shopping centres as the supply of milk and meat products would be quickly constrained.
"Anything with cloven hooves would be under more threat than anything else," he said.
Hassell said the detection of the first case in Australia would likely cause a nationwide shutdown of livestock movement for three days, resulting in massive disruptions to supply chains.
That three-day shutdown is the first line of defence against the disease in Australia as outlined in the nationally agreed 2014 AUSVETPLAN foot and mouth disease response document.
Farmers at the summit were told to familiarise themselves with the plan, which will launch into action if even one case reaches Australian shores.
After the lockdown, much like the COVID-19 response, contact tracers would hunt for the origin of the virus and any animal suspected of having it would be destroyed.
The next step would be to manage the outbreak by quarantining individual farms or other livestock facilities like abattoirs.
Again, like the COVID-19 response, states would have the power to ramp up quarantine protections at their borders.
The plan paints a bleak economic picture if the virus establishes itself in Australia.
Farming, trucking and shipping would come to a standstill.
Citing a 2010 prediction, the plan suggested the direct economic loss from a three-month outbreak would cost the nation $7.1 billion, rising to $16 billion for a 12-month outbreak.
'One thing that does concern me is that in a few months time it will have fallen out of the media as all stories do, but the threat will still be there.'
Hassell said that figure would likely be double nowadays.
The plan also quoted a 2002 Productivity Commission report that suggested the fall in agricultural exports would be large enough to wipe 2.5 per cent off the Australian dollar during the first year.
Eventually, the loss of Australia's status as a foot and mouth disease-free country could significantly damage its export potential, which could take years to regain.
Where are we most at risk
Farmers and authorities agree Australia is in a better position to avoid wide-scale destruction of livestock like in the UK, thanks to the separation of farms.
However, Hassell said vigilance was necessary because there was a risk that once it got into the country and into wild populations of pigs it would be difficult to permanently eradicate.
Foot and mouth disease is endemic in South America, China and South East Asian countries such as Thailand.
But the Indonesian outbreak has increased the threat to Australia, not just because of its proximity.
"We've had people coming back from South America, South Africa, China, India, Vietnam, Thailand, wherever else … they've got foot and mouth, but all those countries have got vaccination programs," Hassell said.
"The loading of the disease is quite low, whereas in Indonesia there's no vaccination program and the disease is running rampant over there.
"That's why Indonesia has all of sudden become a major threat."
As a result, authorities are ramping up biosecurity measures at airports and farmers want returning travellers to ditch their footwear upon return to Australia.
But the biggest risk to Australia will always be bringing in meat and dairy products through customs.
WA Regional Development Minister Alannah MacTiernan said it was crucial that travellers adhered to border rules on fresh produce.
"The virus can survive in meat and dairy products for some time," she said.
"The biggest risk is from people bringing meat or dairy products into the country, whether in their luggage as they return from Indonesia, or Malaysia or Thailand, or if they get their Baba to send them a sausage in the mail."
MacTiernan was less alarmed by the issue and said Indonesia's outbreak had only increased the possibility of the virus entering WA by 2.5 per cent to 11.5 per cent.
However, she said the WA government was taking it seriously with recent resourcing injections into biosecurity teams paying off.
WA Regional Development Minister Alannah MacTiernan.Credit:Peter de Kruijff
MacTiernan said the state's most senior biosecurity figures also had experience with foot and mouth disease, both having worked in the UK in 2001.
Kimberley pastoralist David Stoate said while the public may be aware of the threat now, it was likely the Indonesian outbreak would take a long time to resolve, and urged the public to maintain their vigilance.
"One thing that does concern me is that in a few months time it will have fallen out of the media as all stories do, but the threat will still be there," he said.
Follow WAtoday on Instagram, LinkedIn, Facebook and Twitter for handpicked selections of the day's biggest local, national and international news.
Most Viewed in National
From our partners
Source: Read Full Article