Outrage at children locked in solitary confinement for 22 hours a day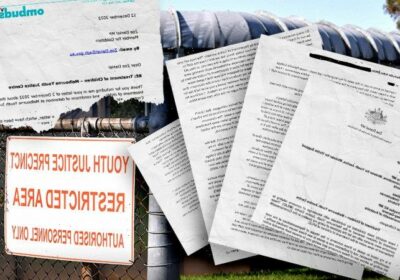 Indigenous and other vulnerable teenage detainees are being kept locked alone in their cells with limited human contact for more than 22 hours a day amid a crisis at Victoria's biggest juvenile justice facility.
Internal whistleblowers have raised concerns about the rampant use of isolation at the Melbourne Youth Justice Centre in Parkville, prompting the intervention of federal MPs and Victoria's Ombudsman, who has urged the Andrews government to appoint an independent juvenile and adult prison watchdog.
Whistleblowers claim young offenders are being kept in solitary isolation.
An email circulated among justice centre staff, and obtained by The Age, shows 14 teachers raised concerns in December about isolation practices throughout the state's youth jails.
One whistleblower, a former teacher at Parkville, recently resigned claiming that isolation was "so rampant" that "boys were threatening to kill themselves so that they could be put on constant observation, giving them someone at their cell door to talk to".
The use of isolation at Parkville dramatically increased over the last few weeks, staff insiders confirmed to The Age, after a violent assault on a justice centre employee.
The raising of concerns about the mistreatment of young detainees, including Indigenous teens and inmates on remand who have not been found guilty of a crime, comes amid a national debate about the deaths and mistreatment of Indigenous inmates in jails across Australia.
'There were multiple suicide attempts and self-harm incidents. Most of these took place while boys were forced to isolate in their rooms.'
The 14 whistleblowers – all teachers – approached independent federal MP Zoe Daniel, who took up their concerns with Ombudsman Deborah Glass, Premier Daniel Andrews and federal Attorney-General Mark Dreyfus.
In Daniel's letter, which was co-signed by Greens leader Adam Bandt and fellow teal MP Monique Ryan, she said the mistreatment of children at the youth justice centre was "deeply concerning" and that it impacted on detainees of diverse backgrounds, including Indigenous children and those of African descent.
Glass responded by also writing to the premier and state Youth Justice Minister Enver Erdogan, and detailed her concerns about the use of isolation on vulnerable teen inmates.
In her December 12 letter, Glass said she shared many of the whistleblowers' concerns and that the abuse of isolation practices "have been the subject of several investigations by my office in recent years, and reinforce the urgent need for regular, independent inspections".
Isolation, also known as solitary confinement, is, according to Glass, "defined as the physical isolation of individuals for 22 or more hours a day without meaningful human contact".
In her letter, Glass urged the Andrews government to introduce a new prison oversight body, known as a National Preventative Mechanism (NPM).
"In my view, both the youth and adult custodial systems would benefit from the designation of a truly independent NPM – one that does not report to a Departmental Secretary or Minister – to provide regular preventive inspection reports," she said.
The revelation of Glass' intervention comes after an investigation by The Age and 60 Minutes into Indigenous deaths and medical neglect in several Australian prisons.
The investigation heard from prison healthcare whistleblowers describing systemic health services failures that have fuelled the neglect of vulnerable prisoners, including Indigenous inmates; while four mothers of Indigenous prisoners who died or almost died in prison have also called for urgent reform.
Federal Labor senator Pat Dodson also called for urgent action from the Albanese government.
The 14 whistleblowers from the Parkville centre also warn that the state government's new youth jail, the Cherry Creek Youth Justice Centre, will face the same problem when it becomes operational.
In late December, one of teachers quit Parkville College, which provides services to young people in detention, and wrote to the school expressing concern about the "extensive use of isolation".
"Students were regularly locked in their cells during school hours and beyond. Official figures belie the extent of this practice. In my two years at the school, I lost count of the number of times students were locked in their rooms for 22 hours or more a day without meaningful human contact," the teacher wrote.
"I witnessed the terrible impact of isolation on students' mental health and education. One of my Indigenous students had been making incredible progress in the classroom before the school's schedule was scuppered by a period of consecutive lockdowns. His positive classroom contributions were replaced by constant screaming from his cell.
"During my time at Parkville there were multiple suicide attempts and self-harm incidents. Most of these took place while boys were forced to isolate in their rooms."
The teacher, whose name The Age is not releasing because sources close to him said he didn't want to jeopardise his teaching future, added that he had detailed his concerns with a senior Victorian departmental official.
"[That official] conceded that boys were sometimes locked in their rooms for 22 hours or more a day, but argued that they had meaningful human contact through the stenophone (a metallic-sounding tannoy system connecting the unit's office with the boys' cells)," the resignation letter states.
In response to the concerns raised by the whistleblowers, a senior youth justice official told Zoe Daniel the claims were overblown and that isolation practices were used as "a last resort and ceased at the earliest possible opportunity".
The official also said the department's record keeping showed that the use of "isolation [was] down 38 per cent over the last four years and 9 per cent in the most recent year".
Community Public Sector Union secretary Karen Batt said there was a repeating cycle in which inadequate staffing levels exposed workers to violence, leading to staff attrition and in turn increased reliance on isolation.
"The state government has run out of ideas and extended imposed isolation is the only available response for staff to keep everyone safe and this is unsustainable," Batt said.
In a statement, Erdogan said the government's top priority was ensuring the safety and wellbeing of staff and young people at youth justice centres, and that the use of isolation was "always a last resort".
"We want to provide every opportunity for these young people in our care to break the cycle of recidivism and get their lives back on track – helping them in their education is a crucial part of that," he said.
"Isolation is always a last resort and never used as a form of punishment.
"In the rare cases it is authorised, young people's health and developmental needs are prioritised, and all instances of isolation are recorded and reported to the Commissioner for Children and Young People."
If you or anyone you know needs support call Kidshelpline 1800 55 1800, Lifeline 131 114, or Beyond Blue 1300 224 636.
The Morning Edition newsletter is our guide to the day's most important and interesting stories, analysis and insights. Sign up here.
Most Viewed in National
From our partners
Source: Read Full Article