Our love for travel burns deeply. Oil giants search for 'green' aviation solution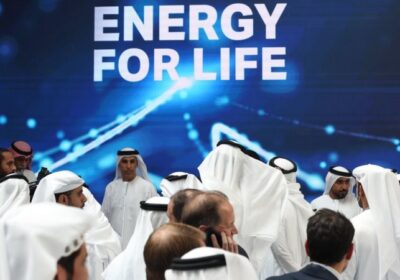 Save articles for later
Add articles to your saved list and come back to them any time.
Abu Dhabi: If left to business as usual, humanity's love for air travel could see aviation exceed 20 per cent of our total carbon footprint by 2050.
It's the reason the industry will need to come up with 300 million tonnes of sustainable aviation fuel annually – made from animal fats, oils, household waste and crops – to meet demand for passenger journeys forecast to exceed 10 billion by then.
They are staggering estimates that underpin the critical target of the world's biggest airlines to reach net-zero in the next 27 years. Qantas and Virgin Australia have both separately pledged to accelerate Australia's sustainable fuel industry.
The need for sustainable aviation fuel has never been greater, as airlines work to meet 2050 net-zero target.Credit: Bloomberg
The urgent call to achieve net-zero air travel was explored last week by industry executives from the likes of Boeing, Airbus and Air BP at the Abu Dhabi International Petroleum Exhibition and Conference, which gathered the world's biggest players in oil and gas under one roof.
Like the Easter show for the world's biggest fossil fuel emitters, the Abu Dhabi International Petroleum Exhibition and Conference (ADIPEC) was an industry-centric precursor to the upcoming United Nations Climate Change Conference, COP28, being hosted in Dubai in late November.
Under the banner of "decarbonising faster together", the conference gathered more than 160,000 attendees from 2200 companies and 160 countries, with the event hosted by ADNOC, the Abu Dhabi National Oil Company.
Attendees at the Abu Dhabi International Petroleum Exhibition and Conference (ADIPEC) in Abu Dhabi.Credit: Bloomberg
Across four specialised industry areas – decarbonisation, maritime and logistics, digitisation and manufacturing – major players from the most polluting industries hosted stands describing green credentials while promoting bilateral trade in everything from oil to LNG projects, hydrogen, electric vehicles and robotics.
Sultan Ahmed al-Jaber, chief executive officer of Abu Dhabi National Oil Co and president of COP28.Credit: Bloomberg
Addressing the aviation sector's carbon conundrum at a panel discussion, Air BP Middle East executive Linn Tonsberg said the rate at which air travel was growing, returning to pre-pandemic levels by 2024, made the industry-wide transition even more challenging.
"IATA [International Air Transport Association] are forecasting that by 2040, there will be 7.8 billion passengers globally. If you put that into perspective, that is over double what we're seeing for today," she told the panel, which included executives from Boeing, Airbus, French oil major TotalEnergies and Canadian biofuel producer Enerkem.
"As the rest of the transport industry is looking at more and more sustainable, decarbonisation solutions, they are moving faster than what aviation has to date."
Today, Tonsberg said global demand for sustainable aviation fuel was about 200,000 tonnes: "By 2050, we're looking at a demand of 300 million tonnes."
Airbus public affairs director Siegfried Knecht argued that one of the barriers to faster uptake of sustainable aviation fuels was that only 25 per cent of global fleets were using the most modern aircraft.
"I'm confident that we will succeed and will see a new aircraft type in the market in 10 to 15 years from now," he said, adding that the global market would need "around 40,000 new aircraft within the next 20 years".
In June Virgin Australia and The Boeing Group partnered to advocate and influence government policy on sustainable fuel, while Qantas last year rallied with Airbus for the same goal. Qantas wants sustainable fuels to make up 10 per cent of its overall fuel mix by 2030, and 60 per cent by 2050.
Wael Sawan, Shell CEO (left), Patrick Pouyanne, Total CEO, and BP interim CEO, Murray Auchincloss (right), take part in a panel at the oil and energy conference in Abu Dhabi.Credit: AP
Boeing's UK, Middle East and International Defence Sustainability director Steve Gillard told the conference sustainable aviation fuel was "the critical technology in the 2050 timeline", in particular for Gulf Coast countries and the UAE, where 14.4 per cent of the GDP relies on aviation.
A Virgin Atlantic Boeing 787 Dreamliner will be the first to conduct a 100 per cent sustainable aviation fuel transatlantic flight from London Heathrow to New York in late November.
Gillard said Boeing, with NASA, was also preparing to launch a flight demonstrator in 2028 using very thin wings, called a "transonic truss brace wing", with the potential to reduce emissions by 30 per cent.
"So just with new aerodynamic, you could do an awful lot even with conventional energy architectures," he said.
The heavily air-conditioned conference was held over four days in a near-40 degree Abu Dhabi, where the height of summer temperatures are not set to cool until about November.
Billed as "the world's largest and most inclusive gathering for the energy industry", the male-dominated event boasted endless trade halls lined and pavilions laden with glossy brochures, models of offshore oil rigs and signage with promises of "transforming energy for the future".
Thirty nations hosted country pavilions from across Europe, Africa, the Middle East and Asia. Among them was a large stand representing Russia's critical state-owned natural gas company Gazprom, beneath hard-to-miss banners promoting "Russian Energy 2023".
Opening the event on Monday, ADNOC's chief executive Sultan al-Jaber called on industry leaders to show the world it was "central to the solution" of fast-tracking the energy transition.
The government minister, who is also the COP28 president hosting world leaders and campaigners at the UN climate talks next month, said it was up to major emitters to acknowledge and "[respect] the science".
"We must do this while also ensuring human prosperity by meeting the energy needs of the planet's growing population," he said.
Jaber's appointment has attracted protests from activists and politicians alike because he leads a state-owned oil company with the capacity to pump 4.5 million barrels of oil a day, with plans to hit 5 million barrels a day by 2027.
Ahead of the conference, Jaber defended his country's hosting of the UN talks, dismissing critics who "just go on the attack without knowing anything, without knowing who we are", AP reported.
Get a note directly from our foreign correspondents on what's making headlines around the world. Sign up for the weekly What in the World newsletter here.
Most Viewed in World
From our partners
Source: Read Full Article