One dead in 30-car pile-up crash on Interstate 89 North in Milton, Vermont as police rush to scene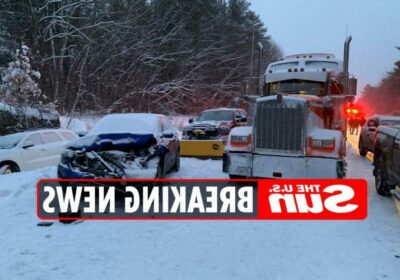 SHOCKING images have revealed a 30-car pile-up crash on Interstate 89 North in Milton, Vermont as police rushed to the scene and one person has died.
One person died as a result of the crash, which took place shortly before 4pm, and seven were taken to a nearby hospital.
Vermont State Police shared photographs of the scene on I-89 N, according to MyNBC5.
Approximately 30 vehicles were involved in the pileup on the snow-covered interstate.
Police said a logging truck and a tractor-trailer were among the vehicles involved in the crash which occurred due to wintery weather conditions.
The area on the interstate — between exits 17 and 18 — is expected to be closed for a few hours.
Multiple tow trucks were seen waiting to assist cars stuck on the road and vehicles that skidded off into snowbanks and ditches.
Most read in The Sun
HOSPITAL DASH
Olly Murs rushed to hospital for emergency knee surgery as star cancels tour
Hero Ukrainian soldier 'blows himself up on bridge' to stop Russians crossing
West Ham land nightmare Europa tie against Sevilla while Rangers draw Red Star
Lorraine suffers epic blunders as two guests' interviews completely derailed
A Vermont State Police press release reads: "I 89 NB near MM 101.1 in Milton, The Roadway is closed at this point due to hazardous weather conditions and a multi-vehicle crash.
"The incident is expected to last for or until further notice."
A police spokesperson told MyNBC5 the identity of the deceased person has not yet been revealed and those injured suffered "minor or moderate" injuries.
We pay for your stories!
Do you have a story for The US Sun team?
Email us at [email protected] or call 212 416 4552.
Like us on Facebook at www.facebook.com/TheSunUS and follow us from our main Twitter account at @TheSunUS
Source: Read Full Article